In an astonishing advancement, YSR Congress party president Y S Jagan Mohan Reddy on Thursday went to Ramoji Film City to meet media nobleman Ch Ramoji Rao, who had up to this point been his most vault opponent. As per the most recent information, Jagan went to the RFC alongside former TTD Trust Board Chairman Bhumana Karunakar Reddy and spent over an hour with Ramoji Rao in the evening.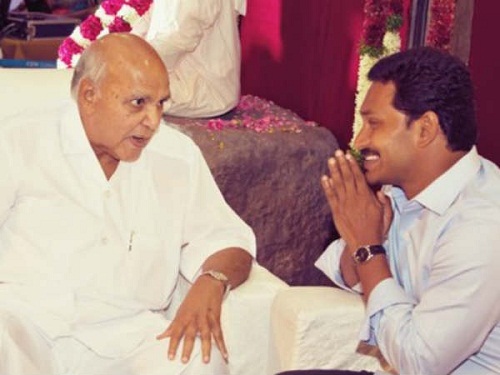 YSR Congress party sources say it was only a civility call, as Jagan was looking for support of Ramoji Rao and his Eenadu daily paper for his quick unto-demise program at Guntur requesting special category status to Andhra Pradesh. On the other hand, Jagan's meeting with Ramoji Rao brought many an eyebrow up in the media and political circles. In the event that he needed to look for Ramoji Rao's backing for his deeksha, he could have called and requested the same.
There was no need for Jagan to go such distance to RFC to meet his once-an intense adversary. In this way, there must without a doubt be an alternate purpose behind both the media noblemen to meet. This is not surprisingly first time that Jagan had a friendly talks with Ramoji Rao. Two of them met at a wedding few months prior and they had a brief discussion in the wake of exchanging merriments. Hypotheses are overflowing that Jagan may have searched Ramoji assistance to wriggle out of the Enforcement Directorate and CBI bodies of cases against him, as Eenadu executive has great association with the NDA government.