Women of all ages, especially in South India, prefer to show off their delicately designed Maggam blouses. The "Maggam" or "Loom," a frame that tightly binds the fabric, is the inspiration for these embroidered blouses. Here's how we've categorized the latest maggam work blouse designs.
Maggam Work Blouse Designs
Designs for simple maggam work blouses
Designs for maggam work blouses that are now available.
Latest maggam work blouse designs for pattu saree
Designs for wedding bridal maggam work blouses
Designs for traditional pattu langa blouses with maggam work
Latest Maggam Heavy Work Designs
Maggam Work Blouses have the following features. Here are some of the latest Maggam work blouse trends and characteristics to look out for in 2023.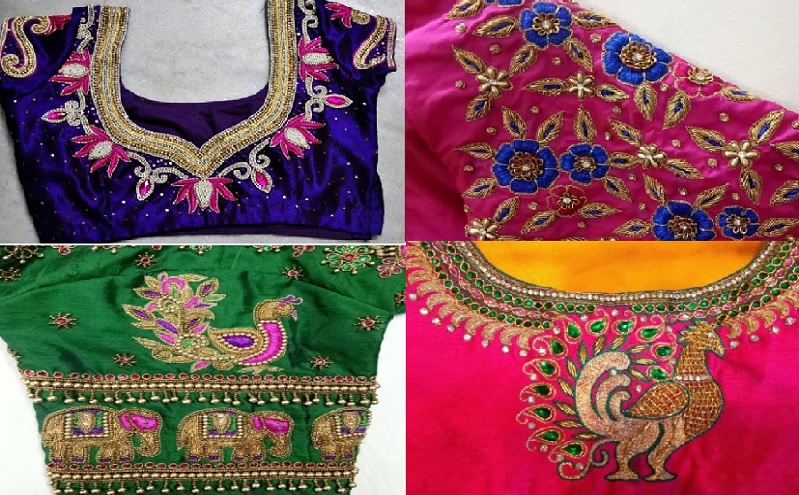 Zardosi Work: Zardosi work is a Mughal-inspired art that uses a lot of gold threads and sequins that explode out of the fabric.
Thread Works: Thread works are the greatest option for individuals who want to avoid bling. The latest styles include simple thread crafts and 3D designs.
Sheer Backs: Adding a sheer back or front neck panel to a silk blouse gives it a sensual appeal. The blouse has a Maggam work theme and is made of contrast-colored net fabrics.
Sleeve Embroideries: Stonework, crystal, and even cut works are commonly used to embellish sleeves. Vanki motifs, designs, and Guttapusalu are all the rage right now.
Peacocks, Elephants, Cows, and other animals and birds are carefully weaved to produce life-like images.
Blouses with a theme, such as a dream wedding, a Sangeeth theme, or a chronological subject, such as Charminar, Taj Mahal, and so on, have always been the talk of the town.
Simple New Maggam Work Blouse Designs
Deep-U Blouse with a Twist
Beautiful golden sequence borders and exquisite graphic motifs adorn this basic deep-u blouse. In addition, this blouse adds a touch of tradition and a lot of sass to your ensemble. With a dewy makeup finish and golden stilettos, this blouse would be even more stunning.
Blouse Maggam Work Readymade
Using maggam technique, this green readymade blouse is created to perfection. The lovely floral thread design is complemented by gold and red threads. It has a wreath-like round cut back design that is decorated with floral work. Elephants have been added to give the scene a unique aspect. The addition of a few simple motifs throughout the body gives it a lovely appearance.
Blouse with no sleeves in black
This simple maggam work blouse design with black embroidered sleeveless is stylish and lovely. This could be a terrific option if you don't want to use the traditional colours of red and yellow for your wedding ceremony. Also, when paired with jhumkas or long earrings, the outfit becomes even more stunning.
Marriage bridal maggam work blouse designs
Maggam Work Blouse with Patchwork Design
Designer blouses with Maggam work work well with lehenga choli gowns. A large patch on the back of the sleeveless blouse attached to a string sleeve and a deep V neck. It creates a sensuous appeal by allowing the back to be seen. The pattern can also be used as a backless blouse for lehenga outfits at wedding celebrations.
Aari Work Blouse with Open Back
Stones, zari, and dots give the blouse an abstract look. The effect enhanced by the curved stitched borders. Furthermore, the material's gleaming polish gives it a lovely bridal mood.
Blouse with a Pot Neck Design by Maggam
Women who desire a more minimalist look like the latest Maggam work blouse designs. The supplied blouse has a rear pot neck style and elegantly embellished with beautiful lace work and flower patches. The small flowers give it a cute appeal when worn with a plain chiffon or silk patola saree.
Pattu Saree Latest Maggam Work Blouse Designs
Silk Blouse with a Blue Base
This one can be a fantastic alternative if you want to get away from the standard hues and try for something different and unique. The blouse constructed of silk fabric with beaded border motifs. Furthermore, the dress, when matched with a golden belt and real flowers, exudes a traditional appearance.
The combination of Maggam and mirrors is ideal for a designer Maggam bridal blouse. The shirt embellished with a cute blend of mirrors woven in Maggam motifs and also, this is simple work blouse designs.
Full sleeves and a matching border on the net material added to this all-over maggam work blouse. In contrast to other circular mirror work, it has a high neck design with a circular pattern.
Traditional Pattu Langa Blouse Maggam Work Designs
Aari Blouse with a Pot Neck
This one is one of the most popular bridal Maggam work blouse styles. Anyone's heart could be won by the polished borders and carefully designed sleeves. This garment will also bring glory to the occasion when paired with a contrasting saree or skirt and traditional jewellery.
Blouse with ethnic design and peacock feathers
Thread work adds an ethnic twist to a peacock maggam work blouse design. A pink stitched peacock with white stones knitted onto the green blouse. The neck shaped like a deep U with a dori at the top. This is a Peacock Maggam Blouse with Checks Design.
Wearing Maggam patterns is quite ethnic. They leave an outstanding design when given a precise touch with zari, zardosi, and pearl work. They not only complement your basic and designer sarees, but they also look great when paired with a lehenga. The designer embroidery on the above shirt designs is appropriate for any traditional weddings. for more designs and collections check Timesalert.