Jio GigaFiber Broadband is providing the ultra-speed network in the country. The FTTH broadband network in India first given by Jio network. The company work offers these services at affordable prices. It has announced that the Jio GigaFiber will come in a few months. You can now use the internet at high speed. Jio Network is successfully providing mobile Internet services to users. It attracted many customers, and every people in India use the Jio Network.
Jio GigaFiber Broadband
Jio GigaFiber announces the broadband connection to the users for a speed and quality internet services. It is available in all major cities of the country and these broadband services to Home FTTH can deliver 1Gbps speed for free. The first installment you need to pay an amount, which is refundable. You can get the service free of cost for three months. The officials announce that it is set to start the Jio Fiber services from September 5th, 2019. So, we can except the process of registration very soon, which given below.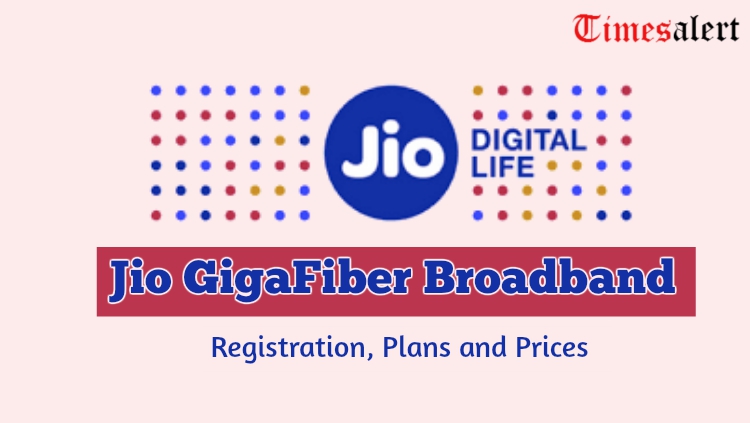 Jio broadband gives you a special offer with high speed at fewer prices than the other networks. The technology will make the speed process straightforward and will reach their customers. It is offering different plans according to the necessity of the users. Here you can see the Jio Gigafiber plan and prices in the article that will help you to choose for connection. The registration is available in two different ways like the online website or Jio Phone Number users. In this article, you can find all these details.
Benefits Of Jio Gigafiber Connection
GigaFiber Jio Plan will give you fast Internet with Affordable prices and then any other broadband connection.
It will give you better Broadband connection, which based on Fiber technology.
Reliance Jio GigaFiber will give you same speed as ISP and Broadband connection at the prices available for everyone.
As the network gives all facilities at less cost, you can expect them for the low price and easy installations.
Features Of Jio Broadband GigaFiber
Jio GigaFiber will provide you with many useful features that will give you high speed and broadband services. Here is the list of these features
Speed: It delivers excellent pace up to 1 GBPS speed. It will complete the downloading process in seconds without buffering problem.
Free Unlimited Offers: It will provide you with unlimited and free services, and Reliance Jio is very famous for their welcome offers. You will get free internet usage of 90 days per user.
Fiber Technology: Broadband services will have ultra-fast using fiber technology and can download big size movies easily. It can download 1GB of a file within 20 seconds.
Easy Installation: You can install the Jio GigaFiber easily, and the team will complete the process very easy.
Jio Gigafiber Broadband Prices
As the Jio Network will always provide fewer cost services to the people. Now the broadband also comes with easy plans and prices with high-speed internet services. These prices may vary at the time of purchase.
| | | | |
| --- | --- | --- | --- |
| Limit | Price(INR) | Validity |    Speed |
| | 700 |  1month | 100Mbps |
| | 10000 |  1month | 1Gbps |
Jio Fiber Plans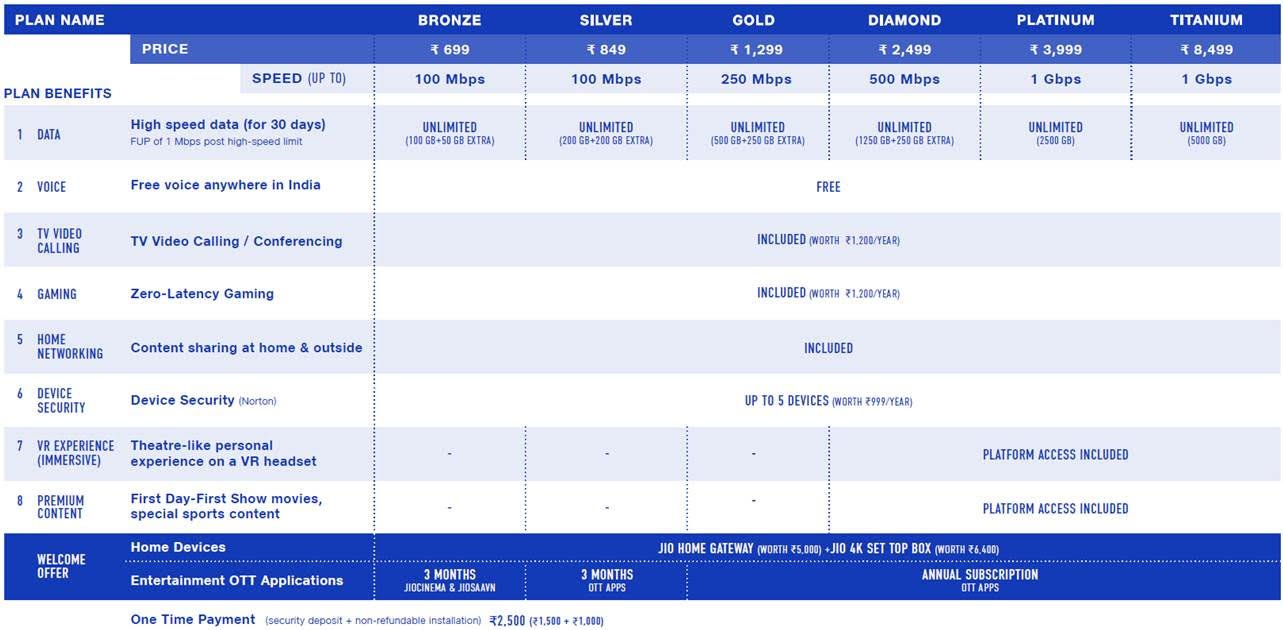 There are three different plans to choose after the free trial expires. Jio Broadband will give you the free service of 90 Days with an ultra-high-speed internet. Every month you will have a validity of 100 GB. You need to choose a plan from these which given below
Jio Special Giga Fiber Plan and Offers
Jio GigaFiber Volume Bases Plan and Offers
Jio GigaFiber Speed Based Plans and Offers
We will provide the plan details in this section, and that will help you to choose them according to your purposes. All these three plans are valid up to 30 days only. But Speed changes with the amount.
Jio Special Giga Fiber Plan And Offers
Here is the list of amount, speed, and the data limit of this plan in detail. We will give you the details.
| | | |
| --- | --- | --- |
| Plan Cost |   Speed | Data Limit |
| Broadband 590 | 100Mbps | 700GB |
| Broadband 800 | 100Mbps | 1000GB |
 Jio GigaFiber Volume Based Plan and Offer
This plan is suitable for people who need more data limit that will fulfill the customer's data consumption. Below table will give you the details
| | | |
| --- | --- | --- |
| Plan Price | Speed |  Data Limit |
| 200 | Unlimited | 10GB |
| 310 | Unlimited | 20 GB |
| 430 | Unlimited | 40GB |
| 570 | Unlimited | 60GB |
| 700 | Unlimited | 100GB |
Jio GigaFiber Speed Based Plan and Offer
It will give you a high speed for your Jio GigaFiber plans. So, all types of downloads will complete in a few seconds, and there will be no buffer. Here are the prices of this offer.
| | | |
| --- | --- | --- |
| Plan Price | Speed | Data Limit |
| 500 |  50 Mbps | 1000GB |
| 750 | 100Mbps | 1200GB |
| 900 | 200Mbps | 1500GB |
| 1000 |  400Mbps | 2000GB |
| 1200 | 600Mbps | 3000GB |
Jio GigaFiber Registration For Non-Jio users in Website
The registration of Jio GigaFiber is effortless and is available on the online website.
Open the official website of Jio Gigafiber in your device or type URL gigafiber.jio.com address bar.
It will redirect the page, and you can see the Jio GigaFiber Invite Now option on the page.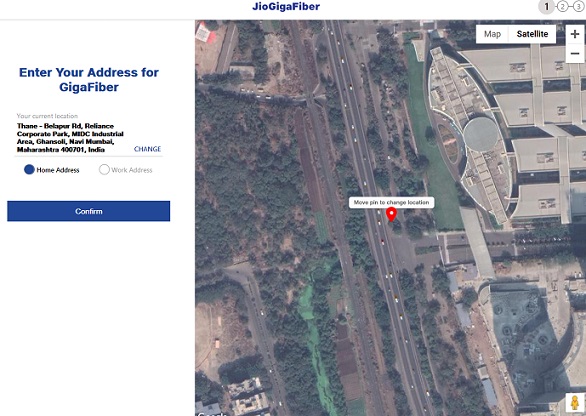 The page will automatically detect your location, or you can also change the address.
Now, enter your Name, Mobile Number, and Press Submit below the page.
You will receive the OTP number and given the number in the text box. After completion of registration, you will receive the notification about the application.
Apply using Mobile MyJio App
We can register the Jio GigaFiber Broadband connection using MyJio App. You need to read the steps below
If you are Jio user, then use MyJio App or else you can download it from the Google Playstore.
After the download complete the Sign In the process and you can see the buying link of the Jio Broadband option in the page.
Give your complete details like Name, Address, Contact Number, Area details in the application form.
Now, pay the amount, and your registration process will complete, and you will also get notification about your connection.
Jio GigaFiber Customer Care
You can assist for customer help using these customer care numbers and all other Jio Fiber Broadband Connection. Users can connect to the helpline numbers and get their quires resolved. All the Jio GigaFiber Customer Care numbers are available between 9:00 AM to 9:00 PM.
Jio GigaFiber Customer Care Number: 1800 889 99999
For more information, check Timesalert.