Balapur Ganesh 2018 Laddu Auction Price Weight Winner Name
On an occasion of Vinayaka Chavati which is celebrated on August 25th, lots of Ganesh Idols are placed in Hyderabad. In every street, we can see Ganesh Idol placed and prayers are offered daily. Hyderabad city is filled with Ganesh Idols. Today is the last date for Ganesh Idols to immerse. In Hyderabad, Ganesh Idol's are placed everywhere and few out of them are Khairatabad, Balapur and much more.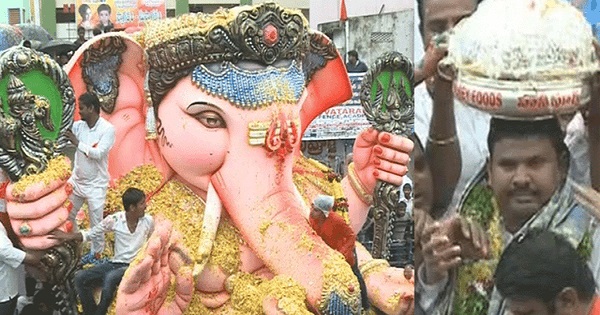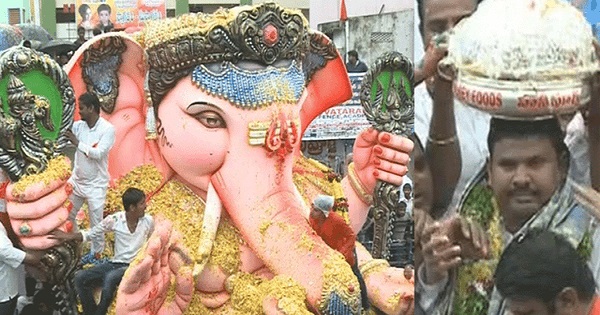 Balapur Ganesh 2018 Laddu Price
Khairatabad Ganesh 2018 Idol is of 58 feets. It is one of the tallest Idol in Hyderabad. Balapur is famous for Lord Ganesh Prasadam – Laddu. On the last date that is today they have auction laddu. Balapur Ganesh Laddu has auctioned today for a price of Rs 15.60 Lakhs. It is owned by one of the popular businessman Nagam Tirupathi Reddy. He is very much delighted on getting the Ganesh's Laddu in the auction. In this auction, 24 people took part in the auction. Out of which only three had a lot of competition. The three competitors for Ganesh Laddu were Maheshwaram MLA Teegala Krishna Reddy, local resident Singgi Reddy, Jaihind Reddy and a Bussiness man Skylab Reddy. This bidding has started in the morning 10:00 AM with a start price of Rs 4,116.
Balapur Ganesh 2018 Laddu Weight Price
People located near Balapur town are shouting "Ganapathi Bappa Moriya" by giving farewell to Lord Ganesh. Every year they bid Ganesh Laddu. This year the bid amount of Lord Ganesh Laddu is 15.60 lakhs, which is higher compared to last year. Rs 14 lakhs is the bid amount of last year Ganesh Laddu. Nagam Tirupathi Reddy is the person who has bided Ganesh Laddu this year. He mentioned that he was trying it from last past years but this time he had succeeded.
Watch: Ganesh Nimajjanam Visarjan 2018 Live Streaming
The tradition of auctioning the Laddu started n 1994. The first auction amount is Rs 450 and the winner at that time was a local resident K Mohan Reddy. Finally, this amount is spent for welfare activities in the village. Most of the famous personalities like Transport Minister P.mahender Reddy, Achampet M.L.A P. Bala Raj, and much more Darshan Balapur Ganesh.
Balapur Ganesh 2018 Laddu Auction Video
Balapur Ganesh 2018 Laddu Winner Name
Every year, Balapur conducts an audition for the Ganesh Laddu 2018. Many people from all over the state come together to participate in the audition and wish to grab the laddu. Everyone believes, the Balapur Ganesh Laddu 2018 brings good fortune for the people who bought. It is one most popular laddu in the Telugu state. Check out the Balapur Ganesh 2018 Laddu Auction Price Weight. Many people are trying to win this year's Balapur laddu. Let us see who is going to win this time. Check this page for more updates on Balapu Laddu 2018. Nagam Tirupathi Reddy winner of Balapur Ganesh 2018 Laddu.
Significance Of Balapur Ganesh Laddu