Bottle Cap Challenge is the new thing which is trending in the social media platform. This is taken up by many celebrities from all industries and posting a slow-motion video in their profile.  In the previous year, it was In My Feelings Challenge on the internet where people started dancing in the street for Drake's track In My Feelings. There the ice bucket challenge is always there in the platform in one way or other. Now, it is the Bottle Cap Challenge that took over all these on the internet. The celebrities are performing this task and challenging the others on social media which is making it viral.
Bottle Cap Challenge
The first Bottle Cap Challenge was reported on June 25 by the Taekwondo instructor and fighter Fabri Davletchin. You can come across this challenge more in Instagram and Twitter platform. Bottle Cap Challenge went viral when Max Holloway tried it with some martial arts. It was performed by many celebrities of Bollywood and challenged their fellow ones to perform.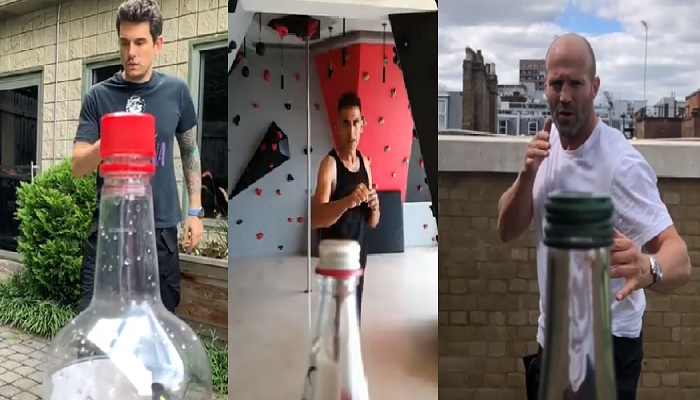 The challenge is not as simple as it looks because one should aim at only the cap of the bottle. Bottle Cap Challenge is performed in theory own ways by these celebrities and sharing them. This is one of the reasons for the popularity and going viral.
Watch Best Bottle Cap Challenge
The internet is oven taken by a new Hashtag of Bottle Cap Challenge that requires the sidekick the bottle cap with a round-house kick. For those who want to try here is the quick description of the challenge.
You need to place a bottle on the surface or a table at your height with a cap loosely on it. The person should kick the cap so that it fell off on the floor with a bottle remains the same. This should be done in a round-house kick that untwists bottle cap. This entire challenge should be recorded in slow motion that shows whether you have done the task actually.
Celebrities Bottle Cap Challenge
This has become the new sport for every celebrity and it is taken up by many celebrities. They are trying the challenge in their own way by adding their additional flavors to the task. That is aiming the Best Bottle Cap Challenge more viral and getting a million views.  It is all across the world and was first started in Hollywood.
The first attempt by Farabi Davlentchin to Max Holloway has gained about 2.6 million views over the internet. Donnie Yen has done this challenge in his own way with blindfolded which went viral. Ryan Reynolds has done this challenge in a different way where the bottle comes from him and he tries to untwist the cap. Conor McGregor, Ellie Goulding, Marlon Waynas and John Mayer are other celebrities who tried this challenge.
Bottle Cap Challenge Celebrities Watch Videos
Bottle Cap Challenge is also taken by Bollywood Celebrities and also South Indian stars. This is first started by Actor and Stunt performer Akshay Kumar and posted in the Instagram profile with the tag of inspired by action idol JasonStatham. He also asked all girls and boys to complete the task. Celebrity Bottle Cap Challenge is also done by GullyBoy fame MC Sher Siddhant Chaturvedi with a next challenge of throwing the plastic bottles not only caps.
South Indian Star Arjun Sarja has also completed the challenge as a dedication to Bruce Lee and all his fans. This was also posted in his Instagram profile where you can watch the complete videos of them. You can simply watch this here and try it and share on your profiles.
For all trending information like this check Timesalert.