Happy Pongal – One of the biggest and most important festivals celebrated by Tamil people. It is the harvest festival dedicated to the Sun God. Usually, they celebrate this festival from January 15 to January 18 according to the Tamil Calendar. Thai Pongal is similar to Makara Sankranthi which is celebrated by Telugu people. Also, a harvest festival celebrated throughout India.
Happy Pongal 2021
Besides this, the festival also celebrated in many countries like Malaysia, Mauritius, South Africa, United States, Singapore, Canada, and the UK. As well as it also celebrated in Indian Union Territories of Puducherry and the Country of Sri Lanka. Mainly celebrated to convey appreciation to the Sun God for a successful harvest. The biggest festival for the Tamil people. Here you can also have Happy Pongal 2022 Images Messages Quotes and many more.
Pongal is one of the most popular festivals celebrated in South India that to mainly in Tamil Nadu. A four days long festival and falls in the month of Thai i.e. January. In every year and at the beginning of Uttarayan the sun's journey moves northwards for a six months period. The festival gets the name from a Tamil word which means to boil and all these are held during when rice, cereals, sugarcane and turmeric are harvested.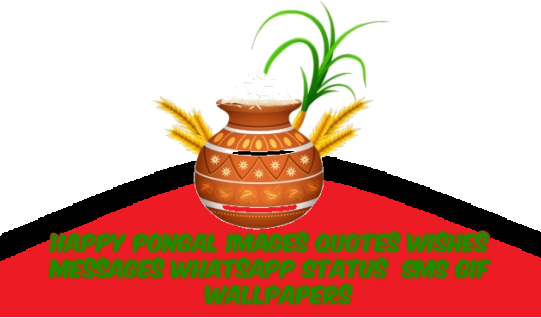 Pongal 2022 Dates
Pongal means overflowing. Named because of the tradition of new rice cooking in the pots until they overflow. The biggest harvest festival celebrated all over India with different traditions in each region. Also known as Lohri in North India and Bhogali Bihu in Assam and it celebrated as Bhogi in Andhra Pradesh and Telangana. People celebrate Pongal for four days and they are named as
Bhogi Pandigai
Thai Pongal/Surya Pongal
Mattu Pongal
Katya Pongal
Bhogi Pandigai
Bhogi Pandigai – The first day of four days of Pongal festival in Tamil Nadu. According to Tamil calendar, they celebrate Bhogi on 13th January but sometimes celebrated on 14th January. This is based on the last day of the month of Maargazhi. Widely celebrated in Tamil Nadu, Maharashtra, Andhra Pradesh, and Telangana.
On that day people light a bonfire with wood. People will clean their houses and all the unwanted things disposed of in a fire. A special puja performed before the harvest and farmers also worship for the sun and earth. The symbol of avoiding bad habits, vices, and attachments. People will paint their homes and they decorate the entrance with colorful rangoli.
Happy Pongal 2022 SMS Wallpapers Whatsapp Status
Thai Pongal/Surya Pongal
Thai Pongal or Surya Pongal – the Second day of the festival. Pongal compared with the Makar Sankranti and the winter harvest festival celebrated all over the world. Celebrated on 15th January. On that time suns will start the journey north and warmer weather.
This festival honors the sun god Surya for providing enough warmth and energy for a harvest. On that day people will prepare a Pongal dish and that is offered to the sun and also prayers are offered to the god. People will cook the Pongal dish with first season rice with milk and sugar.
Mattu Pongal
Mattu Pongal – The third day of the Pongal festival and people will worship cows. Cows will help the framers in the field and provide milk to drink. Celebrated on 16th January. On that day cows being bathed and decorated with garlands, turmeric water, and paints on their horns.
People will give special feast including the Pongal dish and allowed to rest for the day. After that, all the cows participate in the sports of jallikattu and it is the part of the festival.
Katya Pongal
Katya Pongal, the fourth day of the Pongal and it is the last day of the festival. People celebrate on 17th January. This day is also known as Kaanum Pongal. On that day brothers will give special gifts to the sisters. Villagers visit relatives and friends house. On that day people will eat many specials and enjoy the day with lots of happiness. Also, Check Happy Makara Sankranti 2022 Images here.
Happy Pongal 2022 Wishes
• "Wishing that this festival brings good luck and prosperity and hoping that it is joyous, and fills your days ahead with happiness. Have a wonderful Pongal."
• Wishing you & your family a very Happy Pongal. May the almighty bless you all with the best of health, wealth and prosperity? 
• I pray that this festival may be the start of your brighter days filled with happiness, good luck, and prosperity. Happy Pongal
• Celebrate this day with a heart filled with cheer and fervor sending my warmest greetings to you and to your family and loved ones this Pongal. Pongal Pongal! Happy Pongal
• As you joyfully celebrate the festival of Pongal and welcome the harvest season, this greeting being sent your way, to wish you everything, which the occasion meant to bring. Have a Happy Pongal
Happy Pongal 2022 Quotes
• May this auspicious festival bring you
Overflowing happiness, joy, and prosperity
wishing you a blessed and happy Pongal!
• Wishing you a Pongal
That brings you luck and prosperity
Brings you the blessings
Happy Pongal
• A Pongal with happiness and joy
A Pongal with fun and joy
that is what my Pongal wishes to you
Wishing you happy Pongal.
• As you shout Pongal Pongal
To welcome the prosperity and wealth
along with the overflowing Milk
I wish you everlasting happiness and joy
Happy Pongal
• My warm Pongal wishes to you
Convey my regards to everybody
Enjoy Pongal and Feast
Pongal Vazhthakal 
Happy Pongal 2022 Messages
• Wishing that this festival brings good luck and prosperity and hoping that it is joyous, and fills your days ahead with happiness.
Have a wonderful Pongal.
• Happy Pongal to all!
We thank the sun for burning himself to save us.
We thank plants sacrificing their life for us.
And we thank all the creatures helping us to live in this world for some time.
• Wishing you & your family a very Happy Pongal. May the almighty bless you all with the best of health, wealth & prosperity? Lots of best wishes and regards.
• Wish you a special Pongal Valtukal! May God bless you with all the happiness and prosperity in life. Your future be bright as the sun which is shinning for us? May all your wishes and dreams come true. Wishing you again HAPPY PONGAL!
Pongal is the most popular harvest festival. Every year on Pongal festival people will visit their villages and enjoy the four days of Pongal festival with happiness and joy.
Happy Pongal 2022 Images