IFHRMS is an acronym that stands for "Integrated Financial Management and Human Resource Management System. The project, which is a tool to provide a long-term solution for carrying out the functions of the Department of Finance, Treasury, and other Departments, has been launched by the Government of Tamil Nadu.
IFHRMS Login
The system keeps track of financial transactions and incorporates a Human Resource Management System that automates pay bill generation and submission, pension management, employee loan approval and repayment, and service record maintenance. IFHRMS manages all treasuries under the supervision of the revenue department.
This platform offers solutions for carrying out the tasks of the Department of Finance, as well as tracking strategic or monetary operations and business activities in order to integrate with the Human Resource Department.
Only candidates who have registered on the karuvoolam.tn.gov.in portal will be able to access IFHRMS Pay Slip and login. IFHRMS login home page was created with the aim of assisting people with a variety of online services such as IFHRMS login, IFHRMS pay slip download pdf, e-challan payment, e-challan search, and online bill payment.
How To Access IFHRMS Login @ karuvoolam.tn.gov.in
♦To login to IFHRMS Portal, click on the link and go to it's official website. You further directed to IFHRMS homepage.
If you have not yet registered, fill in all of your personal information, such as your name, e-mail address, and mobile phone number, as well as a suitable user name and password, on the home page.
♦Return to the home page and then you able to see an option for login on the screen
♦ Enter your user id and password.
♦Press 'Sign-in' option.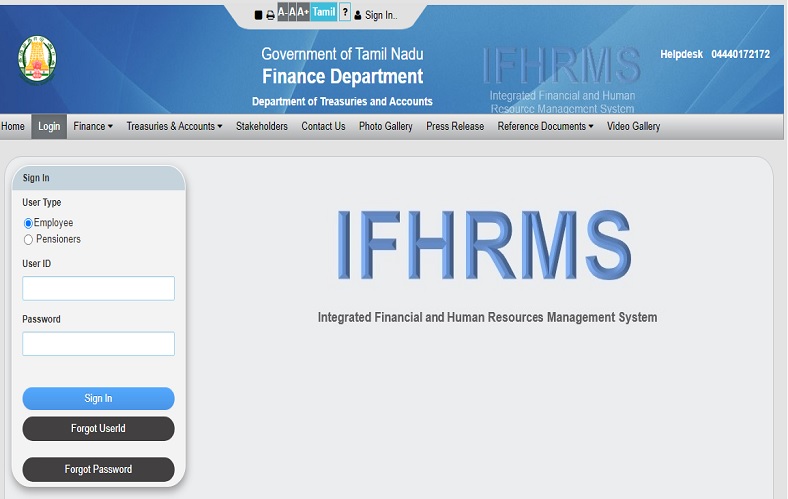 How to Reset IFHRMS Password
One can reset your password, if you forget it. For resetting the password, follow the given steps;
Go to the IFHRMS official portal and click on forget password.
After clicking on forget password,you will receive a code to your mobile phone, which you must enter to change your password in this portal.
How To Download IFHRMS Payslip
Play slip which is also known as salary bill is a bill that an employee uses to collect payment from their employer. A pay slip, also known as a payroll slip, pay card, salary bill, or pay check, is a bill that an employee uses to collect payment from their employer. For the calculation of monthly wage or payment, IFHRMS issues Pay slip or Salary bill.
To download Pay slip, go through the following steps;
Go to the IFHRMS official website.
Then, click on Sign-in option and enter your login id and password.
You able to see two choices in the homepage, finance and Human resources.
After selecting this choice, you will be prompted to enter information such as your postcode and account number.For verification, select the review option, then select the send option.
It then selects the payroll domain choice and searches for your work using the employee number as a key.Now select the option to add or amend a bill.
You will now receive a confirmation call or an OTP on your registered mobile number.
After entering the code you received via your mobile number, IFHRMS Pay Slip will be displayed on the screen.
You can get a pdf version of the IFHRMS Pay Slip here.
IFHRMS PAY SLIP INFORMATION
 The following are the information that can be found on the PDF Pay slip: –
Name of employee, employee number, name of post office, GPF number, and CPS number, Duty Pay, Dearness Allowance, House Rent Allowance, Medical Allowance, Gross Sum, and Net Pay Credit are all included in the pay details or Pay slip.
How To Update IFHRMS Pay Details
♦To begin, you must first log in to the IFHRMS login page.
♦ Now go to the GTN Pay service and sign up.
♦ Then, update salary.
IFHRMS Contact Details
♦ Go to the official portal of IFHRMS.
♦ Click on the contact option that appears on the home page.
♦Then You see two options, Finance Department and Treasuries and Accounts Department.
♦ Choose the department which you need to contact.
IFHRMS Helpdesk Number:  04440172172
Here are the details and complete information about IFHRMS Portal. For more updates check Timesalert.