Gone are the days when you had to fill in a lot of forms individually and had to stand in long queues for a Passport application form. Now you don't need to fill various forms or stand in queues to get your Passport. All thanks to Passport Seva Portal which took the passport application process online.
Passport Seva Portal
Passport Seva Portal launched by the Ministry of External Affairs. The portal aims to help individuals with obtaining their passports with ease. By using this portal, you can get a new passport.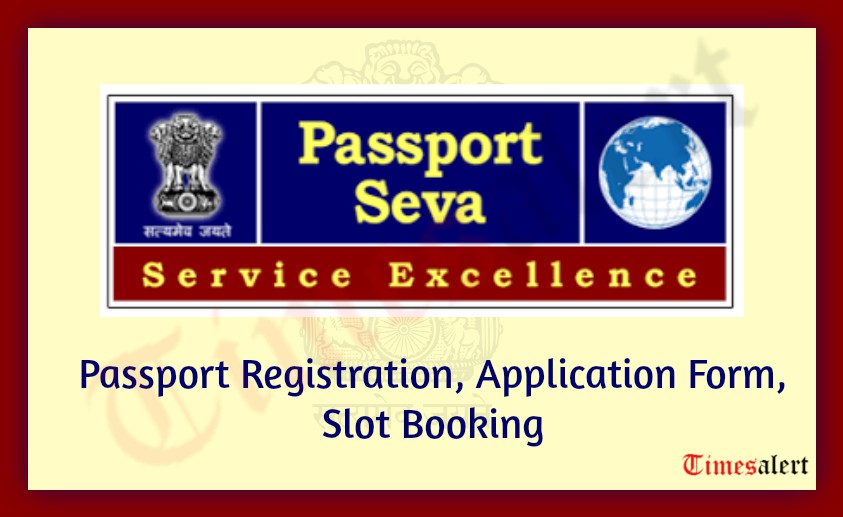 Or if you have an old passport, but it has destroyed, and you want to go to a foreign nation instantly, then you can apply for Tatkal Passport online. Please note that if you ever have registered for a passport, you must choose the option of re-issue only.
Types of Passport in India
The Ministry of External Affairs releases Passport in India. Throughout the country, it has many passport Seva Kendra. However, it has currently launched an online portal along with an app for Passport Seva Portal. Using any of these platforms, a citizen can obtain Indian passports. Generally, there are two types of passports in India:
Ordinary: Ordinary passports issued to the general public. Any individual who has this Passport can travel to foreign nations for general purposes like holidays and businessman.
Official Passport: Offical passports given to diplomats who visit foreign nations on official duties.
How To Register For Passport
Follow the given process for first-time registration on Passport Seva Portal. If you have never accessed this portal, first register yourself by following the given steps: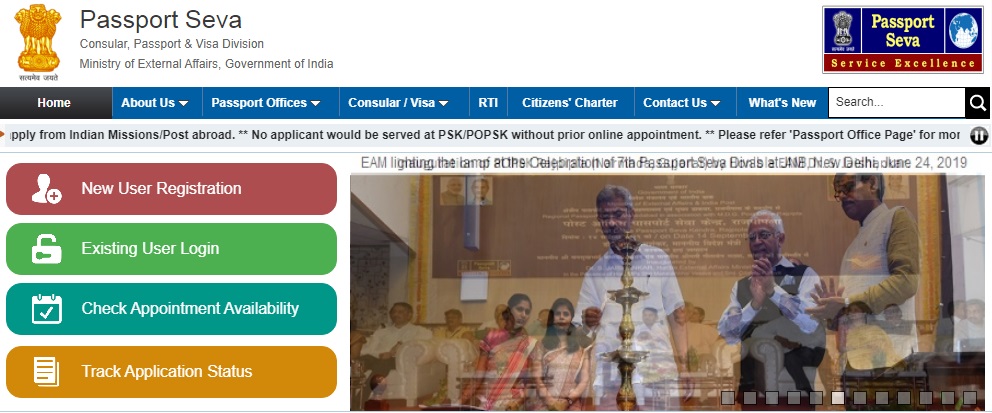 Visit the official website for the Passport Seva portal.
Click on "New User".
It opens up a passport application form which requires you to enter some details like your name. Enter all the details asked.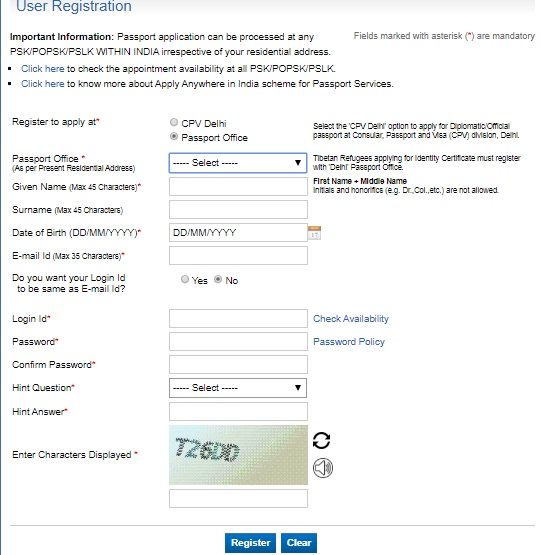 While you are filling the form, set the radio button to "Passport Office".
Select the passport office that is most convenient for you.
After filling all the details, you asked to enter user Id and password.
Choose a hint question according to your convenience. Answer it and remember it carefully because it helps you if you ever forget your password.
Check all the details and if possible, write down the user id and password for future use.
Click on submit. When you next want to use the portal, you can use the given user id and password. Also, check here for Passport In 10 Days Without Police Verification.
Documents Needed For Passport Slot Booking
You must have the following documents:
If you want to issue a new passport, you must have:
If you want the Passport for a minor, you must have:
Address proof in the name of parents
Original and attested photocopies of the Passport of parents
A declaration form as per Annexure D.
If you want the Passport for Diplomatic purpose, you must have:
A valid id card
An issued certificate by Head if Office
Request letter
Select the category of the password you need along with few other details, and your screen shows the documents you need for the type of password you want.
How To Apply For Passport
One can do Passport apply online by visiting the official Passport Seva portal. Once you have created your account by following the steps above, you can log in and begin your passport application process:

Visit the official portal.
Click the "Apply" button and enter your user id and password.
Once you have logged in, you can select the type of service you want. If you want a fresh passport, click on the desired option.
You get a form to fill. You can choose to either fill an online form and download and upload it. Take a print out of the form if required. Put in all the details asked and double-check if your form is correctly filled. The types checked by ICRs hence if the machine is not able to read your style or reads the wrong information, then you may have to apply again, which is still a time taking process.
Enter all your information correct in one go. For filling the offline form, you can use a black or blue point pen to fill the form.
Do not paste a photograph if you submit the form at a Public Seva Kendra office. If you are willing to offer at some other office like DOC or SPC, you must paste a photograph as per the rules.
Finally, check the details and submit a passport application form.
After submission, you took to a new page where you see all your previously submitted forms.
Select your required application and click on "Pay and Book Appointment". To know more about payment, read below.
Steps To Make Payment For Passport
In this head of the article, you learn about making the payment for the passport application along with setting an appointment:
Once you clicked on "Pay and Book Appointment" select the date and time of your desired choice. Select the respective Passport Seva Kendra that comes up and is convenient for you.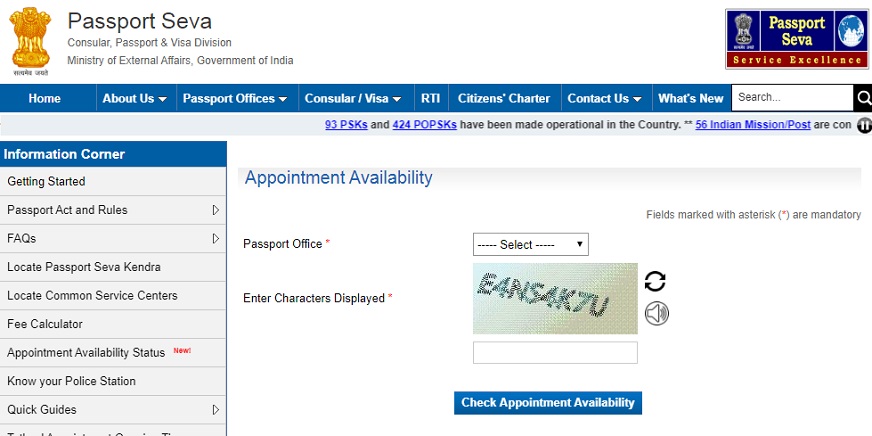 Enter the CAPTCHA code on your screen and confirm your passport office appointment booking.
On the screen, you can see the details of your Passport application form.
Now you can choose the payment mode. You can make the payment through the online method or offline method. If you want to make the payment online, then you must have either credit card or debit card (of either Visa or MasterCard), or internet banking (either through SBI or associated banks). If the user wishes to make an offline payment, you can obtain a Bank Challan that is payable at SBI branches)
Online Payment To Book Passport Appointment     
For making an online payment, follow these steps:
Upon clicking on Pay and Schedule Appointment, the method of payment appears. If you want to make payment through internet banking, select "Online Payment".
Click on the Next button. Select your PSK to book passport appointment. The system generates the appointment date for the chosen PSK.
Click on Pay and Book Appointment. You taken to multiple payment options.
For Internet Banking:
Click on NET BANKING. Login using your user Id and password of your NET BANKING.
Make the payment and after payment, you taken to your application along with a confirmation message for your appointment.
Take a print out of your application and make sure you take it along with other documents on your appointment day.
For Credit Card/Debit Card:
Click on the desired card option through which you want to make the payment
Provide your card details and Enter the OTP and follow the on-screen instructions to make the payment.
Once you make the payment, you have taken to a confirmation message for your appointment. You can download a copy of your passport application and take it on the day of the meeting along with other documents.
     For Challan:
Click on the Challan Payment option and click the Next button.
Click on Generate Challan. By clicking, you get a challan to pay at an SBI branch.
Take the form at an SBI branch and deposit it along with passport application fees indicated in your receipt.
Pay the fees. You can track the payment of your Challan by clicking on "Track Payment Status.

Passport Application Fee
In case your Passport is a fresh one you have to pay a passport application fees of 1500 Rs( for application form with 36 pages) or 2000 Rs ( for application form with 60 pages) depending upon the number of pages. If you are obtaining a passport for a minor, you have to pay Rs 1000.
How To Renewal Passport Online
In India, a passport is valid only for ten years. Hence to renew it, you can follow the given procedure:
If you are registered, then you click on the Existing User Login. If you are a new user, register yourself on the portal by following the above-given instructions.
Once you have logged in your account, click on Apply for Fresh Passport/ Re-issue of Passport.
Fill the form and click on Validate. Upload the complete filled up form and click on submit.
Documents For Passport Renewal
You must have the following documents for renewal of Passport:
Self Attested copies of
First and last pages of the Passport.
Copy of ECR/Non-ECR
Conclusion
Passport Seva Portal has made getting passports easier than ever before. Citizens can visit the portal by sitting at their homes and select the passport service they want. They can also make the payment for the same service and book themselves an appointment for passport service. For more other details, check Timesalert.