Vampire Diaries – An ongoing riddle whether Vampire Diaries will have a Season 9 or not. The show concluded in the year 2017, but there is still supposition that there might be yet another season. Though the series ended on a satisfactory note with reunions, tears, startling deaths, but the fans are still hoping for a Season 9 after 4 years.
Vampire Diaries Season 9
The Vampire Diaries is one of the most iconic supernatural teen drama TV series of all time that fetched over millions of viewers. The series is an adaptation of L.J. Smith's book "The Vampire Diaries" by Kevin Williamson and Julie Plec. It first aired on The CW on September 10, 2009 and it was concluded on March 10, 2017. The show had 8 seasons, with two spin-offs, The Originals and The Legacies.
The series has received multiple recognitions and awards. The Vampire Diaries has nominated for 27 People's Choice Award and won 5 of them and about 30 Teen Choice Award. Amongst, the cast member the Vampire Diaries is available on Netflix, Amazon Prime Video, Disney+Hotstar and XStream.
Vampire Diaries Plot
Spoilers Ahead
Two vampire brothers, Stefan and Damon Salvatore return to their original town Mystic Falls after 145 years. Stefan is the good and compassionate brother; he feeds on animal blood to spare himself from killing anybody. On the other hand, Damon is the charming, yet cruel brother who feeds on human blood.   Stefan falls in love with a high school student, Elena Gilbert who has an astounding resemblance to his former lover, Katherine Pierce. Damon goes after Elena to take revenge from his brother for turning him into a vampire in 1864, but, he eventually ends up falling in love with her too.
At the end of Season 8, Damon took the cure for vampirism and lived a mortal life, Damon and Elena ended up getting married and growing old together. Damon reunites with his brother Stefan in the Salvatore Boarding House, and says "Hello Brother", which is also his opening line in the series.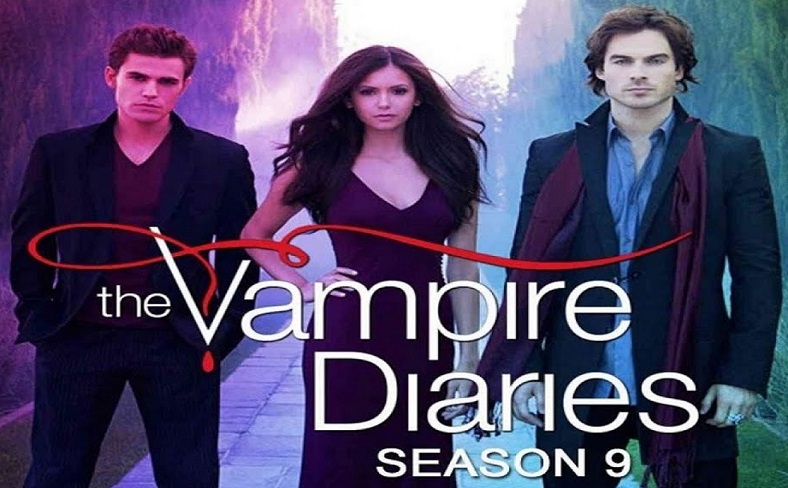 Vampire Diaries Season 9 Cast
The main reason the show got the incredible admiration is mainly due to the marvelous work of its cast and crew. Although it is just a speculation, the following cast is likely to be expected if there is a Season 9 of the show:
Ian Somerhalder as Damon Salvatore
Nina Dobrev as Elena Gilbert/ Katherine Pierce/ Tatia
Paul Wesley as Stefan Salvatore
Candice King as Caroline Forbes
Kat Graham as Bonnie Bennet
Michael Trevino as Tyler Lockwood
Joseph Morgan as Klaus Mikelson
Matt Davis as Alaric Saltzman
Zach Roerig as Matt Donovan
Steven R. Mcqueen as Jeremy
Sara Canning as Jenna
Michael Malarkey as Enzo
Daniel Gillis as Elijah
Claire as Rebekah
Vampire Diaries Season 9 Release Date
If there a Vampire Diaries season 9, we can expect the release date to be either in the year ending 2020, or the beginning of 2023. However, Ian Somerhalder has said this multiple times that he will not take the role if the show comes up with another season.
Apart from him, Nina Dobrev too left the show in Season 6 and showed up only for the finale, so it is not much likely that there will be a Season 9 with different actors as main characters.
Recent Updates On Vampire Diaries Season 9
Why the Vampire Diaries Season isn't expected?
The screenwriter of the Vampire Diaries, Kevin Williamson moved on started working on "Tell me a Story", a psychological thriller. The producer, Julie Plec is directing the spin-off of the Vampire Diaries called "Legacies".
Recently, in an interview; Ian Somerhalder brought an end to the speculation of a Season when he said "I have not heard anything about a Season 9. I mean, like, what would happen? Stefan and Damon, Damon has like, gray hair and, they have canes? Listen, it ran a great course and now, it's still living. That's what's so amazing. It's still living,"
It is true what Somerhalder quoted, the fans still re-watch the show again and again and the show still seem to be capturing the eyes of new audiences in the OTT platforms. But, the fans were still hopeful that there will be a Season 9 which does not seem to be happening any time soon. Unfortunately, till now, there is no serious update regarding a Season 9 of the Vampire Diaries.
Vampire Diaries Spin offs
Although, the show ended in 2017, there are spinoffs to carry on.  The first spinoff, "The Originals" which premiered on 2014, was centered on The Mikaelson Family, who were the first vampires to have ever existed. The series was concluded with Season 5 finale which aired on August, 2018.
Another spinoff was of "The Originals"; "Legacies" which premiered on October, 2018 is still running. Both, "The Originals" and "Legacies" are produced by Julie Plec. You can watch "The Originals" on Netflix and Amazon prime video and "Legacies" on Netflix and Amazon prime video. Legacies Season 2 is not available in all the Netflix of all the regions.
Ultimate conclusion
So, to conclude, if Season 9 of The Vampire Diaries were likely to happen, we will find some new actors. The odds of the series getting renewed are pretty tough, but it is a possibility. We are yet to receive any official update regarding the renewal of the show and the fans can only hope for the best. For latest updates check timesalert.