Best Free Media Players For Windows: Generally we are using media players for watching or viewing videos, movies, audios and images. Windows Media Player is a media player that is used for playing audio, video and also you can view images on your personal computer. It has been developed by Microsoft. While watching videos it provides high resolution to the users and you can view the videos very clearly. So here are some of the top best media players that everyone has to know and use them on their devices.
Best Media Player For Windows
Modern media players are updated with advanced features. It includes a lot of features and ability to handle connection with streaming services, 4k, 3D and also supports VR headsets. Top most best media players are listed here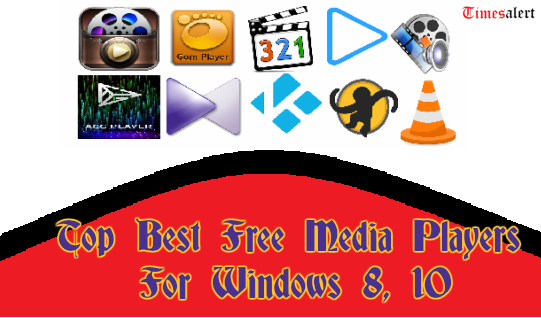 VLC Media Player
5K Player
ACG Player
GOM Player
KMPlayer
Kodi
Media Player Classic
MediaMonkey
PotPlayer
SMPlayer
VLC Media Player – The topmost media player in the market. It is free and open source media player. All Popular platforms are supported by VLC Media Player. By using this you can view your images on windows, watching movies and videos with high resolution and you can also listen to your audio songs in PC.
This media player is created by Video LAN project with clear and clarified manner. It is also a streaming media player and all this software is customized and it is not involved in painstaking steps because it is very fast and simple in nature.
Features of VLC Media Player
Creates bookmark to your playlist.
You can add watermarks on videos and movies.
User can convert audio and video files to any format.
Media Players For Windows 8 & 10
5K Player – The top rated media player for Windows 10. By using this you can play any type kind of videos and music on windows. This media player is extremely compatible with windows. It includes streaming option and it is designed with friendly user-interface. So you can easily use this media player. User can import their videos in YouTube, Facebook, Vimeo, MTV and many more etc. It is commonly compatible with formats such as MP4, MOV, MP3 and etc.
Features of 5K Player
It supports Airplay feature.
You can download free audios and videos.
Also download many videos from other sites.
ACG Player – Another media player which is used for viewing photos, watching videos and listening audio songs on Windows. It is designed with simplified interface and you can use this very quickly and easily. This media player provides touch-based controls. In the upper half it is included with play and Pause buttons, bottom half is designed for toggle controls.
A User can swipe to left or right then video allows for rewind and fast forward, for the volume you can use swipe up and down buttons. In the updated version it includes a lot of advanced features for the users and it also supports gesture customization's. It is popular and faster version media player for Windows.
Features of ACG Player
Available on windows only.
Lightweight and easy user-interface design.
Touch-based gesture included in this player.
Free Media Players For Windows in 2023
GOM Player – Also known as Gretech Online Movie Player. It is free media player for windows and it supports different audio and video formats in PC. By using this you can watch any video formats such as AVI, MKV, MP4, FLV and many more.
It includes advanced features like A-B repeat, speed control, video effects and PC media player. With the help of this GOM Player you can change the media player look and you can download subtitles to movies. This media player supports all languages.
Features of GOM Player
It provides clean and clear interface.
Ability to play broken media files.
It supports Hardware acceleration for fast playbacks.
KMPlayer – The impressive and reliable media player in the market and mainly used in windows. It supports all mainstreams of audios and video formats. This media player is available for windows, Android and iOS. A User can see high resolutions video play and also it offers many more video and audio effects for the users.
URL broadcasting, good picture quality and extensive configuration options are included in KMPlayer. It plays damaged AVI file, locked media files and compressed audio songs. It is best for all the devices. People can also check for the Best Movie Streaming Websites here.
Features of KMPlayer
Supports KMP connect feature.
Also supports multiple operating systems.
Designed with simple and easy to navigate interface.
Most Used Media Players For Windows in 2023
Kodi – The home media player and it is available for every platform. This media player plays all local and network audios and videos files in windows. It is also a streaming content video player and had very large collection of videos in site. And it also supports remote controls. This media player allows you to install third party plugin and also you can access the free content which is available in other websites.
Features of Kodi
Always supports cross-platform.
Created with simple and easy user interface.
It provides good quality content.
Media Player Classic – The updated media player in the market. It always includes advanced features and it provides high quality content to the users with high resolution. Designed with lightweight and speedy. When compared with other media player it is top rated media player with updated version features.
You can use this multimedia player on old computers also and it supports all windows. It allows subtitle download and Skype integration options. It is the largest open source alternative to the VLC media player. Free of cost and very simple to use this Media Player Classic.
Features of Media Player Classic
Supports playbacks from external devices.
Available on windows only.
Supports advanced features like subtitle download and Skype integration.
Top Best Media Players For Windows in 2023
MediaMonkey – The windows media player and always updated with advanced features and media management systems. Media player takes care about local and network stored music and video files. Both playback and jukebox modes supported by MediaMonkey. It keeps your audio and video content in a properly tagged manner.
You can use standard version for free and for gold Edition you need to subscribe for premium and that includes some more extra features such as faster disc burning, advanced searching and many more. Provides automatic background media organization for Android and desktop.
Features of MediaMonkey
More responsive than other player.
It supports more formats than VLC.
User-friendly interface and easy to use.
PotPlayer – The good reputation media player in the market in recent days. Suitable for all windows operating system. All advanced features included and more than high features  provided for the users.
By using these techniques like CUDA, QuickSync and DXVA designed with lightweight and a maximum high performance media player. Top second media player and it supports all video and audio formats in windows. In-built keyboard shortcuts and hotkeys included in that. Overall it provides rich features to the users.
Features of PotPlayer
Provides bookmark option for its users.
Also supports various devices like DVD, TV and HDTV.
Provides excellent video quality.
Free Media Players For Windows 8, 10 in 2023
SMPlayer – The best media player for both Windows and Linux. By using this you can play all video and audio formats in your personal computer. Without installing codec packs you can play different formats, designed with graphical user interface.
So it is very easy to use for users. It includes advanced interesting features like possibility to play YouTube videos and you can download subtitles, light, portable and stable, karaoke effects, shortcuts for nearly every functions and Highly customization.
Features of SMPlayer
Supports for all formats.
A graphical user interface and very fast to use.
Supported for high DPI screens.
Conclusion
Here we have provided some valuable information about the top best media players for windows 8 and 10. This article gives you full information and features of al the best media players in the market. Hope this helps you out in searching the best media player on your Windows. Also, stay tuned to Timesalert for more updates.