CISF has launched an online portal to help its employees to generate their monthly CISF payslip online. Now the employees of CISF, at any time and irrespective of their place, can create the payslip online by just one click.
CISF Payslip
CISF online payslip is of great importance. With this payslip, you can know about the deductions done in your bank account. You can also have information about your employee number, your account details.
Now to make it easy, CISF has launched an online portal for the employees of CISF. Through this portal, employees can view their cisf salary slip on their computer devices. They can also download it and save a copy of the payslip on their device.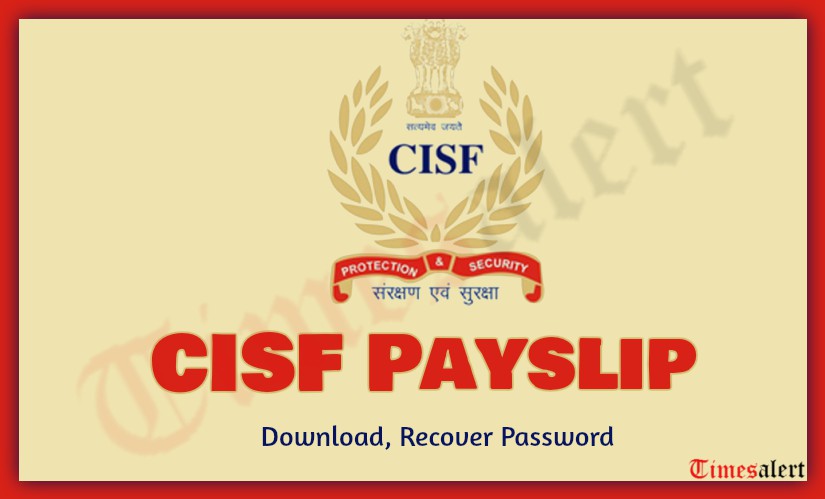 Employees can also take a print out of their monthly payslips. Online payslips are easy to access and generated at regular intervals. When the department calculates its employees' salary, it sends the cisf employee corner payslip to all its employees in one go.
CISF Employee Corner Payslip Benefits
When you generate a payslip online, you can:
Access your CISF Salary slips at any time. It means that whenever you have time, or you are sitting free at your home, you can check your payslip from your computer device. It avoids standing in long queues and waiting for payslips.
Get payslips at regular intervals. You can check your payslips every month. You can also have a check on your past payslips all at the same portal.
Online payslips reduce the cost and labour of the department. Offline CISF payslip requires sending in all the produced payslips in the form of paper all in one go. It makes the overall work heavy and bulky. Online payslips are digital, which require no paper.
How To Get CISF Payslip Online
If you are an employee of CISF, you can generate an online payslip by below-given steps. Please note that to log in to the portal, you must have your Force Number in hand. This Force Number acts as the CISF User ID.
Visit the CISF portal by clicking on its official portal which is cisf.gov.in
Now, on the bottom right of the screen, you can see two fields asking for user Id and password. For user id, enter your force number and for cisf employee corner password contact your head of department.
Enter the text printed on image or CAPTCHA code on image.
Click on the cisf payslip login button.
When the new webpage appears, you can see the dashboard or the option to view your payslip.
You can view your salary slip or download a copy of it on your device. You can also take a hard copy of the payslip and retain it.
Please note that to view the CISF payslip, you must have the respective software like Adobe Acrobat or any PDF Reader to view the payslip.

How To Reset CISF Employee Payslip Login Password
If an employee forgets their CISF Login password, they can get the password by following the given steps. Please note that if you want to reset your forgotten password, you must have access to your registered phone number and email id. By clicking on the forgotten password, you can create a new password instead of the old one.

Visit the official website by clicking on its official portal
Click on the forgotten password button which is present in the login box.
A new page appears.
Here you should enter all the details asked about you.
Now, a link for cisf employee corner password change sent to your registered mobile and email. Or, you also receive an OTP for verification on the website.
Enter the OTP and reset the password or, you can also click on the sent link and reset your password.
CISF Customer Care Number
The employees of CISF in case face of any issues can take help through the CISF support team. Here is the list of those numbers.
CISF Customer Care Number: 011-24367502 011-24307703
CISF Address: Smt. Ritu Arora, IPS Inspector General/Tech Prov. Block No.13, CGO Complex, Lodhi Road, New Delhi-110003
FAQs On CISF Salary Payslip
Q1. How to download CISF payslip online?
A1. Employees can download their monthly payslips by visiting the Employee Corner portal by CISF. Employees need to visit the official portal and log in to their accounts. After logging in, employees can download the CISF salary slip and print it.
Q2. What do I need to download or view the CISF payslip?
A2. To download the payslip, you must have an internet connection, a device to access the internet and an appropriate application to view the payslip on your device.
Here are the details on how to access CISF Payslip Login and also how to recover the CISF Salary slip password details online. So do read the complete article and get the information. For more other information, check Timesalert.