Saynamaste is a tool created by the Indian Government. It helps the users to conduct business video conferences safe without any issues. As everyone knows that people all over the world are suffering from dangerous disease Corona Virus known to be Covid 19. Almost people are facing this issue from the last three months. But till date, there is no vaccine and medicine to reduce this virus. So the Government has declared lockdown for the safety of the people. In this lockdown, all the people should stay at home and if in any emergency they need to come out.
People in these covid days are doing their office work from home. If they have any group meetings they are using Zoom, team viewer, any desk and more other such applications or tools. But they are facing some security issues while using these applications. So considering this, the Indian Government has introduced a new website Saynamaste. Where people can hold their business meetings, it is safe and secured to use this application on your devices.
Saynamaste.in Say Namaste Meeting App
Earlier, most of the people use Zoom application for any video or audio conferences. Previously the users of zoom would be 10 million to 12 million. But due to this Covid 19, the users of zoom increased to 200 Million. Due to this few users are facing some security issues. So to overcome this in our country, the Indian Government has come forward with the new portal Saynamaste.in.
It is a new application and is facing a tremendous response from the people. So who are facing connectivity issues has to wait sometime for the page to load. This Saynamaste Meeting app was developed and designed by Inscript. It used on desktop or laptop based on user priority. By using this browser, the user can create a meeting or join a meeting with a few simple steps. Soon the Government is planning to launch this application on IOS and Android to make the users feel more comfortable and secured.
Say Namaste Meeting App
Saynamaste meeting app is having more demand from the release date. So because of the Covid 19 Lockdown. All the people who do their office work from home are trying to use this Secured conferencing tool for their meetings. It features include video calling, live chat, invites the users and accepts the meeting link with a code and few more. While using this, it asks for the camera and microphone access of your device. Based on the requirement, the user can give access.
How To Use Say Namaste Meeting App
The steps on how to use Saynamaste given here.
At first, make sure to have a proper internet connection on your device which you are using.
Then open the browser you wish to use.
Later in the URL type Saynamaste.in
It automatically opens the page where it asks for
1. Create New Meeting
2. Join Existing Meeting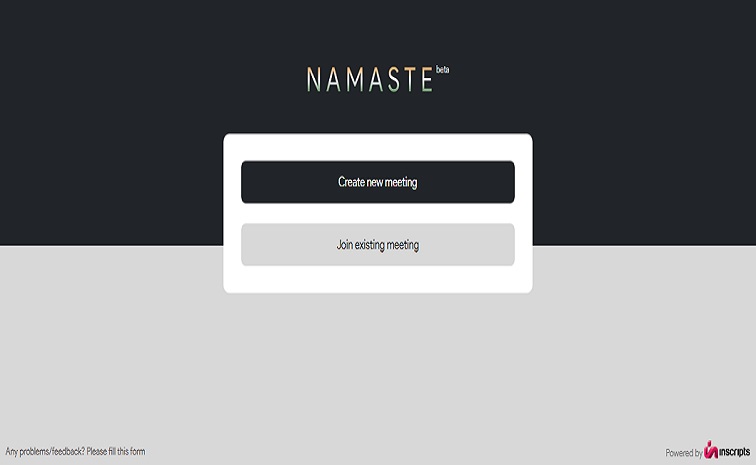 Then choose accordingly and create tour conference online by sitting at you home safely and securely.
Steps To Fill Saynamaste Feedback Form
The web portal has given a link at the bottom to share your feedback about the application. One can find Saynamaste feedback form at the bottom left side of the page. By clicking the link, you redirected to the page where you asked a few questions regarding your issue.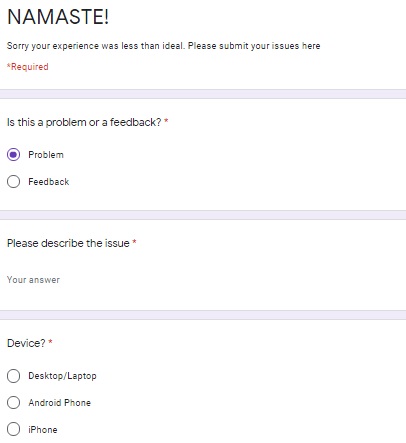 1. Firstly, they confirm whether it is a problem or feedback
2. Then in the other field, they ask us to describe the issue.
3. Now they ask us to fill the type of device we are using.
4. Then they ask us to enter the browser we are using on our device.
5. Next, you provided with space where you can enter a few words you wish to discuss with the Namaste App team.
6. Finally, they ask for the Name and contact details which are optional.
7. Then click on the submit button.
That's so simple to give feedback on the Namaste conference tool.
Here is the complete information regarding the Namaste app and if any queries let us know in the comment section. For more details, check Timesalert.