With the advent of the era of technology, everything is present online. There is almost nothing you can't carry online these days. One such similar activity is lucky draws. Lucky draws are now available online on many platforms, from winning through online gaming to Monopoly; all sorts of lucky draws are readily available online and are improving their features every day to make them more real.
Safeway Monopoly Game
One such lucky draw is Monopoly by Albertsons. In this game of luck, you get a chance to earn exciting rewards. The Albertsons Store came up with amazing offers for their customers.
The Albertsons Store offers Shop, Play, Win offers to the customers. It gives a chance of winning up to $230 million in prizes, along with many discount coupons and offers. There is also a chance you might win free groceries for your entire life.
In this article, you will learn about what Safeway Monopoly Game is, and how you can Shop, Play and Win through it, what the procedure of participating in the game is, what the various rewards are and how to participate. You will find all this necessary information in this article.
Monopoly Game 2023
The game begins on March 3rd, 2023. It can be played easily on your smartphones or your tablets. You basically are required to scan the tickets to find out your reward.
The customers of Albertson can participate in the game. Unlike earlier, the game no longer requires abroad, now you simply have to go online and try your luck from the comfort of your homes through your online PC or smartphones.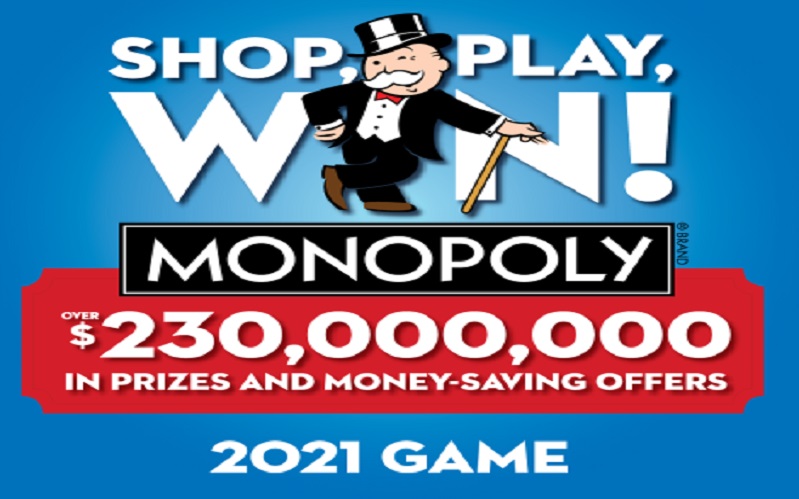 Safeway Monopoly Game App
The game is quite simple, every time you buy products worth at least $25, you earn a ticket. The customers simply have to download the Play Win App which is present in the Google Play store for android phone users and the App Store for iPhone. You have to log in to your Safeway Just for U Account and in case if you don't have one, you have to create it. After registering, you need to scan the bar codes to find out if you are an Instant Winner.
The tickets consist of a digital code. When you open the Safeway Monopoly Game, you get the three options:-
Instant Prize
Digital code for playing the Monopoly Game online
A discount offer
You can select whatever option is preferable to you to participate and win. You simply need to scan the ticket code to start playing. The winners will receive specific instructions on how they can win their prizes.
Steps to Play Safeway Monopoly
Now, you must be wondering, how exactly do we play the game to get a chance of winning such a big jackpot? So, here is the step by step procedure to take part in the game:-
Visit the official website
First and foremost, you need to go to the official website of Shop Play Win, and to do so, you can either search for it in Google or any other preferred browser.
After you open the official website, you have to click on "Play the Game" written on a red box, and then you have to select the store by clicking on its logo where you shop out of the various options available.
Now, you have to register for the game using Safeway Just For U login details. In case, you don't have a Just For U login account, you can create one through the same portal. All you are required to do is enter your e-mail ID and ten-digit contact number.
New Playstation 5 Games
PUBG Alternatives
Monopoly Game 2023 – Shop Play Win
Enter the Digital Game Code Ticket
Now, you have to enter the Digital Game Code Ticket under the bar code. The Digital Game Code Ticket is a 16 digit alpha-numeric code that will decide your luck.
After this, you have to select 3 cards from all the options to match. And then, if you have won a cash prize or free products, it shows up in "My List" in your Just for U Account. However, if you have won something bigger, you will receive an e-mail which will consist of a form which you need to fill to redeem your prize.
However, if you didn't win, you will get a 2nd chance card. For the 2nd chance card prizes, you might receive free products, cash prizes, and more entries in the sweepstakes. You can check your tokens by clicking on the Red Spend Token button.
Redemption of your Monopoly Prizes
You were able to easily find all your rewards in the My List section of your Just for U Account. Finally, if you want to redeem your coupons, follow the steps given below:-
First of all, you need to log in to your Safeway Just for U account to view your rewards.
Add the preferable item for redemption to your shopping list.
Finally, enter your contact number and checkout
Monopoly Shop Play Win Game Rewards
There are multiple rewards for Monopoly Shop Play Win Game. Some of them are:-
One $1M Cash Rewards
One Vacation Home Reward costing $250,000
Free Groceries for Life Reward
Three vehicles of your choice costing $50,000
5 Mortgage for a Year costing $25,000
7 Property Tax for a Year costing $10,000
70 Groceries for a Year Rewards costing $5,000 each
100 $1,000 Cash rewards
300 Utilities for month reward costing $500 each
900 $250 Grocery Gift Card
1,250 $100 Cash rewards
2,000 $50 cash rewards
4,000 $25 Just for U cash rewards
8,000 $10 Just for U cash rewards
40,000 $5 Just for U Cash rewards
200,000 $2.00 Just for U Cash rewards
1,000,000 $1.00 Just for U cash rewards
23M Free Product rewards costing between $.60 and $15.50
In addition to this, there are also various instant discount prizes and coupons. All in all, the odds are in your favor when you partake in the Shop Play Win Monopoly as there are unlimited rewards that you can win by following a few simple steps. So, go try your luck. For more updates check Timesalert.