Are you also given an E challan to pay recently? Whether informed or not informed, you must have broken some of the other traffic rules, following which, you received an e-challan notice. You receive an e-challan notice for over speeding, moving on the wrong lane of the road, avoiding red light, not wearing a helmet, etc.
E Challan
An e-challan notice sent to you on your mobile phone as an SMS. It also sent to you in a physical format at your residence. However, if by mistake you delete your e-challan message or don't see it on your mobile phone or at your home, you can still view your e-challan status and pay.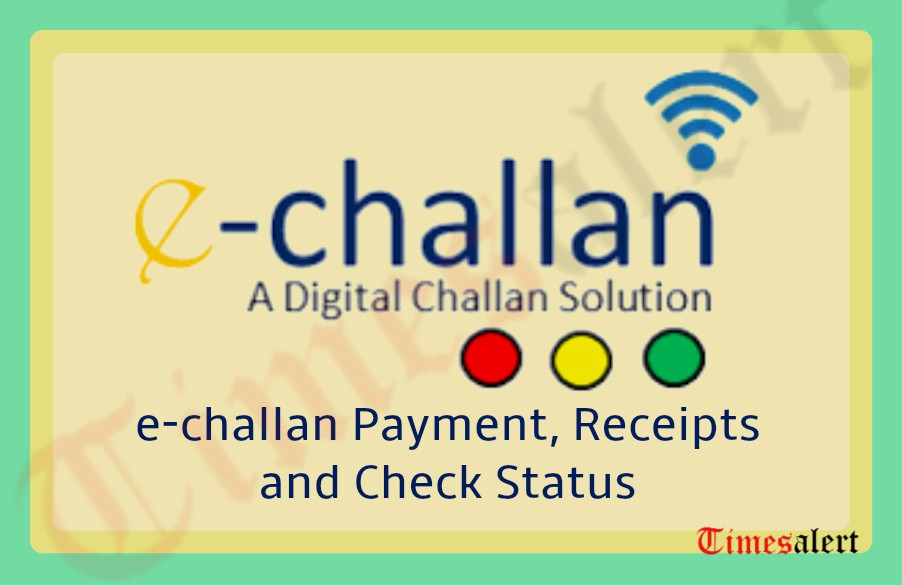 Ministry of Road Transport and Highways have launched an online portal for E-challan online resolution. The inventive named as E-challan- Digital Traffic/Transport Enforcement Solution.
About E-challan- Digital Traffic/Transport Enforcement Solution
A challan is a form of document or paperwork which is in the form of a declaration. It lets one credit money to someone else bank account by a form. Generally, it used as a form of payment in India.
An e-challan is an electronic form of the above-described challan. It accessed online and issued through the method of electronic communication like SMS. It also sent as a physical notice format to people's registered address.
In ordinary cases, you must pay your challan within 60 days from which the e-challan notice issued to you. If you fail to pay the challan, then it put forward to the court for payment. In the court of law, you may set to imprisonment, which can extend up to 3 months, or you can be punished with fine or both, depending on how severe the offence is.
Through Digital Traffic online portal, you can check the online status of your e-challan. Just enter your challan number, or your vehicle number or Driving license number to get the details of any e-challan imposed on your vehicle.
Reasons To getting e-challan
Recently, in September 2019, Motor Vehicles Act 1988 got amended. So if you made any offence before 1st September 2019, you get a notice according to the old regulations. Then you have to pay a fine according to the old rules.
However, if you had an offence on 1st September 2023 or after that, you get punished according to the new laws enacted in 2019. Also, check here for Ap E-challan Portal.
E-Challan Details
According to the new Motor Vehicles Act 2019, penalties for offences have hiked. Let us find out more about how this hike can affect your budget.
For offences for which no penalty specified, the earlier amount ranged from Rs 100 for the first offence and rs 300 for the second offence. However, after the new amendment, you have to pay rs 500 for your first offence and rs 1500 for the following second offence.
If you use any motor vehicle in an unauthorized manner without any license, earlier you were to pay Rs 1000. But now after 1st September, you will have to pay Rs 5000 for the same offence.
If you caught driving without a license then earlier the fine was Rs 500, but now it has hiked to Rs 5000.
Note that if you drive despite being disqualified from driving, you will have to pay a hefty amount of Rs 10000. The earlier penalty for this was Rs 500.
The fine for over-speeding was Rs 400 before the amendment. But now, after 1st September's new rules, the penalty for the same offence distributed in two slabs:
E Challan Payments And Amounts For Vehicles
For light motor vehicles, the fees range from Rs 1000 – Rs 2000.
For vehicles that have a medium passenger or those vehicles that require a driving license to drive, the fees have hiked to Rs 2000 – Rs 4000.
Earlier, there was no penalty or punishment for drunken driving. However, according to the new regime, an offender put in jail for up to 6 months. Or they liable to pay a fine of up to Rs 10000 or both for the first time. If he continues it for the second time, he can face imprisonment for up to 2 years, or he can be liable to pay a fine of Rs 15000 or both.
How To Check And Pay e-challan Payments
Here we have mentioned in detail, how can you check your status:
First, you need to visit the E challan Digital Traffic/Transport Enforcement Solution's official website. Once the homepage pops up on your screen, select the "Check Challan Status" option.
To get the details about you must have access to any of the following: challan number, vehicle number, or Driving License number. If you have access to any of these documents, you can check the status of your challan.
Enter the required details on the homepage according to the option you select. For instance, if you choose to check your challan details by entering the Driving License number, enter the DL number along with any details required in the form.
After entering all the details and captcha code correctly, click on "Get Details".
On your screen, you can see the number of challan files against you along with their details. Using the portal, you can track the status of your e-challan. If no challans filed against you, the row on the screen remains blank.
E-Challan Pay
If you made any offence, then the challans filed against shown on the rows. You can make an online payment for these challans. Toggle under the Payment section. Click on "Pay Now", and you can make the payment for your challan(s).
You can select the method of payment according to your comfort. Payment options available on the portal are online/net banking, credit card, debit card. Select the payment mode, the one that suits you best. If you select the online/net banking option, you have to choose the bank's name of the bank account using which you want to make the payment. Follow the on-screen instructions to make the payment.
After you have made the payment, the transaction id will reflect on your computer screen. Please take a note of it for future reference.
Using the new E-challan- Digital Traffic/Transport Enforcement portal by the Ministry of Transport, you can make the online payments for your challan. You can also track their status, whether they resolved or not by using the same portal. To get more other details, check Timesalert.