How To Exchange Rs.500 and 1000 Notes
On Tuesday evening Prime Minister Narendra Modi in continuation of his motive to resolve the issue of black money outplayed a  strong measure. All the old notes Rs 500 and Rs 1000 notes will be evacuated from the Indian Economy. A new advancement in the Indian Currency notes by introducing the new Rs 500 and Rs 2000 notes into rationing from 11th November. The government has ordered to both the I-T Department and the banks to maintain a record of all monetary transactions of cash of Rs 2 lakh and above.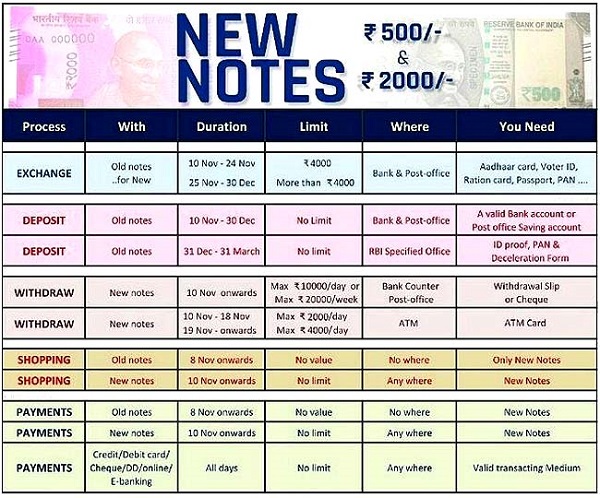 Indian Banking Association, IBA in their attempt to clear the confusion informed  that all the required arrangement has been done. All the bank branches are substantially ready to exchange and deposit the currency notes of Rs. 500 and Rs. 1000 denominations from 10 November.
Exchange Old 500 and 1000 Rupees and Get New Currency
This request of exchanging and depositing Rs. 500 and Rs. 1000 notes do not have to be completed immediately. You can only exchange your old Rs. 500 and 1000 notes before December 30. You are free to exchange Rs. 500. Rs 1000 Notes prior to final deadline i.e. December 30 by presenting valid proofs of the concerned money.
New Rs.500 and Rs.2000 Note Features Dimensions
If you do not have any bank account, you can approach your relative, the friend having an account to deposit cash into their account. But permission given by the account holder should be in writing with valid ID proof.
You can also withdraw new currency from any nearest ATM from 11th November. The withdraw from ATM is restricted to the limit of Rs. 2000  per day up to 18 November and consequently after week Rs. 4000.  There is no restriction or stoppage on the withdrawal limits from the Automatic Teller Machines.
Rs.500 and Rs.1000 Notes Exchange
The bank will continue to function whole day for withdrawing money. Banks will keep on to remain opened for general public on Saturday and Sunday(November 12 and November 13). Through the classic method of Cheque or Withdrawal slip, the restriction is of Rs.10000 per day and Rs.20000 per week for the next one week.
Download Rs.500 and Rs.1000 Currency Exchange Form
One can also withdraw new currency from any ATM around his house and from 11th Nov. The withdrawal limit from ATM is 2000 Rs. per day for next 7 days, the limit shall be increased to 4000 Rs. after one week. Currently, whole India is running to exchange old Rs 500 and Rs 1000 denominations. Some places like government hospitals, railway counters, and airports can accept these old notes from November 8 midnight for three days or 72 hours.
How Non Residential Indians Can Exchange Old Notes
Non-residential Indians can carry their old Rs.500 and 1000 notes to India and can deposit them into their bank accounts or post offices before December 30, 2016. Reserve Bank of India's (RBI) website has stated that Non-residential Indians can deposit your notes into Non-Resident Ordinary (NRO) Savings Account.