Now that you are reading this article on Giottus login, then it can be safely said that you already aware of what Giottus Currency is. But just for the sake of formality, let us first introduce Giottus to you. It is one of India's pioneering andmost trusted places where you can buy and sell BTC (Bitcoins), XRP (Ripple), TRX (Tron), ETH (Ethereum) and BCH, or Bitcoin Cash, and many more.
Giottus Login
A complete guide to how you can start using Giottus with minimum struggle involved! But to make you know Giottus better, we must answer a few crucial questions related to it. In this article, we are going to discuss the features of giottus, how to register yourself at giottus, how to log in on giottus, how to reset your giottus password and the ultimate giottus portal guide.
About Giottus
So Giottus was set up as a Cryptocurrency trading startup by Arjun Vijay and VikramSubburaj. It is a Chennai based company. The platform, as of now, enables the clients, in three ways, to trade over hundred currency pairs.
Those are P2P or Peer to peer exchange, open order book spot exchange, and simple buying and selling. Investors can easily buy cryptocurrency within a few second by sending money from their own bank accounts to Giottus's account. Giottusbasically works by transforming the real money into digital currencies.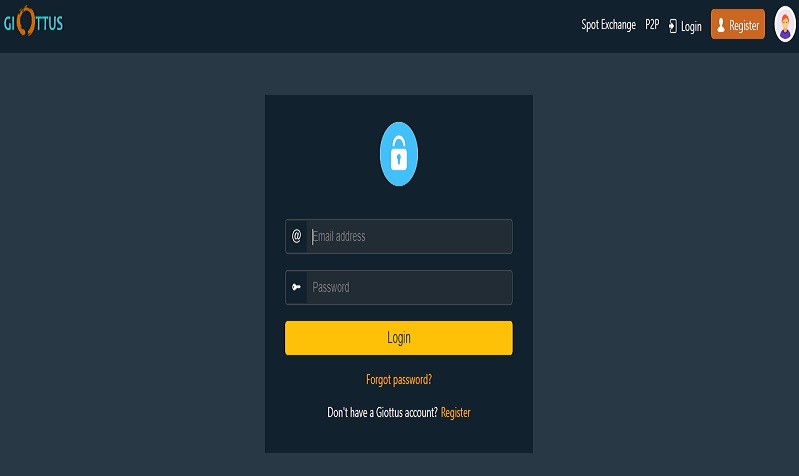 Giottus also boasts an impressive customer support in regional languages like Telugu and Tamil, alongside providing customer support in English and Hindi language.
Giottus Crypto Currency Exchange In India
While logged in on Giottus, you can avail amazing features and unique tools that will make your cryptocurrency exchanging experience smoother than butter. Here are some of their most popular features that are going to love!
24×7 instant free INR deposit
Fast withdrawal with 10 second
24×7 banking facility
Free cryptocurrencies with first crypto for free!
Fees charges lower than the rest
Multilingual and convenient customer support
How to register Giottus
Being a first time user, it is completely understandable if you are nervous during the registration process. You might as well be afraid lest you should commit mistakes in the registration process! But as scary as it might seem, here are the easiest steps one can register himself/herself with Giottus on their first go!
To register yourself as a user, you have to fill in the registration form correctly.
You should go to the official Giottus web portal.
Once you catch sight of the registration form, click on the "Sign up" option on the top of the page.
Now, you got to enter your personal details such as full name, email id, password, user name, country, phone number, date of birth etcinthe form.
Finally, click on the button called "Sign Up"given on the bottom of the page.
You must fill in all the boxes with the required details in order to successfully create an account on giottus.
Giottus Sign Up
Once you have completed the Giottus registration process, you are good to go by logging in into your account. We are about to mentions how to log yourself in on your Giottus account! Follow these easy steps to get going.
Click on the link given below in order to go to the official Giottus website.
Now, you should be able to see the home page of Giottus web portal open in front of you.
Click on the option called "Log in", the button should be at the bottom of the page.
Now, fill in the boxes with your giottus username and password.
Tap on the login button.
Now finally, enter either your email id or password and click on the button called "submit", and the log in page should appear now on your account dashboard.
How to Recover Giottus Log in Forgot Password?
If you are already a registered customer on the giottus web portal who has unfortunately forgotten his/ger password, then this part of the article has come to your help! Make sure to follow the steps in order to change your account password.
Head to the giottus login web portal and find the "Forgot Password" option. Click on the same.
After clicking on the option, you will be directed to another page where you have to enter your user name.
Press on the Send button and wait until it makes way for you to generate the new password.
Useful Tips and Tricks to Use Giottus
Here in this section, we are providing you with a few lifesaving tricks and tips that can be made use of when you are in trouble. Facing sign in problems? Have a look at the following hacks, it will save you much time and effort!
Before you go on to fix your sign in issues, make sure that you have entered correct login credentials and they do not contain any typing errors.
Make sure that you complete the captcha verification carefully when asked for a security code.
If you are still facing issues while signing in even after following the aforementioned tricks, try to get in touch with the customer support team without wasting any more time.
You can choose to get your issue resolved with the help of support team through their phone number, chat or email.
We do really hope that all your queries about giottus login and registration have been answered in this article. If you still looking for more information, feel free to check their official website. For more updates check Timesalert.