HBO Max On PS4 : Today, numerous streaming services have gained a lot of users and profits during the Covid 19 pandemic. By now, everyone had an OTT subscription on their mobiles and PCs. Maybe they should thank the Covid 19. But some streaming services include popular even before covid 19 pandemic. HBO Max is one such streaming service. It consists of HBO's premium TV shows, movies, and additional shows.
To watch them, all we need to do is access the service from the phone, laptop, and other supported devices. PlayStation is one such device where you can play numerous games and can also get access to different streaming services like HBO Max. Children love to use PlayStation, and if the problem occurs on TV, phone, or Computer to stream movies in HBO Max, people shift to ps4 (PlayStation 4) to watch them. But what if the problem occurs on ps4?
Let us look at what problems occur while opening or steaming a movie in HBO Max on ps4, and we'll also know the solutions to fix\resolve the problems.
Why is HBO Max not working on ps4?
Sometimes HBO Max doesn't work on some supported devices like Samsung TV or Roku, or ps4. It is due to some intermediate issues. Let us know why doesn't it work on ps4? What are the reasons? And how to resolve it?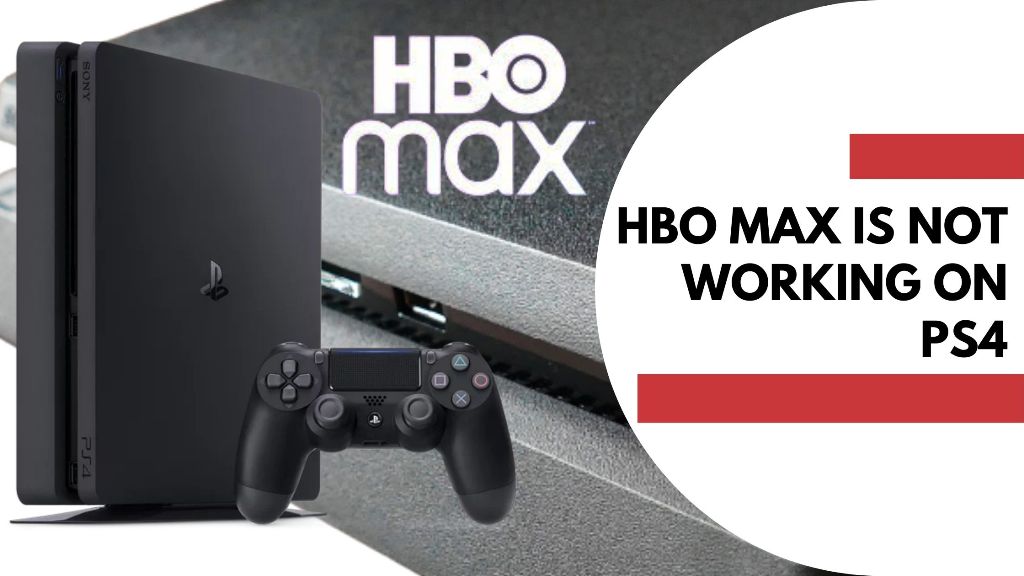 Getting access to HBO Max on ps4 (play station 4)
It is very easy to access HBO Max on ps4. We need to open the HBO Max app on our ps4 (PlayStation 4), and we need to enter our login credentials (Username and Password) to sign in, or we can also sign in using a google account or Facebook account. What else? Watch your favorite movie without wasting time.
Some problems HBO Max not working on ps4:
· Sometimes, HBO Max doesn't work on ps4. Due to some intermediate issues which lead to crashing, slow loading, buffering, random pauses, etc.
· It doesn't sometimes work due to our wi-fi router issues such as placing the router in a poor signal location and signal blockage, etc.
· High bandwidth Digital Content Protection (HDCP) error.
· There might be an error in opening the app.
· Bad internet availability.
· The rarest of all the problems is that it may not work because it is down.
· Login credentials issues include entering the wrong username and password, or sometimes the user will forget the password.
Solutions to fix or resolve the problems as mentioned above:
Different problems might have the same or different solutions.
The router issue can be solved simply by placing it in an open place where the signals are good rather than in a secure place, so there might not be a poor signal location problem.
To fix the higher bandwidth Digital Content Protection error, we need to ensure that the cables connecting your box to ps4(PlayStation4) are correctly connected.
The server down error can be resolved at home. For this, we need to visit the down detector where you can find people having similar kinds of problems and also solutions to that problem just by following the mentioned procedure on the down detector.
The poor internet connection problem can be resolved by contacting your service provider nearer to your location.
The login credentials issue can be solved quickly. You need to contact the service to send you the email address details to log in again. If the user forgot his\her password, he can click on the reset password or forgot password option to reset his password again.
If the above problems don't work, we need to restart our ps4 (PlayStation 4). Before that, the user needs to check the status of the HBO Max server using the down detector.
Steps to restart ps4:
· Open the main screen of ps4.
· Then, open the power tab.
· The PlayStation 4 will display the power options.
· There, the user needs to choose the Restart ps4 option, and they should press the O or X button for confirmation.
We need to update our ps4 and the HBO Max, which is necessary for optimization and compatibility.
The apps on ps4, especially the apps like HBO Max, will not work or work slowly if there are any pending updations of ps4 or that
app.
Steps to update ps4:
· Open the settings.
· Open system software update option.
· Click on 'update now.
· Finish the update process using provided on-screen instructions.
Steps to update HBO Max on ps4:
· Go to the ps4 home screen.
· Open the HBO Max app.
· Click on the options button on the controller.
· Choose the check for updates option and press the O or X button for confirmation.
HBO Max is the best movie and series streaming app where you can also watch the famous series 'FRIENDS' and other famous series. Hopefully, I think you are now aware of different sorts of problems that occur while opening the HBO Max app or in between the running show in that app on PlayStation4 (ps4) and the solutions to solve or resolve them easily by yourself anywhere without contacting anyone else.
Start finding the solution to every problem by yourself. This will improve your analytical thinking, and you can also fix it yourself if the same or similar problems occur again. So from now, if HBO Max isn't working on your ps4, don't just call the service providers. Try to resolve the problem with the solutions mentioned above instead.
FAQs
Why does my HBO Max buffering?
This may be due to network bandwidth, connection speed, and available memory. The main reason is the poor connection speed.
How can I fix errors such as 201, 205.4, and DIRECTV 205.5?
201 or 201.4:
Ensure you sign in with your user ID and password given by AT and T service that provides access to HBO max team.
205.5 Sign-in error:
This may be due to a sign-in error. Sign in to DIRECTV.com and change your password. The most important thing is that you don't use the link displayed on the screen for the error messages to sign in.