HCL technology is an Indian information technology company. This global technology company helps enterprises to re-imagine their businesses for the digital age. HCL technology has introduced an HCL tech bee program in an IT career. This job program is specially designed for candidates who have completed their 12th class.
HCL tech bee 2023
This program has allowed students to learn and earn from the training program. The program also assures a job in HCL Technology Company. Though there are certain eligibility criteria and program fee for the candidates for the job program.
HCL techbee is an early bird program for students, which aims to provide employment-oriented training. Students who have completed the XII class can apply for the training program. Selected candidates will be trained for 1 year to become IT engineers. The trainee will get a stipend amount of Rs.1000 per month. After the training program candidates will get a full-time job with HCL Company.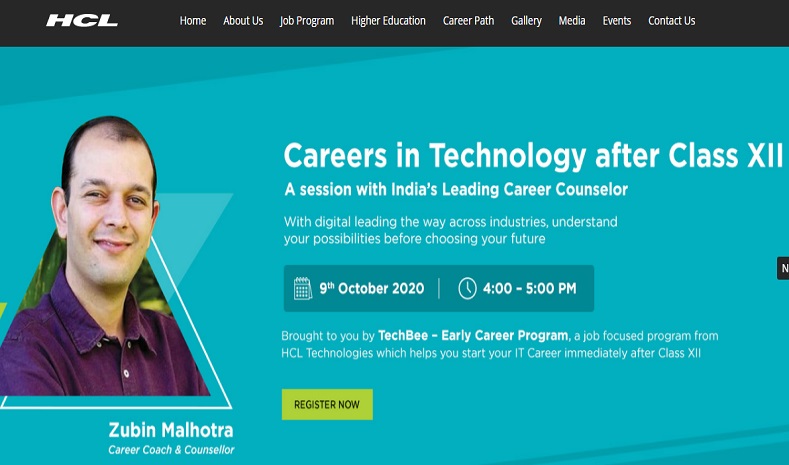 Eligibility criteria for HCL teachable 2023 program
HCL technology is India's third-largest IT Company. It has provided an early career training program for the students. To apply for this training program candidate should follow the eligibility criteria:
First and most important, candidates should be residents of India.
Candidate must have cleared the Xll exam in the year 2019. And, also who has appeared in the exam in the year 2023 and waiting for results.
Candidate must be from mathematics or Business Mathematics stream in Class Xll.
HCL techbee 2023 Registration
Candidates have to register in the techbee program to access the benefit of the program. Follow the below-given steps to register
Visit the official website of HCL techbee
HCL tech bee homepage will appear on your screen. Now select the sign-up option
Next, you have to enter all the required details like Name, Email Id, Phone number.
Now click on verify email ID. The system will send you a mail on your given mail ID.
After verification, fill the application form and submit the form online.
Create a user name and password.
Upload and enter all the necessary details and pay INR 299. Now submit the form.
Applicants will get their Txn ID and Application ID. Keep your application ID safe.
HCl techbee login
To login follow the below steps:
Visit the official website of HCl tech bee Click on the "log in" button
Next, the candidate has to enter their user name and password as they have created.
Now you can search for your application details, payment, etc
HCL Techbee Selection process
After filling the application form, the candidate will have to appear on the online computer-based test. This test fee is Rs. 299. Candidates will be selected on a merit basis. After the selection of candidates, they will next go for an interview.
Program Fee For HCL Techbee
HCl tech bee career program fee is INR 2 Lakh and the additional taxes.
In case if a candidate is unable to pay the fee HCl provides financial assistance. Financial assistance is in the form of a bank loan.
If the candidate scores above 90% during training, they get a 100% program fee waiver.
And for the candidate who gets 85-90% during training, they get a 50% fee waiver.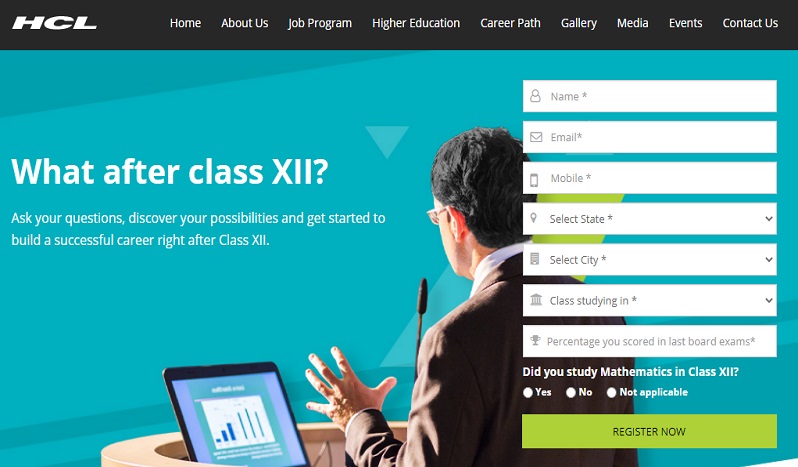 Benefits of HCL training program
After the training program, HCL technology provides a full-time job.
A trainee will learn management systems like online assessments, assignments, and case-based submissions.
IT-based training program certificate
The trainee will get to work in projects for entry Level Jobs after completion of the program. The trainee will work in areas of Application and Infrastructure Support, Testing, and CAD Support.
HCL Job details
After the completion of the HCl tech bee program candidate will get a job in HCl technology. Job details and benefits are given below
The trainee will get to work time IT professional with a salary of INR 2 – 2.2 lakh.
The candidate will get health care benefits with the job. Medical Insurance, family insurance, routine health check-ups are some of the health care benefits.
Candidates can do their higher studies while doing their job. Candidates can pursue courses like B.Sc. in design & Computing or M.Sc. / M. Tech from BITS Pilani. While BCA / MCA courses are offered from SASTRA University.
Conclusion
HCL technology has introduced an HCL techbee program. This early bird program is designed for intermediate students. The training program offers an amount of Rs. 1000 per month as a stipend. To apply for the program, candidates have to fill the application form online. The application form fee is Rs. 299 which is compulsory. Candidates get job assurance after the training program.