Remuneration To Jabardasth Comedians Anchors 
Etv most popular show Jabardasth Katharnak Comedy Show is one most watched show in the Telugu television show and also with a high TRP rating. The show was first telecasted on ETV on 7 February 2013, featuring megastar brother actor and producer Nagababu and actress turned politician Roja as Judges. This show is inspired by Hindi comedy show "Comedy Circus."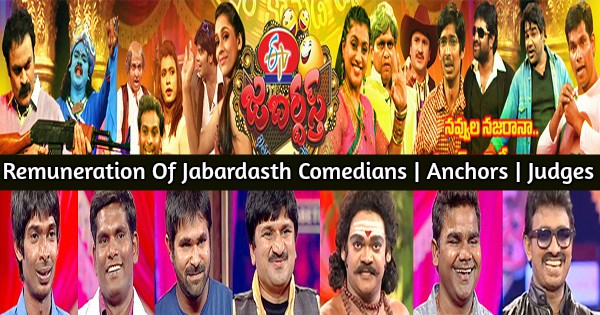 Remuneration to Jabardasth Teams Leaders
Jabardasth Katharnak Comedy Show is telecasted on ETV on every Thursday at 8.30 PM (IST). The show has five to seven teams, and each team performs a comedy skit. Based on the team performance and skit content judges will award scores to each team. The team with highest posts is declared as the winner of the episode and will be price money of Rs. 10000. Winning team performance will also get the chance be the poster of the week. Jabardasth Katharnak Comedy Show has become the most favorite show.
Top 10 Highest Paid Actresses in Tollywood 2016 
Remuneration to Jabardasth Anchors Rashmi Anasuya
Jabardasth Katharnak Comedy Show has become most favorite show within a short time. Due to the popularity of the show the production department "MalleMala productions" launched another comedy show as Extra Jabardasth. The Extra Jabardasth is aired on every Friday at 8.30 PM (IST) on ETV. Judges are same for the Extra Jabardasth, the team leaders and anchor are different.
Remuneration to Jabardasth Judges Nagababu Roja 
Anchor Rashmi is the host of Jabardasth Katharnak Comedy Show whereas Anasuya Bharadwaj is the host of Extra Jabardasth. Jabardasth is a favorite show so everyone will be interested to know the remuneration of Jabardasth Team leaders, comedians, anchors, and Judges. So here we have shared the official information of remuneration offered to each actor. Check the below table to know the details of Remuneration to Jabardasth Comedians Team Leaders Anchor Judges.
Top 10 Highest Paid Actors in Tollywood 2016
Jabardasth Comedy Show Anchors Rashmi Anasuya Remuneration
| | |
| --- | --- |
| Anchor Name | Remuneration |
| Anasuya | 4 Lakhs |
| Anchor Rashmi | 4 Lakhs |
Jabardasth Comedy Show Judges Remuneration
| | |
| --- | --- |
| Judges Name | Remuneration |
| Nagababu | 5 Lakhs |
| Roja | 5 Lakhs |
Jabardasth Comedians Team Leaders Remuneration
| | |
| --- | --- |
| Comedians, Team Leaders Name | Remuneration |
| Chandra | 2.5-3 lakhs |
| Ravi | 1-1.8 lakhs |
| Phani | 1-1.8 lakhs |
| Sudheer | 2.5-3 lakhs |
| Srinu | 1-1.8 lakhs |
| Abhi | 2.5-3 lakhs |
| Ram Prasad | 1-1.8 lakhs |
| Shankar | 2.5-3 lakhs |
| Venu | 2.5-3 lakhs |
| Jeevan | 1-1.8 lakhs |
| Dhanraj | 2.5-3 lakhs |
| Rakesh | 1-1.8 lakhs |
| Sunny | 1-1.8 lakhs |
| Raghava | 2.5-3 lakhs |
| Chanti | 2.5-3 lakhs |
| Sheshu | 2.5-3 lakhs |
| Apparao | 1-1.8 lakhs |
| Sudhakar | 1-1.8 lakhs |
| Ramu | 1-1.8 lakhs |
| Remaining Others | 1-1.8 lakhs |