Kartarpur Corridor: Kartarpur Sahib Gurdwara a holy place worshipped by the Sikh Pilgrims all over the world. It is the place where Guru Nanak spent his 18 years of life and also his resting place in the final stage of life. This place situated in Pakistan in Narowal District that is 4.5 Km from the Dera Baba Nanak Border.
Kartarpur Corridor
Kartarpur Corridor is a historic corridor which connects Dera Baba Nanak Shrine In India and Darbar Sahib In Pakistan. It is a visa-free border where Indian visitor can visit the Kartarpur Sahib Gurudwara without any visa holdings. Earlier Pakistanis are not allowed to visit Dera Baba Nanak without Indian Visa and Indians are not allowed to visit Kartarpur Sahib. So to get a Kartarpur Corridor, a proposal was made in 1999 by Atal Bihari Vajpayee and Nawaz Sharif who are the Prime Ministers Of India And Pakistan.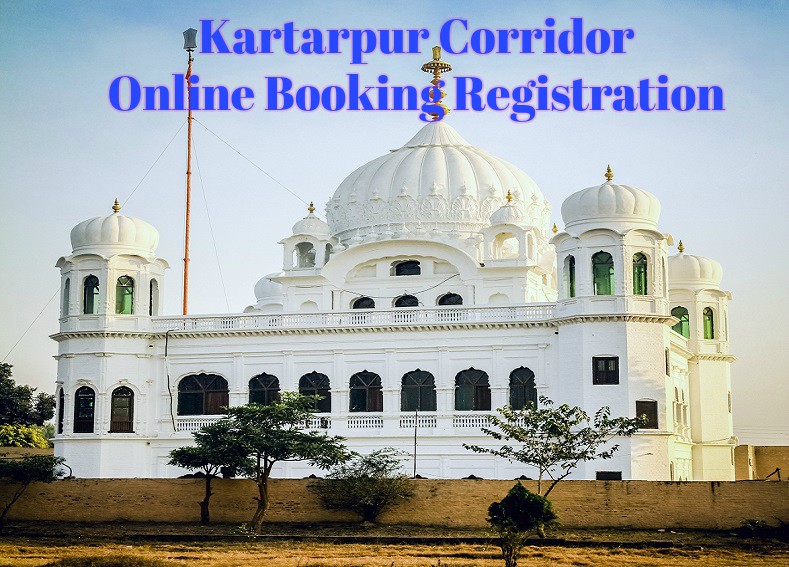 So in the year 2018 on 26th November the foundation stone was laid in India by Indian Prime Minister Narendra Modi. Two days later Pakistanis also laid a foundation stone that is on 28th November by Pakistani Prime Minister Imran Khan. Now its all set to open on 12th November 2023 as that day is the 550th Birth Anniversary Of Guru Nanak. Also, the Pakistan Prime Minister stated that they are opening the border and showing their hearts to the Sikh Community. So from now, all the Sikg Pilgrims can visit to get a Kartarpur Sahib Gurudwara without any visa.
Kartarpur Corridor Registration Online
The visit to Gurudwara Kartarpur Corridor in Pakistan is now open to all the Indian citizens. One can book a slot to visit as the registrations opened online. There is an official announcement made by Additional Secretary Of Home Affairs Mr Mohan that the online registration starts from 20th October 2019. So all the Pilgrims can book Kartarpur Corridor Online Registration and do visit Kartarpur Sahib Gurudwara. We here also include all the registration process, how to apply for it and more. Just do follow the details and book a visit to Kartarpur Gurudwara.
Requirements To Visit Kartarpur Corridor
All the Indian Pilgrims need to carry a Passport to visit the Gurudwara in Pakistan. Carrying a passport is mandatory. People with no passports are strictly not allowed to pass the Kartarpur Corridor.
Online registration to visit Kartarpur Sahib Corridor is also mandatory.
One need to have Acrobat Reader to be installed on their device while filling the registration.
You need to select the journey date, and police verification also done for security reasons.
Also, they have to carry an Electronic Travel Authorisation (ETA) which given to you at the time of registration, and it is also a mandatory document which took to Kartarpur Sahib Yatra.
There is no need for any visa to visit the Kartarpur Corridor.
The application fee is $ 20.
Soft copy of your photography and a scanned copy of the first and last page of your Passport required for registration.
Scanned photography size should not exceed 300Kb in Size.
Scanned Passport should be of a size less than 500 Kb.
The person should know their blood group which required during the time of registration to Kartarpur Corridor.
Rules And Regulations To Visit Kartarpur Sahib Gurudwara
People who wish to visit the Kartarpur Corridor has to follow some rules and those discussed below.
The pilgrims have to visit the Gurudwara in the morning and has to return by evening. That is they have to compulsory return on the same day.
The visitors have to carry a bag of weight 7Kg, including a water bottle and not more than that.
Also, the pilgrims of the Corridor has to carry an amount up to Rs 11,000 only.
They are allowed to visit only Sri Kartarpur Sahib and not any other place.
Smoking, Drinking and Using Tobacco is strictly prohibited.
Playing loud music and taking photographies of others without permission is also not allowed.
These are the few rules to be carried out by the visitors to visit Kartarpur Corridor.
Eligibility For Kartarpur Corridor Pilgrimage
Everyone is eligible to visit the Kartarpur Sahib Corridor. That is it opened to Sikhs, Non-Sikhs, Indians and also the foreigners.
But they should be the citizens of India or have an Overseas Citizen Of India Card (OCI).
Also, OCI cardholders need to have a passport of their respective country. And Indian citizens should have Indian Passports.
The age of the pilgrims should be between 13 to 75 years.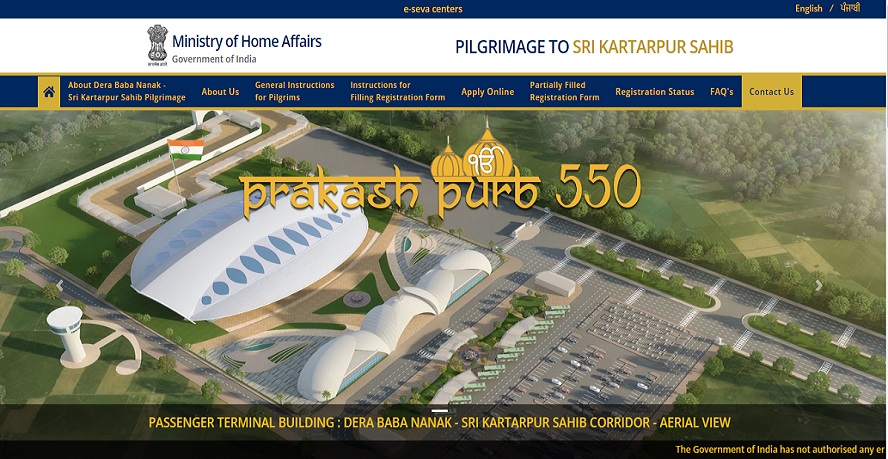 Kartarpur Sahib Gurudwara Yatra Online Booking
All the pilgrims have to follow a few steps to book a visit to Kartarpur Corridor. Those in detail given below.
Firstly, the visitor has to open the official website.
Then you will find apply online tab where you have to give a click on it.
After that, you redirected to the registration process where you asked to select the nationality.
There you are provided with two options. They are
1. Indian
2. Foreigner(OCI Card Holder)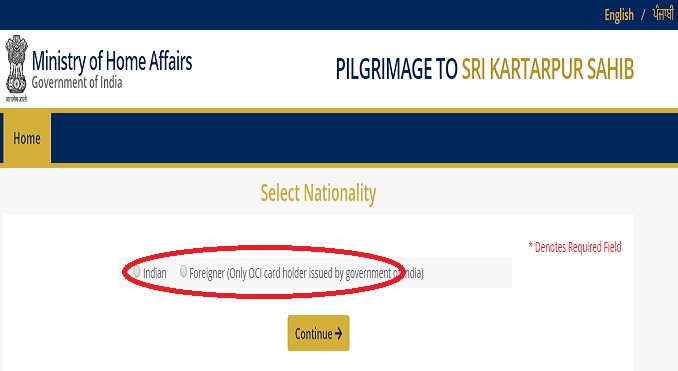 Then after choosing any one of that click on the continue tab present below.
There again, you will be asked to select the Journey Date.
Choose according to the availability, and then you will get a list of dates available.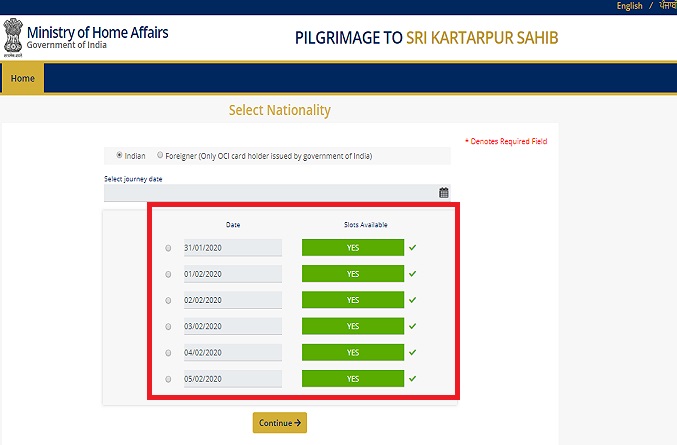 Then choose accordingly, and you redirected to the PART A Page where you have to enter a few details.
Those details one need to submit are
1. Passport Type – Ordinary, Diplomatic, Official
2. Fill all the details of Passport Like Passport Number, Date Of Issue, Date Of Expiry, Place Of Issue, Given Name that is Name on the Passport, Surname, Fathers Name, and Gender.
3. After that, enter the captcha and click on Save and Continue.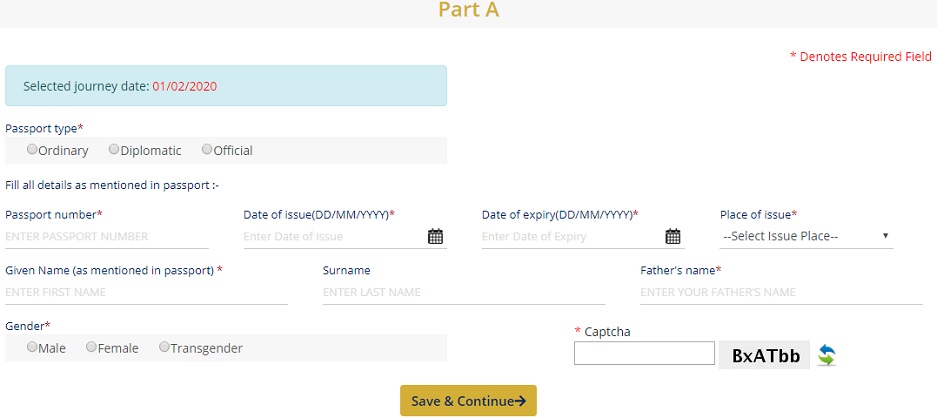 Then you redirected to another page where you have to upload a few documents like photography.
Then click on Submit.
The online registration for the Kartarpur Corridor gets completed. You will get a PDF file and a registration number where you have to save it for further reference. The visitor also receives an SMS and Email regarding the confirmation of Registration. This confirmation comes only before the four days of the travel. Also, the pilgrim receives an ETA which carried to the Kartarpur Sahib Yatra.
How To Check Kartarpur Corridor Registration Status
We here including the steps on how to check the registration status for Kartarpur Yatra Online Booking.
1. Firstly the user has to visit the official website.
2. Then click on the registration tab present on the top of the page.
3. Then you redirected to the page where you have to fill details like
Registration Number
Passport Number

4. Then enter the captcha given on the page and click on the submit button.
There the status of your yatra displayed on the screen.
Kartarpur Sahib Contact Numbers
The pilgrims who face any issues while booking to Kartarpur Sahib Yatra can take the support from the help team.
Kartarpur Help Line Number For Punjab Residents – 8283842323
Sahib Gurudwara Contact Number For International or the Other States – 0183-2500463
Kartarpur Corridor Email ID – [email protected]
The above is the complete information one has to check to go on a pilgrimage to Kartarpur Sahib Gurudwara. All the information provided is best as per our knowledge and hope this helps in planning and visiting the Kartarpur Corridor. For more other such information, check Timesalert.