Mahalaya Amavasya, also known as Pitru Paksha. It is a new moon day and considered as the start day of the Dasara festival. This day is unique and is celebrated by offering and expressing our gratitude to our ancestors and elders who passed away. Mahalaya Amavasya celebrated every year, and this year it falls on September 28th and the day is Saturday. More other details about Mahalaya Amavasya Significance are discussed here in the subsequent sections of the article.
Mahalaya Amavasya
Mahalaya Amavasya has different names like Pitru Amavasya, Peddala Amavasya, Sarvapitra Mavasya or Simply Mahalaya. This day is the last day of pitru Paksha, which celebrated for 15 days. Also, this Pitru Paksha called in different names like Pitru Pakshya, Mahalaya Paksha, Sola Shraddha, Apara Paksha, Pitri Paksha and Pitri Pokkho.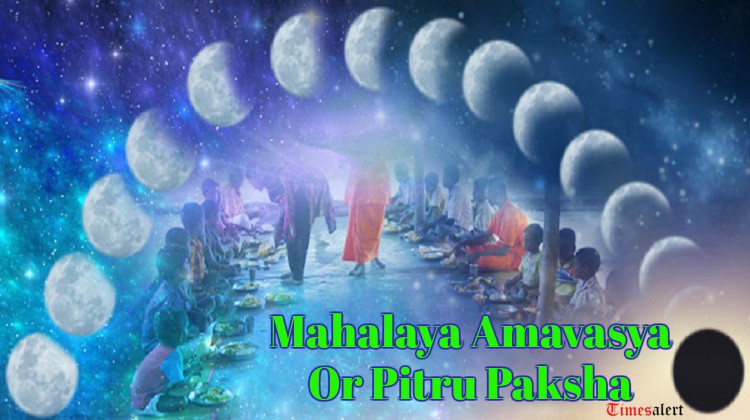 Tha day celebrated mainly to take blessings from our ancestors and older generations. On this day, people offer food to their elders and wish them to bless them and make them free from all the bad and evil. Providing food to ancestors on Mahalaya Amavasya is known as Shraddha.
Mahalaya Amavasya, Pitru Paksha 2023 Dates
According to Hindus, Lord Vishnu has permitted all the departed souls to visit the earth and bless their family members with joy and happiness. By taking those blessings from them, the family is free from sorrows and obstacles. Most of the people believe that their ancestors exist in the world as spirits and they have to take their blessings on this special day named Mahalaya Amavasya or Pitru Paksha.
Even scientists also say that human beings exist for 20 Million years on the planet. So this festival is celebrated by offering prayers to our ancestors and taking blessings from them. The words we are speaking, language, Clothes, the way we sit, stand and sleep, and what, not all the activities we are doing all comes from our ancestors. That is, our ancestors follow the things we are observing from many generations.
Mahalaya Amavasya Significance, Importance
We have taken many things from our older generations. That is earlier the human being is the person who is the first one to invent about the tools, machines and more. It is the only human being who can use tools, including his body. Our ancestors gave us and taught us how to wear clothes do things more straightforward and more. So keeping this in consideration, we have to thank them for all the things they gave us and to our future generations. This Mahalaya Amavasya is the day where we can show our respect and gratitude to our elders of older generations.
Mahalaya Amavasya is one of the great honour given to our ancestors before the start of Navarathri. We thank them by offering sacred and special foods. This Mahalaya Amavasya celebrated for 15 days, and this period of days is known as Pitru Paksha. That is the name itself says that Pitru means Ancestors or elders and Pakshga means 15 Days period. So in these days we great our elders with thanks and offers pandas to them. This pItru paksha starts on Bhadrapada Shukla Purnima and ends on Ashwin Krishna Amavasya which is also known as Mahalaya Amavasya.
What Is Mahalaya Amavasya & Pitru Paksha 
People on this Pitru Paksha days perform Shraddha ceremony which means Pindas on the day there Forefathers our ancestors died. That is they perform these rituals based on the tithes they left. They believe that by offering these, they blessed with happiness, Prosperity and longer life. The persons who have these process and disagree with the following may face some Pitra Dosha, and they are listed here.
The older person in the family gets some chronic diseases.
A person who is about to get married may have a delay in their marriage date.
Frequent disturbances and illness in the family happen.
May face some economic crisis in their family.
They lose mental and physical strength.
Pitru Pooja Guidelines On Mahalaya Amavasya 2023 
People who follow this Pitru Pooja must not offer any Non-Veg to their ancestors.
They should also not have during the whole day of Mahalaya Amavasya.
Respect elders on this day and take their blessings.
Only use leaves plate for offering food to the ancestors or forefathers.
Don't use any plastic, steel or iron plates to offer food to the elders on these Pitru Paksha.
Do not ring any bells at the time of pooja.
Mahalaya Amavasya Rituals
The person who celebrates Mahalaya Amavasya has first to give pindas to their ancestors. For this day, they call a brahmin and do some pooja at the banks of the river. While doing so, they were Pancha with the top open and keep a ring made of leaves. Then they perform Shraddha ceremony to the ancestors in the family. They offer food to elders, and that food is to be cooked by themselves and provide those in a leaf but not in plates. The menu may include Masala Vada, Payasam and Uncooked rice.
Then after offering pooja, they keep food to Crow, and they believe that their ancestors have the food. Later they have to provide food to the brahmins and cow. Now, after having all these rituals, the family members can have their lunch. It is the complete process done by the people on this Mahalaya Amavasya. For more other events and updates check timesalert.