Going for the colour blue is always fun – be it a pair of blue jeans or a gorgeous backless gown! If there is a colour that matches every skin tone, it is the royal blue colour. This colour contributes a lot to enhance your look altogether; the colour looks perfect not only for a formal event but also on a girls' night out! If you are fond of this royal blue colour, then chances are high that you have quite a few breathtaking blue outfits in your wardrobe that you are planning to wear at your next party or cocktail evening!
Makeup for Royal Blue Dress
However, the game can be spoiled any minute if you wear a blue dress and mess up the makeup part. You have to be very careful around the makeup for a royal blue dress as it deals with such bright colours that can either make or break your entire look! For example, you can always be daring with the colours, but opting for bright red lips with bright blue eye shadow is always a fashion blunder.
Remember that your makeup should not make your dress look dull and rather expressionless. Film stars and celebrities get assistance from celebrity makeup artists to get this makeup game sorted for them. Nevertheless, we do not want you to miss out on the amazing tips and tricks that will help you look nothing short of a diva in that blue dress! So, read this article till the end for getting some makeup insights.
What You Can Try with your Royal Blue Dress
You can heat your eyeliner lightly to make the colour come thicker and it gets easy to apply.
Adding a tinge of colours will freshen up your entire look and compliment your skin tone accordingly.
Be careful while picking up the blush for your cheeks! You can go for a colour that suits your skin tone best rather than the one you saw looking amazing on a random TV star.
 Go for rosy tones if you have a light skin tone and opt for plum and bronze shades for darker skin.
Make sure to utilise the right brushes for getting flawless makeup.
Using a moisturizer will help your skin look younger and create the perfect base for makeup. Do not over moisturize the areas around your eyes as that will not help hold the colours of your shadow.
pick up the right match in the foundation for your skin. Stick to the closest possible shade of the same.
Use concealer or a white shade of eye shadow to bring your eye makeup to life.
The fabric of your dress should contrast the makeup type you are going for. Use glittery products and shiny products if your dress fabric is of matte texture.
Make sure to keep your makeup balanced. A Royal blue dress would look best on you if your make-up has the perfect blend of bright and nude shades.
You can try playing with three to four colours while creating a dramatic eye makeup look.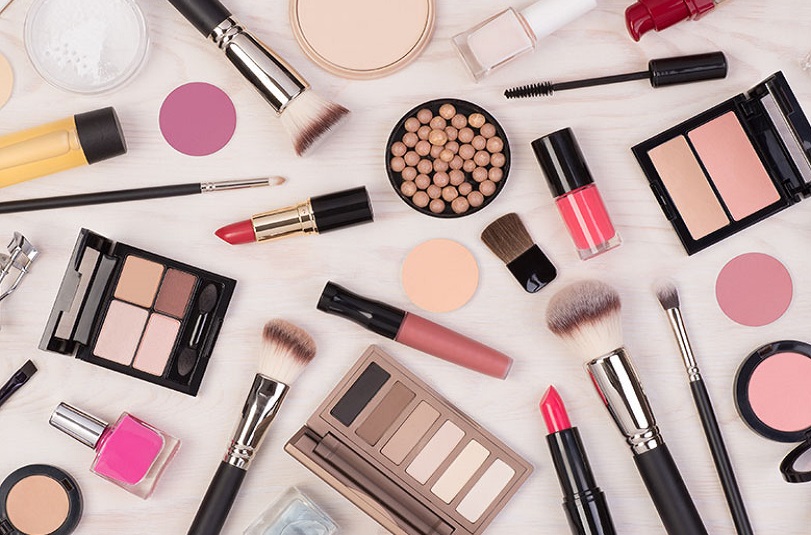 Best Lip Makeup For Blue Dress
Base Makeup
No matter what colour your dress is, the base make-up should be constant and flawless. The base makeup would not change depending on the type of dress you are wearing. This makeup is used to make your skin look even-toned, flawless and perfect. For getting your base makeup sorted, start with using a primer. If you have a dry skin type, then going for the hydrating face primers is the smartest choice you will ever make. If you have oily skin, then opt for oil control face primers or mattifying primers.
Once you are done with the primer part, stretch your hands towards the foundation. You should use a foundation brush for distributing the product evenly on your skin, but fingertips also do the work if you are comfortable with it. Whether you want full coverage or a second-skin-like foundation look is entirely your choice. We would suggest you go for a natural look during the daytime and not for heavy makeup if you have an evening party.
Eye Makeup For Blue Dress
As we know that you are reading this article for your royal blue dress, we can already tell that you are excited to try your skills with a blue eyeshadow palette. We are not discouraging you either. But playing with dark blue colour can be a bit difficult if you do not have much experience with the same. Nevertheless, you should try subtle and natural blush if you are willing to go for those smokey, blue eye makeup ideas for royal blue dress. Blue metallic eyes will also look bomb with a shimmery blue dress. You can combine the royal blue shade with gold for the eyelid shade, and define your crease accordingly. Or, you can also apply a matte blue shade on the eyelids with a subtle transition colour, then top it with blue pressed glitter. Trying that bold winged shape with blue eyeliner is also a brilliant idea for your next prom makeup for a royal blue dress.
Makeup For Blue Dress
As we have slightly touched upon the point that blue does not look great with red. You need to be very careful while doing your cheek makeup. Hot pink or red as blush is a big nay-nay for your dress. So, if you don't want to look like the human barbie doll, you must maintain your distance from these colours, we would suggest you go for nude colours such as coral, soft pink and peachy nude shades for the cheek tint.
If you rock a dusky skin tone, then going for cinnamon colour would make you look like a walking dream. If you have a darker skin tone, then you have to be extremely cautious while picking up your cheek shade. Try to stick to the natural and soft colours as much as you can. A contour kit can be your best friend when it comes to highlighting your cheekbone and sharp jawline. Apply shimmery soft shades of highlighters along with the contour stick and powder to finish your cheek makeup on the right note!
Tips to Get Ready For Blue Dress
If you have already made up your mind about the royal blue dress and blue eye makeup, then soft, natural lip colours should as well be your ultimate choice. A dramatic eye make-up would look best if you pair it up with a neutral looking, glossy or matte lip. So, go for a natural pink or peachy coral colour. But then again, if you have decided on keeping the eye makeup subtle yet elegant, then you can experiment with your lip colour accordingly.
For instance, bright fuchsia pink or bold orange lips would look stunning if your eye makeup is based on neutral colours. You can also try that bold red shade with your dress, but your eyes, in that case, should not be smokey. Whatever you do with your lips, make sure they are properly exfoliated and scrubbed if you want fuller and fresh lips.
Tips For Makeup On Heavy Dresses
Your hair and nails are just as important as your stunning blue dress and makeup. But people often tend to neglect these two while decking up for an occasion. Well, we are here to remind you of how important it is to take proper care of your hair and nails if you want to come up as the best-dressed guest at the party! You can use gels, masks and other haircare substances to properly treat your hair before doing a hairstyle. Making use of little, cute hair accessories will further level up your look for the better. Nails are yet another important point you can forget about. So let us give you a few tips on that as well. You can try wearing a glittery blue nail shade to be the life of the party. But if you can not decide on the colour of your nails, or if you are running out of a blue nail shade, then you can simply pick any pastel colour of your choice. Ice blue, soft pink, or nude nail shades are always good to match a blue dress.
Best Makeup for Royal Blue Dress
If you are planning to pull off a monochrome look, then you are up for a challenging task! You can also try the new trendy graphic eyeliner style with your dress instead of the usual winged liner. There is no such rocket science behind understanding what looks best with your blue attire.
But you can either try a full face of makeup for the evenings or a subtle, dewy and fresh look for your morning hangouts. Nude makeup with glossy lips will look just as refreshing with your dress. But here is a little tip. No matter how you want to do your eye makeup, make sure to finish it off with a coat of mascara and kohl pencil. It will accentuate your entire look and make you look put together. We hope that this article helped you get an idea of how you can be the head-turner in your favourite blue dress at your coming party!   For any other information and updates check Timesalert.