Numaish Nampally Exhibition: Numaish is also known as Numaish Masnuaat-e-Mulki. It is an exhibition held in Hyderabad every year and started in 1938. It is an annual consumer exhibition. Osmania University graduates had started this exhibition to showcase local products. First, they started with 100 stalls in the public gardens in the year 1938. After that, it shifted to exhibition grounds that is near to Nampally.
First, it named as All India Industrial Exhibition and after it renamed as Numaish in 2009. In this exhibition, they will exhibit different products like dry fruits and handicrafts from Jammu and Kashmir, Handmade garments from Uttar Pradesh and many more. Pista House Restaurant famous for Hyderabad Haleem is also available in this exhibition. The Numaish exhibition has 75 years of history. More about Numais discussed here.
Nampally Exhibition Hyderabad 2023
Numaish Exhibition continuously runs for 46-days in a land of 23 acres. Nampally is the permanent place for Numaish exhibition. It starts from Monday to Sunday, from 3:00 pm to 10:30 pm. The best place for shopping lovers and also the best choice for entertainment. We can find a lot of fun rides, toy trains, eateries, and cultural shows also available in Numaish exhibition held in Hyderabad.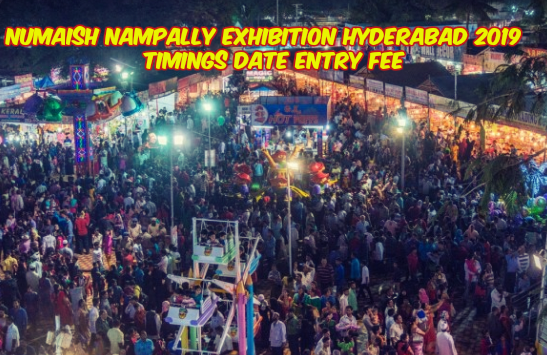 The user may charge Rs 25 for entry. Parking provided inside the exhibition grounds. For four-wheelers, they charge Rs 50, and for two-wheelers, they charge Rs 20. Fixed Parking amount to everyone. The exhibition had three entry points. They are Gandhi Bhavan Gate, Ajanta Gate, and Goshamahal Gate. Ajanta Gate the most significant and main entry for this Nampally exhibition. People can now check the Top 10 Best Gaming Apps of 2023 here.
In 2018 Numaish exhibition had completed 75 years of journey. More than 2500 stalls offered to the visitors by this Nampally exhibition. We can find the number of choices in the Numaish exhibition. It is the best place for visitors to buy any items.
Details Of Nampally Exhibition Hyderabad
| | |
| --- | --- |
|  Event Name | Numaish  |
|  Event Type |  Exhibition |
|  Date Of Event | 1st January 2023 To 16th February |
| Timings | 3 PM to 10:30 PM |
| Number Of Stalls | Nearly 3000 Stalls |
| Type Of Stalls | Food, Clothing, and many more |
Nampally Exhibition Dates And Timings
In the exhibition, they also conduct several cultural programs for all 46 days. Such as classical and popular musical concerts, magic shows, poetry etc. Bollywood and Tollywood artists also perform in this Numaish exhibition. Last year exhibition authority provided many Telugu and Urdu programs. Renovated club hall – the place where all these special programs held. Along with these cultural activities comedy programs and Ghazal, programs done in Nampally exhibition 2023.
All the games are available from 6 pm in the Numaish exhibition. Last year Society club and reception sub-committee had conducted the grand program with S.P. Balasubramaniam. Along with the Balu large number of Telugu film industry, singers had performed in this Numaish exhibition.
The government may provide three-tier securities to the Numaish exhibition. Frame metal detectors installed for three gates. Live video streaming available for the Numaish exhibition. With the help of zoom cameras, everything is open to live stream the Exhibition grounds. It is the best place to buy products and items from all over the world — more information regarding this given on our portal Timesalert. Please visit our site to get regular updates.
Numaish Nampally Exhibition Cultural Programs Events
Several cultural programs are organised in this Nampally Exhibition to entertain the people. Numbers of classical and popular music concerts included in this program. People come here to enjoy this program in the evening time. Also, some magic shows and poetry programs conducted for visitors. Every year famous singers, celebrities, and eminent personalities come here as a guest.
History Of Nampally Exhibition
A beautiful history is present behind the Nampally Exhibition. The exhibition started during the rule of last Nizam Mir Osman Ali Khan. The main motto of the show is to promote local products. The Public Gardens organised the first event. After that, the venue of the Nampally Exhibition shifted to the ground. Before 2009, people know this event in the name of "All India Industrial Exhibition. After that, it renamed to Numaish Nampally Exhibition. In Urdu, the meaning of the Numaish is an exhibition that represents the open-air exhibition of varieties of products.
Nampally Exhibition Entry Fee
To Enter the Nampally Exhibition, people have to pay the entry fee. The entry fee is different for different categories of visitors. Check the below section to know the entry fee structure.
| | |
| --- | --- |
| Nampally Exhibition | Entry Fee |
| Adult | Rs 30/- |
| Children Below 5 Years | Free |
| Senior Citizen | Free |
| Disabled Person | Free |
Hyderabad Nampally Exhibition Parking Fee
The Nampally Exhibition is a huge event. Many people from Hyderabad come to this place for shopping and visit. So for a discipline event, the event management makes a chart for parking. The parking fee is different for inside and outside parking.
Inside Parking Fee:
Four Wheelers – Free
Two Wheelers – Free
Outside Parking Fee:
Four Wheelers – Rs. 50/-
Two Wheelers – Rs. 20/-
How To Reach Nampally Exhibition Hyderabad
People can easily reach to the Nampally Exhibition because it is present in an accessible location. Nampally is the centre of the Hyderabad city. Visitors can come here by bus, metro, or through MMTS (Local Trains). Else, you can book private cabs or vehicle to reach here.
Nampally Exhibition Gates
The Numaish event is huge. So the authority has made three gates for their visitors. So they can quickly enter and exit the exhibition. The name of the gates is different. The main entrance is known as Ajanta Gate, which is very big as compared to other gateways. The other two gates' names are Gandhi Bhavan Gate and Goshamahal Gate.
Massive Fire at Nampally Exhibition
An enormous fire accident had happened in the previous year at the exhibition ground. It had gutted more than 100 stalls and causing a near stampede. According to the reports, a short circuit had happened at an ATM, which had quickly spread to other places.  Because of this accident, four people admitted to a local hospital, and people faced with a considerable loss.
FAQs About Nampally Exhibition Hyderabad
When will the Nampally Exhibition 2023 will start?
The Nampally Exhibition 2023 will start on 1st January to 16th February.
What is the nampally Exhibition timing?
The Nampally Exhibition timing is 3:00 P.M. to 10:30 P.M. But at weekends the exhibition time is from 3:00 P.M. to 11:00 P.M.
What is the entry fee for the Numaish Exhibition?
For adults, only the entry fee is Rs. 30/-. Except for that category, the entry fee for others is free.