Numaish Nampally Exhibition: Numaish is also known as Numaish Masnuaat-e-Mulki. It is an exhibition held in Hyderabad every year and is started in 1938. It is an annual consumer exhibition. The Osmania University graduates had started this exhibition to showcase the local products. First, they started with 100 stalls in the public gardens in the year1938. After that, it shifted to exhibition grounds that is near to Nampally.
First, it named as All India Industrial Exhibition and after it renamed as Numaish in 2009. In this exhibition, they will exhibit different products like dry fruits and handicrafts from Jammu and Kashmir, Handmade garments from Uttar Pradesh and many more. Pista House Restaurant famous for Hyderabad Haleem is also available in this exhibition. The Numaish exhibition has 75 years of history. More about Numais clearly discussed here.
Nampally Exhibition Hyderabad 2019
Numaish Exhibition continuously runs for 46-days in a land of 23 acres. Nampally is the permanent place for Numaish exhibition. It starts from Monday to Sunday from 3:00 pm to 10:30 pm. The best place for shopping lovers and also the best choice for entertainment. We can find a lot of fun rides, toy trains, eateries, and cultural shows also available in Numaish exhibition held in Hyderabad.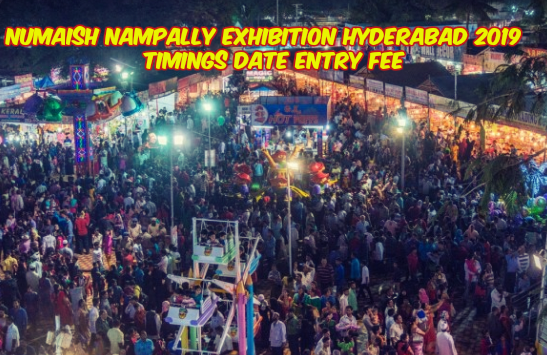 The user may charge Rs 25 for entry. Parking is provided inside the exhibition grounds. For four-wheelers, they charge Rs 50 and for two-wheelers, they charge Rs 20. Fixed Parking amount to everyone. The exhibition had three entry points. They are Gandhi Bhavan Gate, Ajanta Gate, and Goshamahal Gate. Ajanta Gate the biggest and main entry for this Nampally exhibition. People can now check the Top 10 Best Gaming Apps of 2019 here.
In 2018 Numaish exhibition had completed 75 years of journey. More than 2500 stalls offered to the visitors by this Nampally exhibition. We can find the number of choices in the Numaish exhibition. It is the best place for visitors to buy any type of items.
Details Of Nampally Exhibition Hyderabad
| | |
| --- | --- |
| Event Name | Numaish |
| Event Type | Exhibition |
| Date Of Event | 1st January 2019 To 16th February |
| Timings | 3 PM to 10:30 PM |
| Number Of Stalls | Nearly 3000 Stalls |
| Type Of Stalls | Food, Clothing, and many more |
Nampally Exhibition Dates And Timings
In the exhibition, they also conduct several cultural programs for all 46 days. Such as classical and popular musical concerts, magic shows, poetry etc. Bollywood and Tollywood artists also perform in this Numaish exhibition. Last year exhibition authority provided many Telugu and Urdu programs. Renovated club hall – the place where all these special programs held. Along with these cultural activities comedy programs and Ghazal, programs done in Nampally exhibition 2019.
All the games are available from 6 pm in the Numaish exhibition. Last year Society club and reception sub-committee had conducted the grand program with S.P. Balasubramaniam. Along with the Balu large number of Telugu film industry, singers had performed in this Numaish exhibition.
The government may provide three-tier securities to the Numaish exhibition. Frame metal detectors installed for three gates. Live video streaming is available for Numaish exhibition. With the help of zoom cameras, everything is available to live stream the Exhibition grounds. It is the best place to buy products and items from all over the world. More information regarding this is clearly given on our portal Timesalert. Please visit our site to get regular updates.