From 1780 when India saw its first published newspaper, till this date when India has more than 100,000 newspapers in circulation – they remain the most trusted form of news for the citizens of this country. Sakshi is a widely circulated Telugu daily newspaper, published by Jagathi Publications. Launched in March 2008, it is mainly based in Telangana and Andhra Pradesh.
Sakshi Epaper
The paper is owned by Y. S. Bharti, who is the wife of Y.S. Jaganmohan Reddy, the chief minister of Andhra Pradesh. It is currently run by K. Ramachandra Murthy.
Sakshi is originally a broadsheet, which is the largest newspaper format. During the time of its launch, Sakshi was the first-ever regional newspaper to be designed by a world-renowned newspaper designer, Mario Garcia. However, it is now also available in an e-paper format.
Sakshi E-newspaper Figures, Achievements and Key Positions
The Chief Editor of this daily newspaper is Murali V. It's Deputy Editors – R. Dileep Reddy and K. Sudhakar Reddy. During the initial print run of the newspaper, 1,286,670 copies were printed. Currently, Sakshi is the second-largest circulating newspaper after Eenadu, in the Telugu speaking states.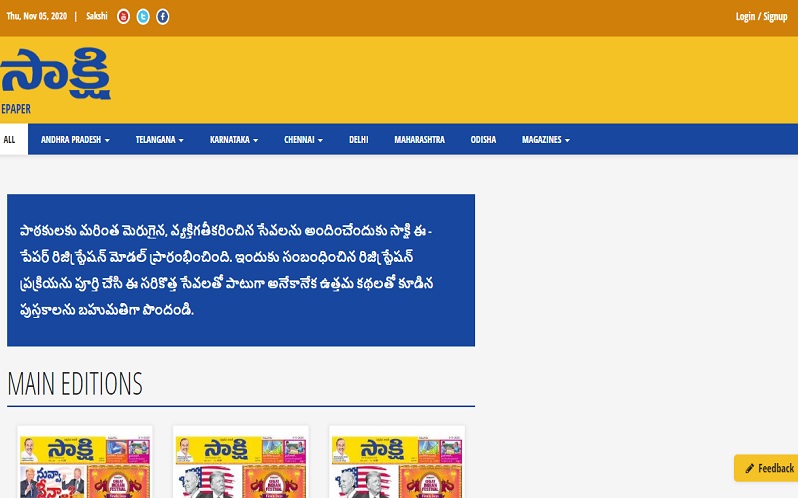 The advent of Sakshi began with it having 23 editions that were published simultaneously via 19 cities along with the four metropolitan areas of Delhi, Mumbai, Bangalore, and Chennai. It is also only the second newspaper in India which publishes all its pages in colored form.
What is a Sakshi e-paper?
An online or E-newspaper is the online version of a newspaper. It can be a standalone publication or a version of a printed periodical. Sakshi paper a more reusable, refreshed, and self-contained version of a traditional newspaper, which holds all of its information electronically.
It is a good option to make the news available to those who cannot get their hands on a physical newspaper. It is also easier to carry around since it can simply be viewed on the newspaper's website or its app.
Sakshi E-paper at epaper.sakshi.com
Following suit of several other newspapers, Sakshi is now available online every day with all of its editions along with the regional editions. You can access it by visiting its official e-paper website – epaper.sakshi.com. In July 2023, the newspaper also launched its official app for a better newspaper reading experience. The app, that has since been downloaded more than 10, 00,000 times is available on both android and iOS.
How to download Sakshi e-paper Today?
Downloading a PDF format of the newspaper is a very convenient method to read it, even offline, you can do so by following the few steps provided below:
Visit the official website of the paper – epaper.sakshi.com.
On the home page, you can either view it in Telugu or translate it to English, according to your choice.
At the right-hand side corner of the page, you will see a login option.
You can log into the website for free by either using your email Id or by using any of your social media's usernames and passwords.
After logging in you will find a Download PDF option for your whichever edition of the newspaper you desire to read.
The download service is free of cost.
Available editions of Sakshi E-newspaper
Sakshi has 23 published editions every day. With a few main and several regional editions, it provides you with an overwhelming amount of choices. We have compiled its edition list below for the readers to choose from when they visit the website to download the papers. For more updates check Timesalert.
Main Editions
Hyderabad main
Andhra Pradesh
Telangana
Andhra Pradesh
Anantapur
Chittoor
East Godavari
Guntur
Krishna
Kurnool
Prakasam
SPSR Nellore
Srikakulam
Vijayanagaram
Visakhapatnam
West Godavari
YSR Kadapa 
Telangana
Adilabad
Hyderabad
Karimnagar
Medak
Khammam
Mahabubnagar
Nalgonda
Nizamabad
Ranga Reddy
Warangal Urban
Bhadradri
Jagtial
Jangaon
Jayashankar
Jogulamba
Kamareddy
Komaram Bheem
Mahabubabad
Mancherial
Medchal
Mulugu
Nagarkurnool
Narayanpet
Nirmal
Peddapalli
Rajanna
Sangareddy
Siddipet
Suryapet
Vikarabad
Wanaparthy
Warangal Rural
Yadadri
Karnataka
Chennai
Chennai City
The Chennai main
Other cities