NIELIT an autonomous national institution which is abbreviated as National Institute of Electronics & Information Technology. This institution performs many Human Resource activities and developments in the field of Information, Electronics and Communication Technology (IECT). The institution NIELIT is operated by the Ministry of Electronics and IT of the Government of India. NIELIT was founded in the year 1994, which is known to be DOEACC Society.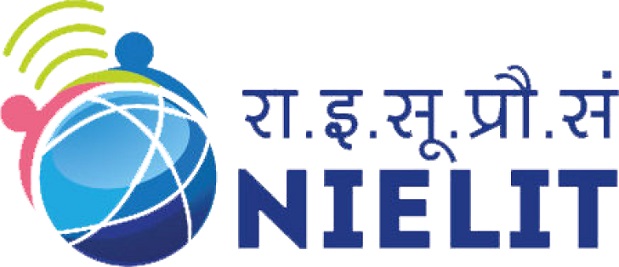 NIELIT CCC Online Course
CCC certificate means Course on Computer Concepts certificate. A computer ability program and was endorsed by the National Task Force, Information Technology & Software Development. CCC course is designed to circulate the basic knowledge about IT and computer program to the common People.
In the table below we have projected some important information like course, course duration, mode of exam, the official website, information about admit card, etc is given
NIELIT CCC Information
| | |
| --- | --- |
| Certification | CCC  |
| Name Of Organisation | NIELIT |
| Course Offered | (CCC) Course Computer Concepts |
| Duration Of Course | 80 hours, that is 3 Days 8 hours |
| Application Form | Available now |
| Mode of examination | Online Process |
| NIELIT Official Website | nielit.gov.in |
| CCC Syllabus | CCC Course Syllabus |
| NIELIT CCC Admit Card | CCC Admit Card |
| Admit Card For NIELIT | O,A,B,C Level Card |
| student portalNIELIT | student.nielit.gov.in |
NIELIT CCC Exam Pattern Syllabus
For the CCC online exam, the exam pattern is given below:-
| | |
| --- | --- |
| Mode Of Examination | Online |
| Exam type | Objective |
| Paper | One paper |
| Number of Questions | 100 |
| exam Duration | 1 hour |
| Negative Marks | No |
| Total Number Of Marks | 100 |
| Cut off Marks | 50% |
NIELIT CCC Eligibility
Total three conditions are there to the applicants to appear for the NIELIT CCC course:
The sponsored candidates from NIELIT institutes are allowed to undertake the course.
Students of the Government recognized universities or schools can join this NIELIT CCC Course with their unique Identity Number.for joining the CCC program.
Direct candidates are also eligible, who doesn't being sponsored by any Govt. colleges/schools.
NIELIT CCC Application Fee
For all the candidates the NIELIT CCC application fee is Rs.500 plus GST (as applicable).
NIELIT CCC application fee also paid through online (credit/debit/net banking) mode or CSC SPV Or NEFT.
NIELIT CCC Exam Schedule: Below the table, some important date of examination and examination – scheduling for filling online application and fee payments dates are given:
| | |
| --- | --- |
| NIELIT CCC Exam Schedule | Date of examination |
| February – 1st November to 31st December | 1st February |
| March – 1 to 31 January | 1st March |
| April – 1 to 28/29 February | 1st April |
| May – 1 to 31 March | 1st May |
| June – 1 to 30 April | 1st June |
| August – 1 May to 30 June | 1st August |
| September – 1 to 31 July | 1st September |
| October – 1 to 31 August | 1st October |
| November – 1 to 30 September | 1st November |
| December – 1 to 31 October | 1st December |
How To Apply NIELIT CCC Application Form
NIELIT CCC exam application form (OEAF) is available in NIELIT portal.  Before filling up the application candidates must have to read all the pre-requisites information read the application form. Also, one can apply for Apna CSC here.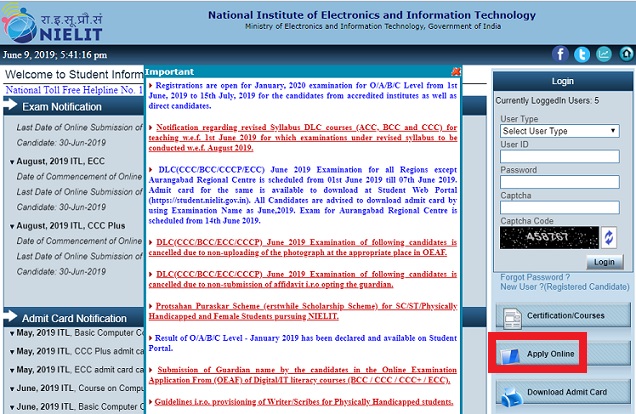 Requirements:
Applicants should have their own Mobile number to receive any updates regarding the examination after filling the application form and further.
The Applicant must also have an activated email-id. This is so because they can receive any emails for the further process with NIELIT CCC Online Exam.
Lastly, a scanned photograph of passport size, a complete signature, and a left Thumb impression is required in authorized format.
How To Fill NIELIT CCC Application
Visit the NIELIT student official portal: https://student.nielit.gov.in/
On the right side of the home page, so many options are there. Then click "Apply online" link.
In the next page, all courses are given. Select the NIELIT CCC course.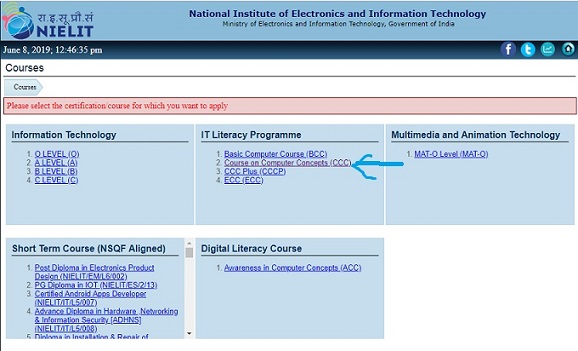 In the next page, all the information about NIELIT exam is given. Below the page a declaration part is there, read it carefully and mark in the box.
Below this page two options are there "I agree & proceed" and "back". Click on I agree & proceed. If you want to change any entry in the previous page then click on Back.
The application form can be viewed. Applicants must have to Fill all the details and upload all the necessary documents mentioned in the details section.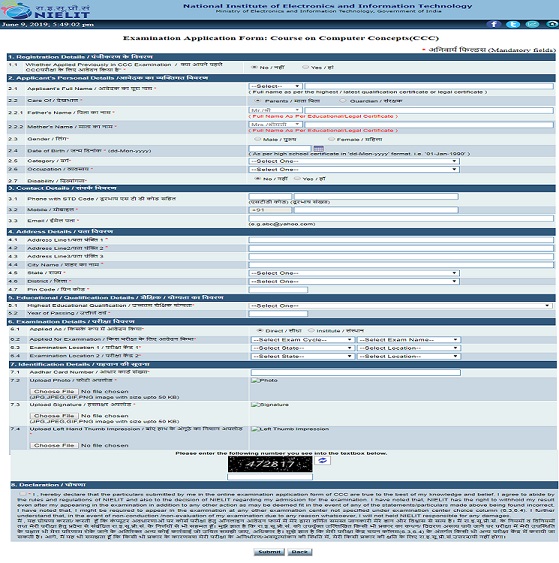 After filling up all the details, put the mark below the declaration, then click on submit. Lastly, the candidates have to pay the fee by selecting any payment method which is of three modes.
Here all the information about NIELIT CCC online course, examination dates, fees, syllabus of CCC, eligibility criteria, how to apply the application forms all are given. I hope it helps you as per requirement. For more details check Timesalert.