Panguni Uthiram:  A famous and significant festival celebrated in last month of the Tamil calendar. This is an important festival for Tamil Hindus. It is celebrated in Panguni month when Uthiram star falls and also coincides with the full moon. On this day many divine marriages take place. So, it is believed that prayers offered in this way will affect married individuals and marriages.
Panguni Uthiram 2023 
The celebrations start by offering special prayers to Lord Shiva, Lord Murugan in Tamilnadu. People believe that Lord Rama and Sita, Lord Murugan and Devasena have entered the wedlock on this auspicious day. On this day they perform celebrations of these divine marriages in the temples.
Panguni Uthiram Date in 2023 – 21st March (Thursday)
Timings:
Uthiram Nakshathram begins- 4:00 PM on 20/Mar/2023
Uthiram Nakshathram ends- 1:34 PM on 21/Mar/2023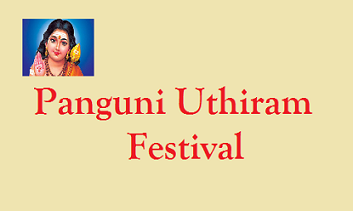 Panguni Uthiram Tamil Calendar 2023
They perform many events at six famous temples in Tamilnadu along with the marriages to the God and Goddess. Devotes walk several miles on foot carrying milk pots called "Kavadi" on their shoulders to offer. People offer several special feasts like milk, Sandal paste, and rose water along with kavadi.
It is considered that holy waters of the universe will mix in Thumburu Theerth in Thirumala Tirupathi Hills. They give God idols bath here on this day and people also take a dip in this water and believes that it will wash off their sins.
Panguni Uthiram In Tamilnadu 2023
It is a special festival to devote to Murugan and Shiva. On this day hundreds of people pray the god by gathering in temples and participate in the celebrations. People also believe that the Goddess Parvati in the form of Gowri married Lord Shiva. Also, Mahalakshmi Jayanti as she evolved from the milky ocean. The other happenings on this day like Lord Ayyappa Jayanti. This day is also observed as Holi in North India as the symbol of destroying evil.
The Day highlights the bonding between the married couple. And taking care of society by sustaining themselves in the relationship. Which also help in the development of society. So, the married couple performs pooja on this day. Devotes do fasting on this day till evening and go to temples. also, search for the Happy Onam 2023 here and get all the information.
Panguni Uthiram Date Fasting Rules
Fasting on Panguni Uthiram is an important observance among the people. They start the fasting procedure from the morning after the daily rituals. They should not take of food except milk and fruits. In the evening they visit the temple and worship Lord Shiva and Murugan with special prayers.
The fasting benefits are like blessings of God in health, wealth and also remove difficulties in the growth of happiness. Along the people believe that continues fasting for 48 years will release from the cycle of birth and death.
For more updates on different topics check Timesalert.