Rakesh Jhunjhunwala – A Chartered Accountant and well known as the Stock Trader and investor. He is one of the richest person in India. As of 2018, he is the 54th richest person in India, and his net worth is USD 3 Billion according to Forbes. India Today and The Economic Times outlined Rakesh Jhunjhunwala, an Indian billionaire as the " Pin-Up Boy Of Current Bull Run" and "Pied Piper Of Indian Bourses". He maintained his portfolio in his management firms and enterprises. The other details regarding his family, career growth, portfolio discussed in the later sections of the article. So the interested persons who want to know about this famous and successful personality can check out here.
Rakesh Jhunjhunwala
Rakesh Jhunjhunwala birth date is 5th July 1960. His birthplace id Hyderabad, but brought up in Mumbai. At present, he is the owner of Rare Enterprises Trader and investor. Apart from these firms, he is also a film producer who produced few films in Bollywood. Coming to his education, he got his graduation at Sydenham College. Rakesh Jhunjhunwala got tranted as a CA at Institute Of Chartered Accountants Of India.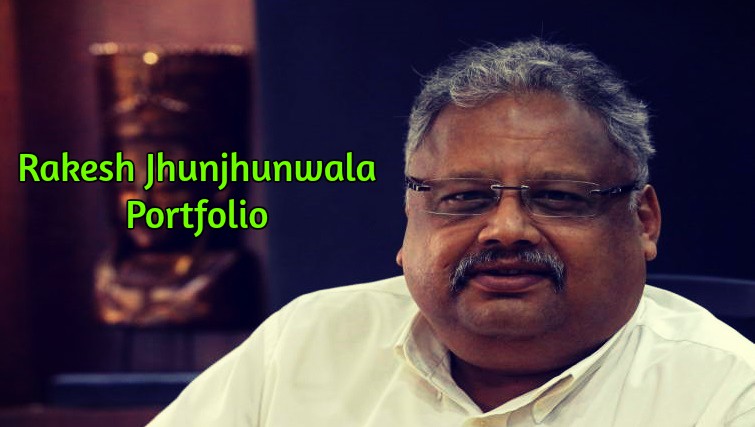 Rakesh Jhunjhunwala Portfolio
Rakesh father is an Income Tax Officer. There are no other details regarding his mother and has one sibling. He after having his CA course, he made his career into stock exchanges. The interest in stocks came from his father. He likes reading books, and he enjoys while reading. Rakesh also loves to watch Foos Shows where he has much interest in it. He loves to have street food and his favourite dishes are Chinese. Rakesh Jhunjhunwala also is found of having Dosa rather than Pav Bhaji. Apart from food, he likes to be relaxed and very little interest in physical activity.
Rakesh Jhunjhunwala Family, Marital status
Rakesh Jhunjhunwala married to Rekha Jhunjhunwala. He had three children. He often says that he is very passionate about his stock handlings. Also, he wants his same family, wife, brother, and his children's for the next life. So because they all support him and never says no in the stock market. But they often warn him to be careful.
Rakesh Jhunjhunwala started his career first as a chairman to few companies like Aptech Limited and Hungama Digital Media Entertainment Pvt Limited. He is also the board, member of those companies where few more companies included in that. And those are Bilcare Limited, Concord Biotech Limited, Nagarjuna Construction Company Limited, Innovasynth Technologies and more. Rakesh is familiarly and popularly recognised as the "Bull Of King Market".
Rakesh Jhunjhunwala Success, Net worth
In his career, he faced many losses, ups and downs. He slowly made all those into a stable with lots of efforts. Now he has become the most famous personality in India. He invests on his name and his wife name Rekha Jhunjhunwala. They both referred to as India's Warren Buffett. Jhunjhunwala invests his stocks on finance, retail, tech and medical sectors. According to Few Reports at present Rakesh Jhunjhunwala shareholdings include 32 stocks, and its net worth is Rs 13,595 Crores.
Rakesh Jhunjhunwala Top Stocks List
Titan – By the end of the year 2019, Rakesh Jhunjhunwala has 7% Share in Titan where net worth is Rs 7837 Crore.
NCC – A construction company where he holds Rs 293 Crore as his profits.
Escorts – It is an engineering company where Rakesh has a net worth of Rs 455 Crores Shareholdings.
Rallis India- A leading Tata Chemicals company where his net worth from this is Rs 295 Crore.
Delta Crop – A casino gaming industry where Rakesh Jhunjhunwala invested and has shareholdings up to Rs 310 Crore.
Crisil – A prominent stock of 5.5% share of worth Rs 516 Crore.
Lupin – It is a drugmaker company where Jhunjhunwala holds 1.7% Share, which valued Rs 520 Crore.
VIP – A travel accessories company where he holds a share of worth Rs 322 crore.
Karur Vysya Bank – This year he has shares in this bank of worth Rs 195 Crore.
Federal Bank – He has shared in Kochi Branch of Federal Bank, and it is 2.93% which is Rs 492 Crore.
For more other information, stay updated with Timesalert.