Raksha Bandhan: Rakhi Poornima is a famous, traditional Hindu festival in India. Every year people are celebrating this festival with full of joy and happiness. This festival symbolizes the love between brother and sister. This festival is celebrated in the month of Shravan which is known as August on full moon day. Raksha Bandhan has different names in different states of India, such as Rakhi Poornima, Nariyal Poornima, and Kajari Poornima.
Meaning of Raksha Bandhan
This festival's name is made up in two words, Raksha and Bandhan. As per the Sanskrit language, Raksha means protection and Bandhan means bond or tie. This festival not only celebrated in between brothers and sisters also celebrated among cousins, sister-in-law, nephew, and other such relationships. The meaning of this festival is, brother gives the promise to the sister that he will always protect herself from any problems. This is a wonderful festival for all Indians. People are emotionally attached to this festival.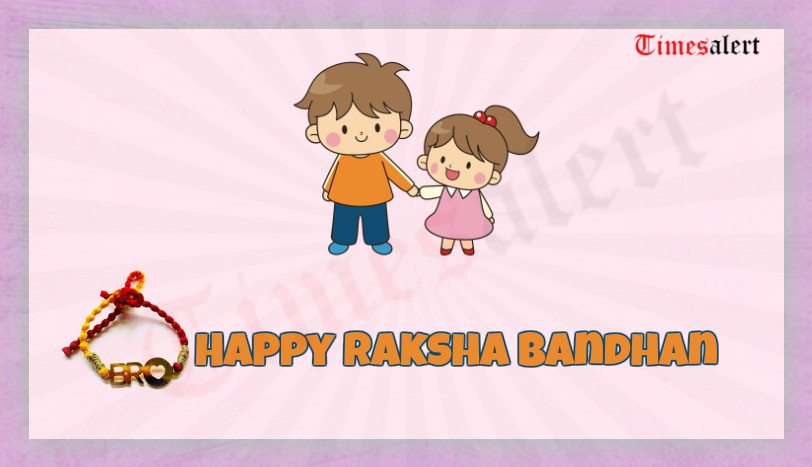 Importance of Raksha Bandhan
Raksha Bandhan is a festival which is celebrated by Hindus, Jains, and Sikhs. For all religion people, the meaning of this festival is the same. Also, this festival celebrated in Nepal, Pakistan, and Mauritius. For Sikhs, the Raksha Bandhan festival is called Rakhardi or Rakhi. In a different part of India, this festival has different names and celebrated in different types.
Happy Raksha Bandhan
In 2023, people celebrate this festival on 15th August.  In this festival, sister prepares the puja thali with a Diya, haldi, kumkum, flowers, rice, sindoor, sweets, and Rakhi. She prays the god, applies the tilak on his forehead, ties the rakhi on brother's hand, and prays for his healthy and long life. In return, brother promise to her sister that he will protect her life and gives a gift to her sister. This is one of the festivals which makes the bond stronger in between brother and sister.
Beside the Rakhi Poornima festival, you can also share the quotes, images, videos in social media for wishing the person who is far away from you. For celebrating the festival, the most important thing is needed to be called Rakhi. Now in the market, there are several varieties of rakhis available. Also, you can make rakhi in your hand. All the stuff are available in the market which is used for making the rakhi. Especially girls are eagerly waiting for this Raksha Bandhan festival from starting of the year.
Raksha Bandhan 2023
Raksha Bandhan is a festival where a sister ties the rakhi on her brother's hand with love and affection. This festival stands for love, care, and trust. It is the best day for brothers and sisters. Because after tying the rakhi on brother's wrist, he gives the best stuff to his sister. If the brother doesn't have any sister, then, his cousin sister ties rakhi to his hand. This festival is a very pure and emotional attached festival for all.
Why We Celebrate Rakhi  Poornima
There are many reasons why we are celebrating this Raksha Bandhan festival. This festival is also celebrated between those boys and girls, who may not be biologically related. The festival also celebrated between the persons who are in a brother-sister relationship by heart. Sisters are praying to god for brother's prosperity, health, and well-being. In return, the brother offers gifts and promises to their sister.
There are many historical stories related to the celebration of this festival. According to Hindu Mythology, some stories are:
Based on Mahabharat, Draupadi tied a rakhi to Lord Krishna. In return, Krishna saved Draupadi.
Also, Kunti tied the rakhi to Abhimanyu before the war.
Alexander's wife tied a rakhi to Purushottam to protect her husband from the war.
Rani Karnavati (Queen of Chittor) had sent a rakhi to the Humayun to get protect from Bahadur shah.
Now you can also wish your brother or other relatives on Raksha Bandhan through social media. On the internet, there are many types of quotes; different images and videos available. Also, you can send rakhi gifts and rakhi online.
Raksha Bandhan 2023 Images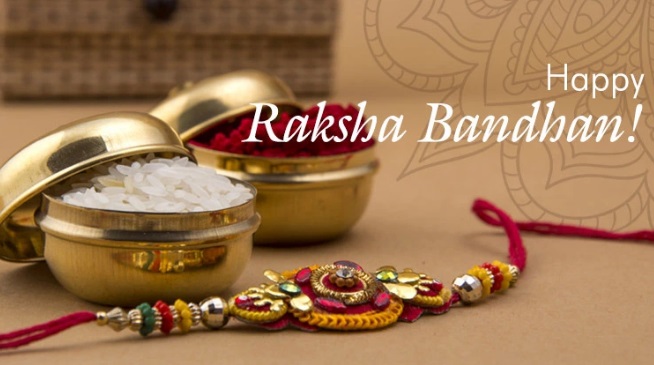 Raksha Bandhan 2023 Wishes
We laugh and cry, we play and fight. We shared moments of happiness and sorrows, which made our bond stronger. Happy Raksha Bandhan to you Sister.
My Sister, My Friend,
We have been through a lot,
Some rough times,
Some sad times,
Some fun times,
Some good times,
Some times I'll never forget,
And sometimes I wish I could,
You are not only my sister,
But my best friend I could ever have,
We have been through a lot together,
And I hope there are more good ones to come.
Happy Raksha Bandhan
Raksha Bandhan isn't about tying a thread in your hand and getting a gift from u…
It's also the day when I can mush'n gush and say, how lucky I'm to have a brother like u!
Happy Raksha Bandhan
From childhood to now, you have always stood by my side and
supported me.
This Raksha Bandhan, I promise I will always protect you and care for you now and always.
Happy Raksha Bandhan!
This Rakhi is a bond of affection…
It celebrates the special tie we share.
It comes to u with a wish.
For sweet memories to cherish.
Dreams to come true and Happiness & Joy 4 u.
Happy Raksha Bandhan
May this auspicious occasion bring you all the prosperity and good luck in your way of life.
Happy Raksha Bandhan!
Raksha Bandhan 2023 Whatsapp Status
It means a lot to have a wonderful sister like you. Thanks for the treasure of all the sweet memories that you have given me. Neither can I tell nor can you imagine what you are for me. But I can tell you when I need a pillar of strength, It's you… It's you…It's you… Happy Raksha Bandhan
You hold me in my bad times, you dance with me in my happiness.
I can't recall even a single day when you were absent from my life. Happy Raksha Bandhan!
R – Reaffirming love & affection.
A – A prayer for long life & success.
K – Keeping memories alive.
H – Happiness & Laughter
I – Innurable shared stories.
Happy Raksha Bandhan
Our togetherness is like an invisible thread which is bound by our love. Happy Rakshabandhan Bhaiya!
Good luck, Good health & Goodwill,
Protection from evil,
Long life & prosperity,
And my best wishes 4 ur…
Happiness, Success & Safety.  Happy Raksha Bandhan
Every year, the celebration of Rakshabandhan brings more love and blessings to our relationship.
Happy Rakshabandhan!!
For more information, check Timesalert.