TSRTC Online Bus Pass Renewal / Fresh: The Government of Telangana has passed the TSRTC Online Bus Pass Renewal to aid students. Applicants who have studied upto SSC more over studying beyond SSC can apply for this TSRTC Student Bus pass Online. It a stress relief Notice for all the students who were vexed up standing in a queue. This is the simple technique to Renewal your bus pass by online. The TSRTC Bus pass Online Apply Application Form is accessible on the main website tsrtcpass.in. By sitting at home now students can Renewal their Bus Pass by easy way. We have given the process for How to apply for online Bus pass, simply take a look down the page.
Telangana TSRTC Bus Pass Renewal Online
The Telangana State Road Transport Corporation (TSRTC) has presented the application form for Student Bus Pass Online. They additionally incorporate bus passes of Vanitha, MCT, Navya Card and Cat Card by means of Online besides TSRTC Online Bus Pass Renewal. For the students taking Bus Pass newly, Telangana State RTC has reported that applications for various kinds of student bus passes which can be submitted. After receiving your Bus pass you can renewal it by yourself through online without going to bus pass centers The Greater Hyderabad has presented this strategy and this procedure will begin.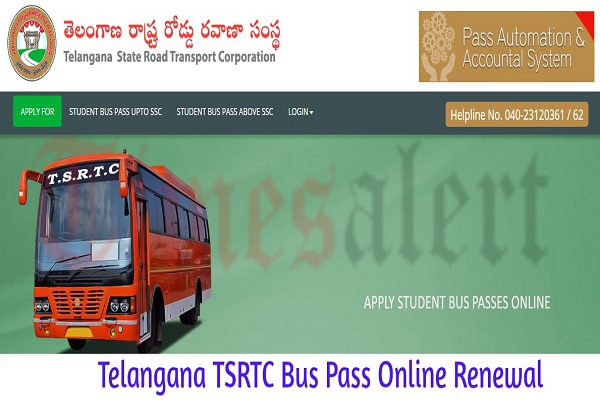 TSRTC Student Bus Pass Online Renewal Link @ www.tsrtcpass.in
The Greater Hyderabad RTC Department takes up the TSRTC Online Bus Pass Renewal forms and sends the renewal cards to the applicants by means of the courier in the time period of three days subsequent to checking all the details. By presenting this procedure, it may help around 5 lakh people in the Greater Hyderabad. Despite the fact that there are 50 centers in the city, the greater part of people opting for bus pass renewal was not diminishing. To put a full stop to this crowd, the Greater Hyderabad RTC has made available the Telangana RTC Online Bus Pass Renewal Application Form. For the first bus pass, you need to apply in one of the bus pass centers. Later for monthly renewal, you can do it yourself through online.
Apply TSRTC Student Bus Pass Renewal Online
Organization: Telangana State Road Transport Corporation
Name of The Bus Pass: Renewal
Type of The Bus Pass:
Student Bus Pass
General Pass
Route Pass
Metro Pass, MCT
Vanitha
Navya cards
Cat Cards
Location: Telangana
TSRTC Bus Pass Online Renewal Documents
Qualification For Student Bus Pass:
Student Bus Pass:
Students who have studied up to SSC are eligible to apply for Student Bus Pass.
Students who are studied Intermediate.
Graduation/Post Graduation students who are studying at the colleges across the State of Telangana are eligible to Apply for this Student Pass.
General Pass:
The people who are lived in Telangana state are eligible to apply for this General Pass
Rout Pass:
Any person who wants to travel on the bus from one place to another place daily with the same route, then they can apply for this Route Pass.
Metro Pass, MCT:
This is a kind of General pass for which all the people can apply.
RTC Cat Card:
Cat Card is the Discount pass to help the People in Telangana who wish to Travel in the TSRTC Buses. Some percentage of discount is offered to the people. It is the Annual Pass.
Application Fee: Application fee is different for the each opted Pass on considering above mentioned various types of Bus Passes.
Required Documents For TSRTC Bus Pass Online Apply
Student Bus Pass:
Bonafide certificate in School/College
ID card Xerox /fee receipt / allotment letter
SSC memo for the candidates who have finished SSC
Photo and Signature in Given Size
Photo Size To Apply For TSRTC Online Bus Pass Renewal
width – 3.5 CM
Height – 4.5 CM
How to apply TSRTC Online Bus Pass Renewal
To begin process you need to visit the official site of tsrtcpass.in
Next, you need to choose the TSRTC Online Bus Pass Renewal link provided on the page.
Next, you will be shown another page where you need to enter the obligatory details.
One must enter their Card Id, Date of Birth, Email Id, Confirm Email Id along with Captcha.
Next click on the submit option checking the entered details whether attempted wrong or right.
In few seconds Online Bus Pass Renewal Request will be sent to the Greater Hyderabad RTC.
Later you will receive Buss Pass within 3 days of time span.
TSRTC Online Bus Pass Apply Here: Click Here
Official TSRTC Site: www.tsrtcpass.in