Generally in past days people use to have unrooted devices. These unrooted devices comes with limited features, like SMS, messages, Keystrokes and few more. But now most of the people are using only rooted devices. Rooted devices includes a lot of advanced features. They are Photo and video screenshots, website screenshots, keystrokes and Email keystrokes etc.
With the help of rooted device you can give the permissions to operating system and also give controls to the system. So here we are providing a list of Top Best Root Apps that are being used by many people on their Android device. One can check over them and can choose any of their choice.
Top Best Root Apps
Today people are using rooted devices only. Using this you can download any type of application on your android devices. You need to root your device because of many reasons like, you can get unavailable app, get rid of pre installed crapware, and other problems on android device. Best Root apps 2023 for android device are listed here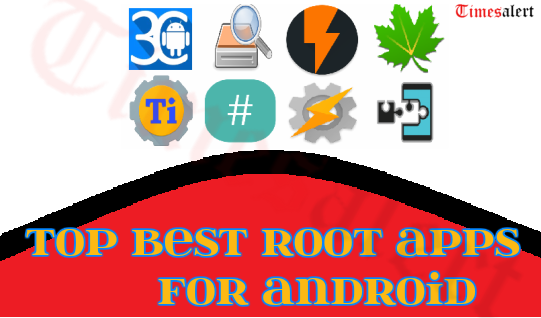 SuperSu
Quick Reboot
Titanium Backup
Flashify
Host Editor
Greenify
Tasker
DiskDigger
Xposed Framework
3C Toolbox
Rooing Apps For Android
SuperSu
SuperSu – A security app for android device. If you root your android device, then you can get the access permissions to use SuperSu app on your android device. By using this app you can manage your app permissions on smartphone and it never oversteps their boundaries.
Generally in smartphone users don't have admin-level permission for accessing the apps. With the help of SuperSu you can give the admin-level permissions to all the apps. It is the best security manager to control the apps in rooted android devices. This application is user friendly and easily controls the app without any risk. So its is listed in the Top Best Root Apps In 2023.
Features of SuperSu
Complete unroot.
Convert to system app.
Temporary unroot.
Superuser access logging.
Always run in ghost mode.
Best Root Apps For Android
Quick Reboot
Quick Reboot a best root app for android device. It is used for rebooting your device and this application mainly designed for android smartphones. Allows the user to reboot mobile phones or power off your mobile phones within a minute.
It provides reboot button in the application by using that you can reboot your device. It includes special modes such as fast boot, recovery mode and safe mode. Allows its user to create a button icon or combined widget and also supports a variety of themes.
Features of Quick Reboot
Safe to use.
Create your own button icons.
It supports themes.
Titanium Backup
Titanium Backup, a best backup app for rooting android smartphones. By using this you can backup your app data, important files, each and every important data in the smartphone. It allows restoring or backup external, regular, protected and system data. There is no limit to backup and very fast in backuping the data on your android device. It is schedule to backup the data in single week or biweekly.
Using paid version you can retrieve all the backup data from dropbox also. And you can protect your backup against deletion. This application regarded to be the best rot apps of 2023.
Features of Titanium Backup
No time limit.
Move app to SD card.
Desktop Widget.
Restore regular and system apps.
Most Used Root Apps In 2023
Flashify
Flashify – The best tool for rooted android device. It is mainly used for flash the unnecessary data in the smartphone. The best way for flashing ROMs very quickly and easily. It allows the user to flash three times a day in free version of Flashify. Mainly designed for the Galaxy Nexus 7, 4 and 10 and also works for many other devices. This application is very easy to use and allows the user to backup and restore images, boot and flash the data and etc.
Features of Flashify
Backup the device.
Restore the Backups.
Keep track of recently flashed items.
Automatically do the synchronization of backups between devices and desktops.
Host Editor
Hosts Editor also a best tool app for rooted devices. This application mainly used for developers, to test the certain functions of any application online. It is designed with clean and clear practical interface. The best editing tool for developers and free to use.
With the support of symlinks and IPv6 addresses, you can easily edit the host files and also can easily filter out annoying online ads in other websites. So, Host Editor – The Best Root Apps On Android. Check here for Top Best Camera Apps On Android.
Features of Hosts Editor
Free to use.
Easily edit the host files.
A practical interface application.
Open source and ads free.
Top Best Root Apps For Android In 2023
Greenify
Greenify is best for both rooted and unrooted Android devices. It is mainly used for finding the power consuming apps in rooted android devices. This application is a battery saver app. It had provided advanced features only in rooted device.
By using this application battery life is increased for the device and it provides excellent features to the users. It will hibernate the apps in the background. Because of this you can save your battery in the smartphones. It is one of the top best root app for Android smartphones.
Features of Greenify
Easy to install and configure.
More features are available in free version.
Increase battery life.
Tasker
Tasker is a task automation app. By using this you can create your own automatic task scripts based on your actions and customization triggers. When we use this application properly to install the app in the rooted device.
It allows using custom task options also. With the help of Tasker App Factory you can take some automatic scripts and also publish them in app. Best task manager application for Android device.
Features of Tasker
Easy to install.
Create own task scripts.
Root Apps For Android In 2023
DiskDigger
DiskDigger – One of the best applications for rooting Android devices. Mainly used for recovery your deleted data and corrupted files. If unfortunately you lost your data in mobile then you can get it back using DiskDigger app. Also you can recover your lost photos from internal memory. The best way to recollect all your accidently deleted data in smartphones and really a best root application for Android phones in 2023.
Features of DiskDigger
Recover and type of files.
Filter recoverable files by names and size.
Support for recovering TurboTax files.
Xposed Framework
Xposed Framework, one of the frameworks for rooted Android device. By using this you can change the look of your android phones. Increase performance and tweak system level functionality with Xposed Framework.
Very easy to use. Generally they release these changed as custom ROM and user can flash to their mobiles. So this is marked as Best Root Apps For Android in 2023.
Features of Xposed Framework
Tweak system functionality
New Themes
Top Root Apps For Rooted Android Device
3C Toolbox
3C Toolbox – Also a one of best battery saver app for android device. It is mainly user for saving battery power in smartphones. This application needs to save the battery power for the users. Used for monitor, manage and maintain best performance on your Android devices. It allows controlling all those battery hungry apps and the best application to free up memory in smartphones. The best battery saver app for Android device.
Features of 3C Toolbox
Free to use.
Monitoring and recording.
Terminal emulator and script Editor.
Conclusion
All these are root apps for rooted android devices. With the help of these root apps you can save your battery life, deleted data can easily recovered and all other works can be performed by rooted android apps. To know more about other technological information, just tune our page Timesalert and receive regular updates.