Big Brother Vote is a new twist in reality show for America's Field Trip. It is a television reality game show where a group of contestants lives under custom-built home under the camera surveillances. It became prevalent and is competing for a grand prize amount. They are completely isolated from the outside world without any communication.
The first Big Brother show is started in the year 1997 and is streaming with excellent ratings. The present running is Big Brother Season 21. Viewers can give their opinion using the Big Brother Vote and save their interested HouseGuest from eviction. The article will provide complete details on Big Brother Vote Season 21 Online voting process.
Big Brother Vote Season 21
The 21st season of Big brother has sixteen Houseguests this year, and the show started on 25th June. HouseGuest should stay for 99 days in the house. It means the final episode is on 25th September 2022 with 90-minute duration.
The prize money for the show is $500,000, and the runner up amount is $50,000. Along with this the American's Favorite player will get the cash prize of $25,000. One can stream this show on CBS Network and the next year season also renewed for them.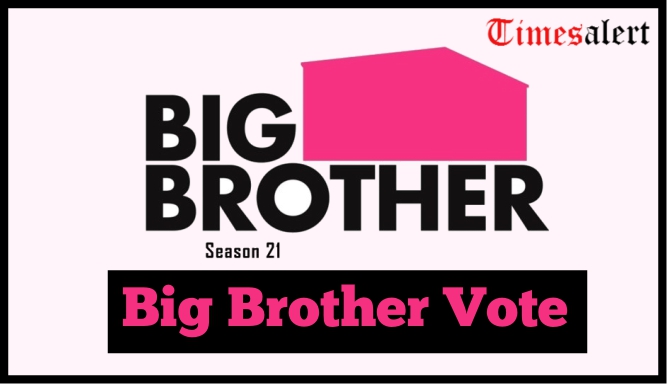 The Big Brother house arranged in CBS Studio, soundstage 18 in studio city, California. It is a two-story house which has 94 high definition cameras and 113 microphones to monitor and record the houseguests. It reached the 21 episodes with many twists and evictions. The main twists that brought change in the game are the camp Director and Whacktivity Competition.
Big Brother S21 Houseguests List
Here we gave the list of Houseguests and their status in the house.  Go through the below table to get the complete details.
| | | | | |
| --- | --- | --- | --- | --- |
| Name    | Age  |  Occupation |  Residence | Status |
| Analyse Talavera | 22 | College soccer star | Simi Valley, California | Safe |
| Christie Murphy | 28 | Boutique Owner | Keyport, New Jersey | Safe |
| Cliff Hogg III |  54 | Petroleum Engineer | Houston, Texas | Banished and safe |
| Holly Allen | 31 | Wine safari guide | Los Angeles, California | Safe |
| Jack Matthews | 28 | Fitness Trainer | Tampa, Florida | Safe |
| Jackson Michie | 24 | Server | Los Angeles, California | Safe |
| Jessica Milagros | 37 | Plus-Size Model | Oak Park, Illinois | Banished |
|  Kathryn Dunn | 29 | Digital Marketing Executive | Dallas, Texas | Safe |
| Nick Maccarone | 27 | Therapist | Sewell, New Jersey | Safe |
| Nicole Anthony | 24 | Preschool Aide | Long Island, New York | Safe |
| Tommy Bracco | 28 | Broadway Dancer | Staten Island, New York | Safe |
| Sam Smith | 31 | Truck Driver | Mountain Top, Pennsylvania | Evicted |
| Isabella Wang | 22 | Public Health Analyst | Los Angeles, California | Evicted |
| Kemi Fakunle |  25 | Marketing Strategist | Brooklyn, New York | Banished and Evicted |
| Ovi Kanbir |   22 | College Student | Knoxville, Tennessee | Evicted and Evicted |
| David Alexander | 29 | Photographer | Atlanta, Georgia | Banished and Evicted |
Big Brother 21 Camp Come Houseguests
In the first eviction, the person out of the game will be in the house as a camp comeback. The first four evicted houseguests are in the house sleeping in private bedrooms and will not compete in any activities. Among the first four first evictions David, Ovi, Kemi, and Cliff a competition was held on Day 30. Cliff won the competition and came back into the game.
| | | |
| --- | --- | --- |
| Name |  Day Entered Camp Comeback  | Result |
| David Alexander | 15 | Lost Competition |
| Ovi Kabir | 15 | Lost Competition |
| Kemi Fakunle | 23 | Lost Competition |
| Cliff Hogg III | 30 | Won Competition |
Big Brother Season 21 Online Voting
There is a new twist in Big Brother S21 where Americans can vote three houseguests go on America's Field Trip. This time the viewers can affect the game with their nominations. The camp theme of the season is continuing with a new call of America's Field Trip Competition. But you need to decide whether you need to vote your favorites or not. Here are the details about this competition.
Big Brother America's Field Trip Competition
It includes three houseguests who will be nominated by fans. "The winners get into a safe zone for a week, and the loser will place in the eviction nominee. The second person will get punishment. The voting process is there for one week, and then it will not affect the next week game. It will affect the following week.
The Big Brother Vote lines are open from 1st August and will close on 9th August 2019. There are things you need to think like as the winner is safe for a week you can nominee your favorite, but if he loses the competition, he will go straight to block.
Big Brother Vote America's Field Trip
You can vote the Houseguests from the online voting website. As the show is streaming in CBS, the voting lines are also available in the official website. You can vote for your favourite one up to ten times per day. All the required details here.
You can vote ten times per day
Voting lines will close on
                    Date: August 9th, 2019
                    Time: 9 A.M PST
The Top three contestants will face-off in competition
The winner is safe, and the loser will go as 3rd nominee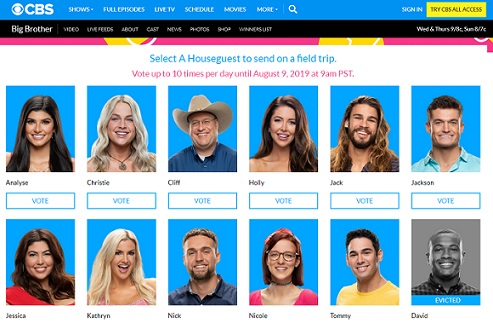 How To Vote Big Brother Season 21
You can vote on the streaming website of CBS through the online very simple.
Go to the Big Brother Vote American Field Trip that will take you to the site to vote directly.
Here you can see the 11 cast members remaining in the game on the page.
Click on vote under the Houseguest, and it will promote the login page where you need to give your email address and password of CBS Site.
You can also Login with your Facebook account and participate in Big Brother Vote 2019.
So, basically with this vote, you can save or get them to stand as the third nominee directly. By voting the person, you don't like may also make them safe for the week. The viewers should think before they cast their Big Brother Season 21 vote and the result of this may change Big Brother game of this season.
For more information, check Timesalert.