If you were thinking about getting your food license registration, there are specific simple steps that need to follow. The process begins with your understanding of FSSAI. You can then go on to develop some necessary measures to avail your license. With basic understanding coming home to you, then one can understand what kind of license you would need. You can further delve into the process of obtaining a Food License Registration number.
Food License Registration
The Food Safety and Standards Authority of India (FSSAI) established to keep food quality in check. Back in 2006, under the food safety and standards act, the body came into existence. The core objective was that of laying down specific scientific parameters and measurement scales that test essential nutritional quality and promise of all food items distributed.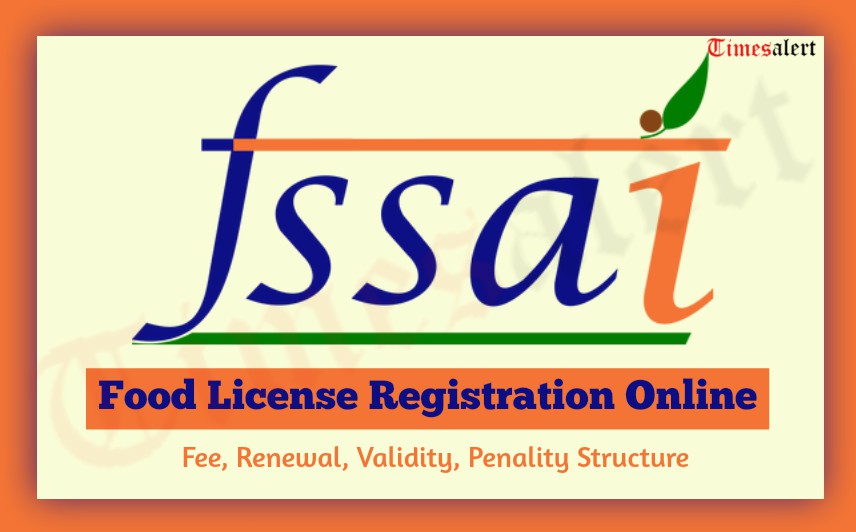 The body looked into safe manufacturing, storage, and distribution. The human aim was to keep food nutritious and wholesome while not compromising on quality at any step.
Documents Needed For FSSAI Registration
Obtaining an FSSAI registration demands certain standard documents across all license types. These documents are as follows:
Completed registration form depending on the type of license needed (Form A or Form B) duly signed.
Pan Card of the to be owner/proprietor
Two passport size photographs
Proof of possession of the place where the business will commence (proof of rent if the premises rented)
A decisive list of food items that the company engages itself with
Partnership deed
Certificate of Incorporation
A Food Safety Management System Plan (FSMS)
Additional documentation required for FSSAI State registration and FSSAI Central registration. The same has discussed in their respective sections below.
Types Of Food License Registration Number In India
The kind of license that you would need depends on the level at which you engaged with food distribution. However, here are the basic food licenses that you can choose from: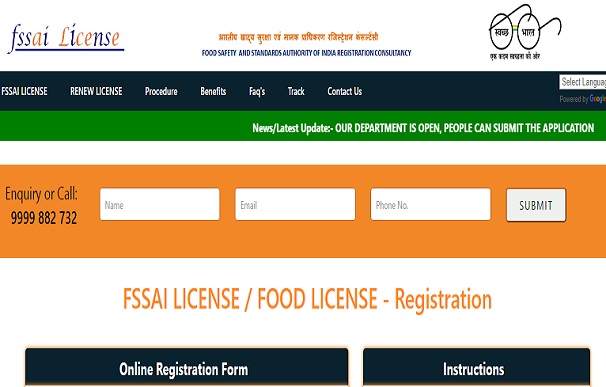 FSSAI Basic Registration
Startups or small businesses require the FSSAI basic food license registration. The monetary criteria involved says that your turnover should not increase beyond 12 lakhs per annum to be eligible for the essential registration.
Here are other parameters you need to take a look at:
Your production (concerning non-dairy and non-meat products)should not exceed the primary quantity of 100kg/l per day.
For essential registration, not more than 500 litres of milk should be procured/handled/distributed.
Poultry shops do not have the license to slaughter more than two large animals, ten small animals and up to 50 poultry birds.

How To Get Food License FSSAI Registration Number
The startup/cottage business must fill the application form along with the application fee to the registering authority, i.e. FSSAI.
An Application Number thus be generated.
The registering authority then holds power to accept or reject the application accompanied by reasons. (This process might take up to 7 days)
If the grant provided, the startup/cottage business can begin its operation while keeping listed guidelines in mind.
An inspection scheduled within 30 days from the commencement of business.
If the startup meets the necessary criteria required by the registering authority, the registration number dispatched, and the essential registration is complete.
FSSAI State License Number
Moderate businesses and companies need the FSSAI State License. Companies that fit in this category have a larger turnover limit and can extend their services to comparatively more areas. If you aim to register for an FSSAI State license, here are other parameters you should take a look at:
The startup/business should have an annual turnover between rupees 12 lakhs to 20 crores.
Your production limit should not go beyond 500kg/l per day.
Not more than 5000 litres of milk procured/handled/distributed.
The business does not have the license to slaughter any more than 2 – 50 large animals, 10 – 150 small animals and up to 1000 poultry birds per day. Also, know about ISI Registration here.
FSSAI Central License
Large businesses need the FSSAI Central License. Here is the list of criteria they need to meet:
The startup/business should have an annual turnover of more than 20 crores.
Allowed production limit/milk handling limit for dairy businesses is 50,000 litres or 2500 metric tonnes of solid per annum
Vegetable oils produced to meet the permissible quantity of 2 metric tonnes per day.
Slaughtering limit stays confined to up to 50 large animals, 150 small animals and 1000 poultry birds per day.
Meat production can engage in the use of 500kg of meat per day.
The units should be 100% export-oriented.
The business operator should be functional in two or more than two states.
How To Get  FSSAI License In State And Central
Application form should be filled and duly signed along with the Food License application fee.
The Application reference number generated.
Post the generation of the application number, and if the FSSAI is satisfied with the proposed business documents, the business can commence.
In some cases, the FSSAI may demand additional documents.
On submitting these documents, a unique ID generated. In case no inspections scheduled, the FBO can commence business after two months.
In case of scheduled inspection and lack of meeting the required criteria, an improvement notice shall issue.
State and Central registration can thus take a little more of your time.

Food License Penalty Structure
Failing to adhere to the basic FSSAI license guidelines leads to penalization. In any case of misinformation, discrepancy or lack of discipline with following the rules, strict legal action taken. The structure of penalties is uniform and applies to all food business owners without exception. Any business found operational without an FSSAI registration shall witness legal action.
During the FSSAI inspection, the quality of food, storage safety and other nutritional examinations conducted. Several tests are taken and failing in these could lead to a withdrawn license or non-approval of a permit in the first place. Level of compliance for every business consequently generated. Improvement notices are further issued. However, in cases of repeated misconduct, the FBO is liable to stringent legal action and procedures.
FSSAI  License Validity Check
Along with to get a food license registration, most businesses have a simple query. This query happens to be about the validity of the FSSAI Certificate. We aim to resolve the same basic question.
Once you have obtained your food license and have registered your business successfully with FSSAI, your validity period is that of 1-5 years depending on the kind of application that the FBO has filed. Once your food certificate is not valid, you will need to renew your license to remain operational. You must clarify with the authorities the details about the validity of your food certificate.
Conclusion
Above is all the information regarding the food license registration, its fee details, how to renewal and also a few other things. To know more other updates, check Timesalert.