Everyone loves curly hair, except for the people who have it! But have you thought about why this happens? Well, the answer you will get from different individuals with curls will be the same – maintenance. Unlike straight hair, curly hair demands much more care to keep them manageable. While people with curly hair may turn heads wherever they go, much of their days go into taking care of the same.
Curly Hair Care Tips
But hey, no worries! Everyone has their good hair days and bad hair days! A good hair care routine and curly hair care tips are what makes the thin line between the two disappear. The right care and right hairdos can be a lifesaver for your curly hair. We have researched various tips for curly hair care and brought together all the hair hacks that might help you make your hair game a lot easier. If you think that hair conditioning is the only hair care that will keep your curls healthy and beautiful, then you are not aware of all the other ways that are there to keep your curls protected.
Regular oiling for Curly Hair
If there is one piece of advice that goes beyond time in case of keeping your curls healthy, it is a regular oiling. Oiling your hair regularly can improve blood circulation in your scalp and turn, accelerates your hair growth. Natural oils and like are a rich source of fatty acids and Vitamin E. These elements help in storing moisture in the hair. Therefore, they can prevent your hair from getting frizzy and makes it way more manageable. You can massage non-sticky, light coconut oil for moisturizing curly hair.
You can put coconut oil before going to bed and then, rinse your hair the next morning. If you do not want to leave the oil on your hair overnight, then you can also apply the oil a few hours before you shampoo your hair. Olive oil is also known as a great moisturizer for curly hair as it locks the moisture in your locks. You can take a tablespoon of the oil and then heat it a little. Apply the oil on your scalp and allow it for an hour to stay there before washing it off. There is another great ingredient you can use for your curls. Castor oil is sticky, but if you can bite that bullet, it can do wonders to your locks. Also, consider Almond oil, Amla oil, Jojoba oil, Rose oil, Avocado oil, Grapeseed oil, Bhringraj and argan oil as your hair companion.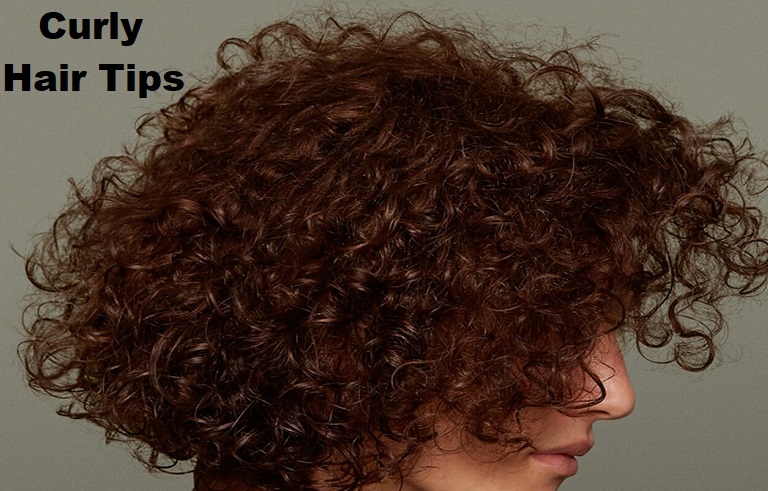 Combing the curly hair with the underside up
If you detangle your hair by running the comb underside up, then it will detangle the frizzes gently, minimizing the chance of hair breakage. Combing the hair holding the comb underside up also keeps the tip of your hair from tanging again. For this purpose, make sure to comb your hair with wide-tooth combs always. This kind of combs will let your tresses pass easily through the comb teeth.
As every curl of your hair is a potential breaking point, you will have to make sure that you do not use brushes to detangle your hair ever. Using brushes will only worsen the knots and tangling further instead of detangling them.  but you can brush to smoothen the flyaway hair after you make a bun or top-knot.
Tips To Maintain Curly Hair
Inclusion of conditioning therapy in your hair-care routine
When your hair game is not going as planned and not at its best, you will have to avoid weighing it down with lots of hair care products. In this case, your fingertips are enough to accommodate just a sufficient amount of product on them for you to apply on your hair tips. If you find your hair curls are frizzy and rough towards the end of their length, then you should try to include a thick leave-in conditioner into your routine.
But, if your hair lacks volumes, then you might want to go for a lightweight moisturizer or easy to use conditioning spray in your hair, focusing mostly on the ends. If you are looking for some more hydration, then opt for a cream-based conditioner and apply it to moist hair. Try to put the product on your palms and just apply it down the length of your hair without rubbing.
Use product "cocktailing" to outline and hydrate curls.
You can also try Product cocktailing or mixing several products to make the perfect blend for the unique needs of your tresses. For instance, mixing a gel with a cream-based conditioner will ensure your hair is silky, shiny and freeze-free, all at once. If you lack patience for mixing the products and making a product cocktail, you try hair serum that will help your hair remain smooth, separated and voluminous. Styling cream is another way you can keep your locks manageable. If your hair is dry, you can try mixing a few drops of water with the cocktail mixture to dampen your hair, as the hair products work best with damp hair and refreshen your curls all the same.
Use a diffuser to smoothen your curls
Why do you need a diffuser? Because a diffuser plays a significant role in keeping your curls frizz-free. You must have noticed how using a hairdryer adds a lot of steam to your hair that finally results in dry but frizzy hair. It gives birth to flyaways which further create tangles in your hair. The simplest solution to avoid this accident is to use a diffuser that will disperse the hair dryer's steam into a bigger space and minimize the amount of steam going into your hair. But kicking out the excessive amount of steam saves your hair from getting rough and frizzy. It also helps you out by evening out your curls and adding volume to each of them.
Now let us tell you how to properly make use of your diffuser to minimize the risk of frizzes. Start with squeezing the water out of your locks using a soft towel. Avoid turban-ing your hair as it might trigger frizzes all the more. Now start plopping your hair strand by strand into the machine, bringing it closer to the hair by cupping it. Keep repeating this until you are done.
"Pineapple trick" to save the curls
You can tie your hair loosely on the top of your head before going to sleep. This method is called 'Pine Appling' for it gives your head a shape of a pineapple. However weird may it look; this method helps you to protect your curls and saves your strands from getting rubbed while your head is on pillows.
Try to make the knot on the highest level of your head as it will let you sleep without putting stress on the scalp. You can utilize scrunchies to avoid hair breakage. Also, try to start sleeping on pillows with silk pillowcases. They are proven to be useful in case of avoiding friction and bringing a glow to the hair.
How To Maintain Curly Hair
Choosing Shampoos Wisely
The first step to taking well care of your hair is to incorporate a good shampooing routine in your daily life. Washing your hair regularly ensures there are no dirt particles, dust, excess oil, product buildup or dead cells stuck on the hair roots on your scalp. You should never use harsh shampoos, rather try to use the mild ones which do not have any sulfate, alcohol, silicone or parabens in them. Such ingredients can irritate your scalp and finally produce more dead cells and dandruff.
Here is one pro tip you should make use of. You can mix water in your shampoo and dilute the shampoo texture. It will help your scalp process the shampoo easily without building up an excessive product layer on the roots. Also, using this trick, you will be able to cut down on your shampoo budget, so that is a plus! Avoid shampooing frequently, as that can suck out the natural moisture out of your hair making it rough and dry.
Stick to the Natural Treatments for Long-term Healthy Curls
Try to stick to the natural treatments as they are the most useful curly hair care tips at home you can opt for. They ensure healthy and long-term good results without causing any harm to your curls. In this context, let us introduce you to hair masks made up of natural homely ingredients. You can try making a hair mask with a mixture of eggs, olive oil, mayonnaise and vinegar. Just mix them and apply them to your hair.
Keep the mask for 30 to 45 minutes and then rinse it off and shampoo your hair. This mask will keep your curls protein-ated and shiny. You can also make a hair mask out of mashed avocados, honey and olive oil. Mix the ingredients to get a perfect consistency and it for half an hour on your hair. Another great mask for your curls is the blend of milk, apple cider vinegar, hibiscus and fenugreek seeds. All these masks will ensure your curls get a good amount of vitamin B, E and healthy good fats.
Trim the Hair to Keep Broken Ends Away
Nobody loves flyaways in their hair; but do you know that split-ends make your hair look like it is having flyaways even on the hair ends! And that is not really what you want. Not also it gives you unmanageable curls but also contributes much to tangled, frizzy hair. So, if you want luscious bouncy curls, then make sure to pay a visit to the salon after every two months to get a quick trim. No matter what your gender is, if you are fond of seeing your curls grow, make sure to trim your hair every once in a while.
Hair Care Tips for Men and Women
So, the Carnel of how to keep your curly hair healthy can be summed up within one sentence – regular combing and moisturizing along with shampooing. In want of smooth, silky hair, people often tend to use a lot of shampoo and products on their hair. But on the contrary, and much to their disappointment, their hair ends up becoming even frizzier. To avoid this, you must maintain a healthy hair care routine. We have tried a few lifesaving hacks in this article that will prove to be worth the effort. Hope you have found this article useful! For other updates and information check Timesalert.