How To Get Person Details With Vehicle Number
A smartphone has become a part of everyone's life and new applications have been developed regularly for the betterment of users daily need. Recently many applications have made everyone's life easy. The user can pay their bills or book ticket with just a mobile app. The government has recently introduced Digilocker App where you can store your driving licence and RC without carrying them. Now the Transport department has again come up with a unique application. With this applications, you can get a person's complete details with just his vehicle registration number. Yes, you heard it right just with one app you can find a person information.
Use Digilocker App To Show License and RC Book
Get a Person Complete Details With Vehicle Number
The Andhra Pradesh government has introduced AP Vehicle information app with which you can trace out a person complete information with just entering his vehicle number plate. This app is going to be very useful for everyone. It can be used when a vehicle met an accident or responsible for the accident to get the information of the driver and to catch the culprit. It is also going to be very useful for the women's travelling at night through a cab.
How To Know Vehicle Details Using Registration Number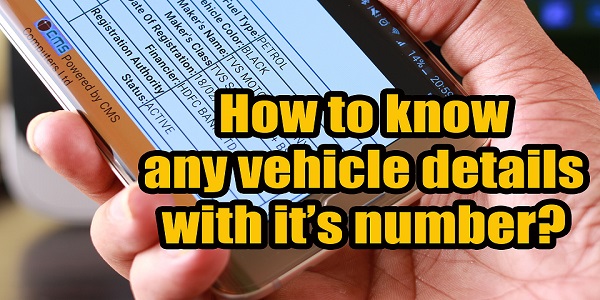 The women safety has become trivial matter in India, this app is going to be a safety measure for them. They can get the cab complete details from the AP Vehicle information app and can inquire those details from the driver to know whether the cab driver provided details are correct or not. Here we have shared the information on details that can be obtained through this AP Vehicle information app.
AP Vehicle information app provides Below Details
Registration Number.
Registration Date.
Chasi Number.
Owner Name.
Engine Number.
Vehicle Class.
Fuel Type (Petrol/Diesel).
Vehicle Model.
RTO Vehicle information.