Email Without Phone Number : In the olden days, people sent or received messages with the help of birds or other messengers. Later, it was updated, and people started writing letters and used to send them through the post. But in today's generation, all the work is done using technology, especially electronic devices like phones, computers, laptops, etc. 
Create Email Without Phone Number
Today, though we still have post-men and post boxes, everything is done with the help of electronic devices very quickly. Such a method of exchanging messages between people using electronic devices is called Electronic mail or Email in short.
Everybody has a google Gmail account, phone number, and also Email id. Email is necessary for many sectors like business, commerce, etc.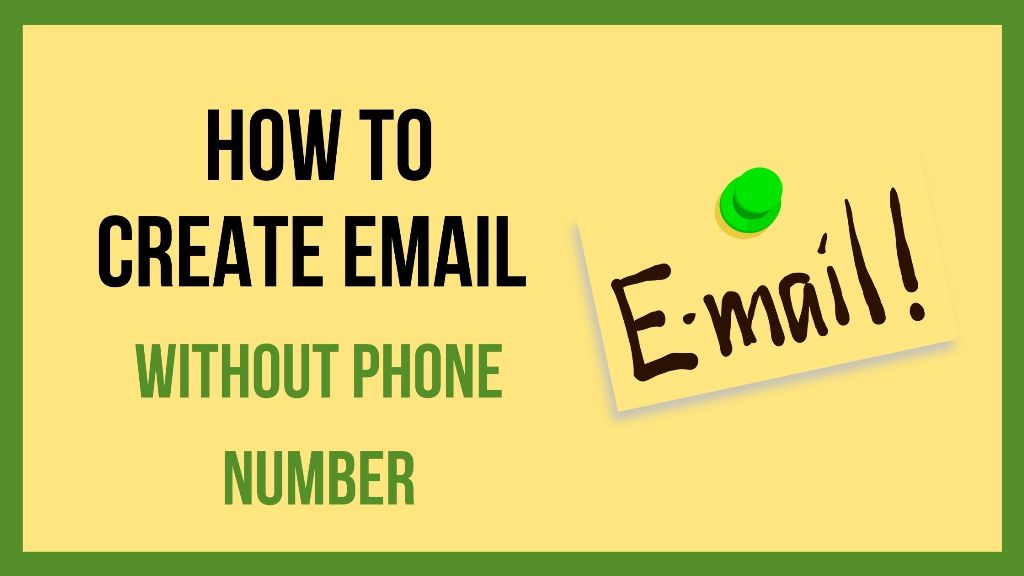 Email operates across computer networks and also local area networks. Also, it is used to send a message in a formatted manner, allowing one user to send a message to another user in any part of the world.
Creating Email Without Phone Number
Email provides faster and easy means of communication. It is a very effective and cheap means of communication. We can send a single message to multiple people at the same time. Email users can categorize and prioritize their emails according to their use. It is one of the security services on the internet.
Creating an Email account
Creating and having an Email account is necessary for everyone in the world.
How to create an email account
● Open the web browser. Go to the Gmail website. Click on the sign-in option on the screen. They ask you to fill in the required details, including name, date of birth, gender, phone number, etc.
● Then, you need to create your username and password.
● Read all terms and conditions and click on the agree with option. Click next.
● The email account created for you with the created username and password. You need to remember the username, email id, and password to sign in again and again on the same device or to log in to your account on different devices.
You asked to enter your mobile number while registering into your email account. There might be several reasons to ask you to enter your phone number while signing in to your mail account.
Reasons To Ask Phone Number To Create Email
Here are a few reasons to ask contact number while signing in to your email account.
● To check whether you are a real human or a bot.
● To reset the password, if you forget your password, sign in.
Phone numbers are personal identifiers because each phone number has a unique identity. But if it is critical for you to secure your private data, you can also create an email without a phone number.
Steps To Create An Email Id without Phone Number
Here are some techniques to create an email account without a phone number.
1. To create a temporary email address.
It is a disposable account that doesn't ask users to fill in their personal information to sign in. Nut the inbox is designed to self-destruct after a specific time. Many websites are used to create a temporary email address. But nowadays, Google is blocking such websites that are used to create a temporary email ID.
2. Register with a service that offers
other means of verification.
3. Skip adding a phone number while creating the account.
Steps:
● Open the Google Chrome browser. To switch the incognito mode by pressing short code ctrl+shift+N.
● Open https://accounts.google.com
● Fill in the required details by skipping the phone number.
4. Using the anonymous number to verify.
How to Create Email Without Phone Number
Like a disposable account, you can use a disposable phone number to create a google account. These disposable phone numbers are available on different websites. But then, Google has blocked websites that provide users anonymous or disposable phone numbers.
Top Best Free Email Services without Phone Number
Some top email services don't require a phone number to sign in or verify.
They are
● GMX mail
On GMX, one can sign in to receive the emails without a phone number because it doesn't ask phone number while creating the email account.
● Protonmail
It is one of the best webmail services and the world's largest secure messaging service. It has many security features and offers end-to-end encryption that keeps your messages private. Not even the people working under this service can see or read your messages. In this way, you can feel secure about this service.
● Tutanota
Is a secure email service that respects users' privacy and focuses on essential things. It provides a fast and organized workflow with its lightness, simplicity, and exceptional level of safety. It saves time and money and sends emails correctly without interrupting ads.
Steps to Create Email Without Phone Number
Users feel more secure if they have the privacy that no one can see their messages. Email offers that security. It is end-to-end encrypted and is a very secure service.
Hopefully, you have understood the processes and techniques to create an email account without a phone number. But it is better to enter your phone number while creating your email account so that you can secure and reset your Gmail password when you forget it.
FAQs on creating Email
Why do I need a phone number to create an Email?
It is to ensure and verify your identity, whether it's real or fake.
Can I use the same mobile number for different Emails?
You can't use the same number as Google may ban that account.