HSRP, introduced by the Ministry of Road Transport and Highways (MORTH), Government of India also known as high-security registration plate. A rectangular-shaped plate made up of aluminum usually fixed both on the front and backside of vehicles using two non-reusable locks. To defend against counterfeiting, a chromium-based hologram of Ashoka Chakra measures 20 mm x 20 mm hot stamped on the top corner of both front and rear plates.
HSRP Number Plate
HSRP is mandatory for all old vehicles to change their old number plate to an HSRP number plate. Registration mode for application is available both online and offline. The registration fee for a two-wheeler is 400 Rupees and for a four-wheeler, 1100 Rupees, for a four-wheeled vehicle the registration fee depends on the vehicle category.
The fuel form of a car and Bharat Stage indicated by a color-coded sticker. Color-coded stickers that meant to identify vehicles based on their fuel type. Light Blue colored stickers provided for the vehicles running in Petrol and CNG.
Orange-colored stickers for the vehicles running in Diesel. A green strip added to the top of the sticker for cars that comply with BS6. The sticker applied to the windscreen from the inside.
Features of HSRP – High Security registration plates
Hot Stamped Chromium-Based Hologram, which contains 'CHAKRA' in Blue-color
Ingressed IND Legend, for national identity and standardization
Laser Etched Digital Code, for the sequential identification of individual HSRP plates across the country. it also acts as a watermark and cannot be erased.
Security Inscript
Embossed alpha-numerals and border
Snap lock, the registration plate fitted on the rear of the vehicle and fastened with a non-removable and non-usable snap lock for better security.
Super grade retro reflecting sheeting
Benefits of HSRP Number Plate
The HSRP scheme has the following benefits;
National standardization of the number plate display format
To digitize data for all vehicles under the control of a single central authority, the NIC (National Informatics Centre)
Also, to reduce car theft and crime involving cars, since HSRPs could only be provided by the local Registering Authority after thorough verification.
To standardize registration plates for various cars, allowing for the introduction of new technology such as Laser Identification Recognition Readers at a later date.
How to register for HSRP number plate?
Visit the official government authorized web portal
Click on Book Now option. You can fill in all the details such as vehicle registration number, chassis number, engine number address, contact number, fuel type, etc.
Click on 'non-transport option from the vehicle's class options if it is your personal vehicle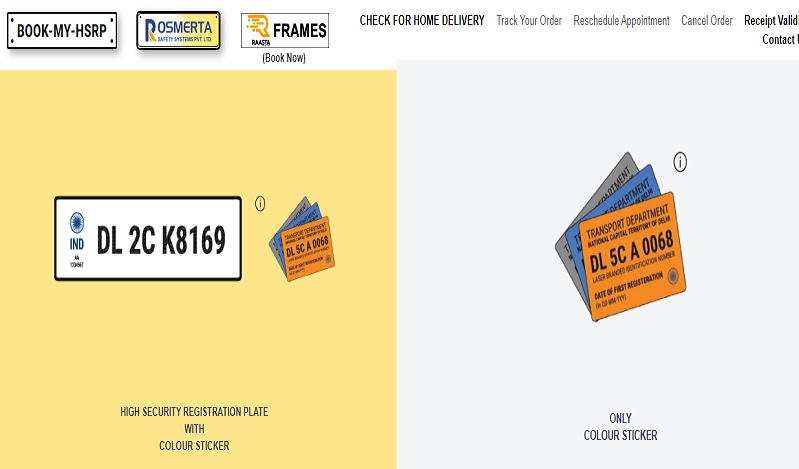 After filling the form completely, you get a password and username that sent to the registered mobile number
Then, after the successful submission of the form, the user should have to log in again to make the payment. After that, you get your receipt generated
After getting your HSRP number ready, the user will be able to receive the message on your registered mobile number.
How to check HSRP Registration Status
After visiting the official website of HSRP, you can log in, and then further you can choose an option to track the status from the official website. Within 3-4 working days of submitting your HSRP application, you will be able to check the status of your application online.
What can I do if my HSRP gets damaged or if it is lost?
Follow the given procedures for replacing your damaged HSRP number plate;
The affected HSRP must be brought to the DTO, and a new replacement application must be submitted.
If the HSRP lost for some cause, it recommended that a record be kept at the Police Station with the Laser Identification number of the lost HSRP and that a new application for replacement of the lost HSRP submitted.
HSRP Customer Care Details
General Enquiry
If you experience any problem, you may contact to the below-given number
8929722201 (In every working day from 09.00 AM-06.00 PM)
Or else you can mail your matter to (Customer Care Email):- [email protected]
Grievance
·        Grievance Cell Mobile:- 8929722203
Here we have mentioned all the clear details about how to register and get the HSRP Number plate online. For more information check our page Timesalert.