TCS i.e. Tata Consultancy Services provide IT Services, digital, and business solutions to companies across globe. It is one of the subsidiaries of Tata Group of Companies.
WHAT IS TCS NQT?
TCS is conducting NQT (National Qualifier Test) which is an employability test for the undergraduates, postgraduates and diploma student with less than 2 years of experience.
NQT Cognitive skill test is mandatory before attempting other tests.
TCS NQT will be conducted both, Online (at home) and Physical (TCS iON Authorized Centre)
After this, the examinee will be qualified to apply on the TCS iON Job Listing Portal with their NQT Score
The NQT score will be valid for 2 years
The candidates will be able to apply for an entry-level job in companies with their NQT Score.
Important Dates For TCS NQT 2023 Registration
Last date of Registration- 20th April, 2023
Test Dates- 1st May, 2023 and 13th May, 2023
The Registrations are limited.
TCS NQT Registration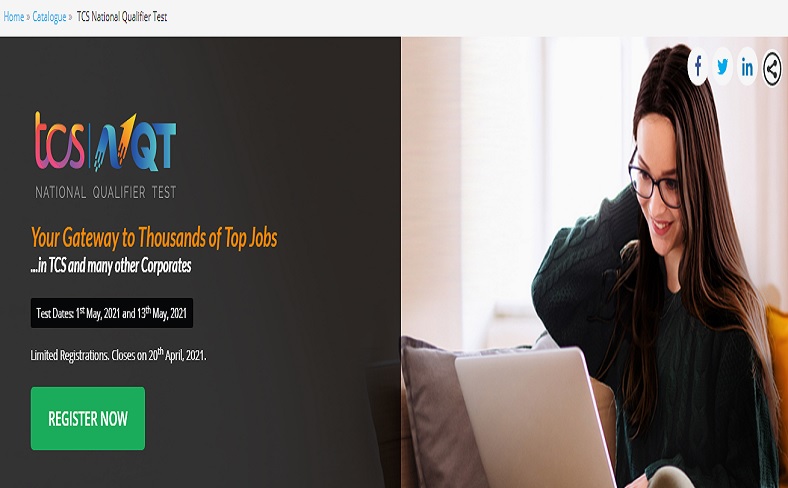 For New Users
To begin with the registration process for TCS NQT, click on link given here.
If you have not yet created an account,
Click on login,
Click on Create Account,
Fill in your details i.e. Full name, E-mail Id, Password and Phone number,
Generate and Enter OTP
Enter CAPTCHA
Read and check the Privacy Statements, and click OK.
And then click on Create Account and your account with TCS iON will be created.
You have to select the State that you live in and continue.
TCS NQT 2023 Login
Login to the page using your credentials.
After, logging in, click on Register.
You redirected to the details of the different NQT Variants:

NQT- 1. NQT (Cognitive Skills) 2. Attitudinal Alignment NQT (Psychometric Test)
INDUSTRIAL NQT- 1. Informational Technology 2. Retail 3. Banking
SUBJECT NQT- 1. IT Programming 2. Basic Computer Skills 3.Accountant
The NQT tests available will have a Buy Now and an Activate Now Button below them.
When you click on Buy now for any of the test, you will be redirected to a form.
TCS National Qualifer Test 2023 Form
In this form, you have to:
Fill in your personal details
First name
Last Name
E-mail ID
Date of Birth
Residing State
Residing City
Gender
10th Std/ SSC Roll number
Mobile number
Click on Generate OTP to get an OTP from your entered contact number.
Enter your highest Educational Qualification
Select your Post Graduation/ Graduation Degree/ Diploma
Select your Graduation Branch or Specialization
Enter your Graduation Month and Year of Passing
Select the Name of your Institution for the button on the side after entering the Institution City, Institution State and Institution Name.
If however, you cannot find the name of your institution, select others. And enter the name of the your Institution in the box provided.
Fill in the Exam Details i.e. the mode of the examination
Read and agree to the declaration.
Upload your photograph
Enter the CAPTCHA
Read and agree to the points of this Declaration
Submit the form.
Now, you receive the instructions which will consist of your NQT Registration Number. (Note down your NQT Registration Number). And close, the instructions.
TCS National Qualifer Test Form Submission
Click on the Close option, and your form gets submitted.
You have to make payment to receive the hall ticket. To make payment, press click to proceed.
Click on Proceed to Pay.
You will have to enter your contact number and e-mail Id
Select the mode of payment i.e. Card, UPI, Net banking or Wallet
You will be redirected to the payment page
After making the payment, you will get the Order Details
 How To Check And Update TCS NQT Form
Login using the e-mail address you used for the last exam of NQT,2020
Now, instead of Register now, you will find the View Details button
Click on View Details
Click on Edit Application
Fill up the Test Details in Upcoming Test i.e. select the test you want to attempt.
Fill in the exam details same as above and also Fill in the CAPTCHA
Check the declaration
Submit the form
Follow the same steps as above for payment.
You can check whether your order is successful or not in the My Dashboard Section. For more updates check Timesalert.