First Hyderbad Steel Flyovers: Nowadays every metropolitan City faces heavy traffic. People are getting late for their works because of these heavy traffics in the cities. To reduce the traffic we have many solutions. One among them is with the help of the metro we can reduce the traffic, but it is a little bit expensive and can't be affordable for everyone. So, we had other solution to reduce the traffic i.e. building the flyovers in metropolitan cities. After construction of flyovers, we can definitely reduce the traffic in all cities. Due to traffic, people are getting late for their work.
Hyderabad Steel Flyovers All Set To Begin Work
Flyover is referring to the overpass. It is nothing but constructing the high-level bridge that crosses over a highway intersection. BY using flyover we can divide the traffic into different areas. Then traffic will reduce slowly and people can go anywhere without any delay. A few months back GHMC had applied for Steel bridge project, but the government is not ready to approve the project and the approval is very slow to move further. But now they are ready and approved for the steel flyovers in Hyderabad. People who are traveling in Metro now can check for Recharge Hyderabad Metro Rail Smart Card here.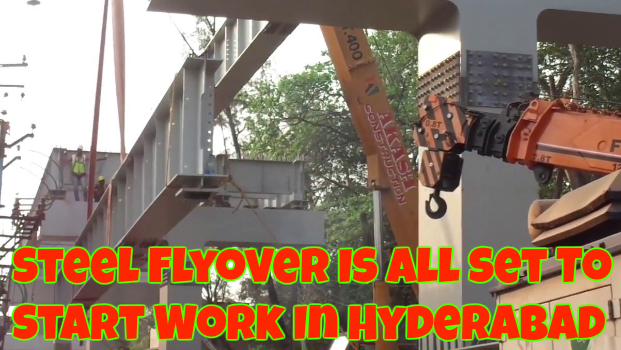 After the Assembly elections in Hyderabad, GHMC had broken the standing committee regarding transferring the electric transformers with approval payment of 2 crores. Now GHMC is going to construct a first-ever steel bridge for general people in Hyderabad. The steel bridge is similar to the flyover. Constructed with steel piers and girders. Soon all the people of Telangana can use these amazing Hyderabad Steel Flyovers.
Construction Of Steel Flyovers In Hyderabad
GHMC trying hard to change the electric transformers with a budget of 2 Crore. All the details and white-topping stretch will be submitted by GHMC to the government. Flyovers proposed to construct from Indira Park to VST and Ramnagar to Baghlingampally. Telangana government had given the permissions to take tenders from others for constructing the steel flyover in Hyderabad.
The state government had sanctioned 426 crores for building the steel flyovers. For conventional flyovers, they are expected to ease traffic from lower tank bund to Hindi Maha Vidyalaya. This project is taken under the Strategic Road Development Programme (SRDP). We have major intersections at NTR Stadium, Ashok Nagar, RTC Crossroads, Baghlingampally, and VST Junctions.
Steel Flyovers In Hyderabad Begin Constructions
The government had approved 350 crores for building a flyover from Indira Park to VST junction. It had a 2.610km area to be built. And we have an area of 0.84 km from Ramnagar to Baghlingampally with 76 crores. Also, have more news updates on out Timesalert Web Portal.
The full project will complete in two stages. They are building four-lane bi-directional bridges. That is starts at Baghlingampally junction near Rk Math Landing from Lord Ganapathi Temple. First, they start these Steel Flyovers From Ramnagar to Baghlingampally near RTC Kalyana Mandapam. After completing steel flyovers in Hyderabad, the traffic will be reduced and it is very helpful for the people. It is the best way to reduce traffic in metropolitan cities.