IOSMS V2 Payslip – iOSMS or Integrated Online Salary Management System is a software for better navigation and record-keeping of salary-related data of employees. This is an initiative by the Government of West Bengal for its employees under the Department Of School Education.
IOSMS V2 Payslip
All the employees who come under primary and secondary school education institutions in West Bengal can avail of the benefits and services of this initiative. There are many such employees under these categories, so to make access easier they have been segregated into various categories, like:
District level user – District Primary school council secretary or Finance office.
Subdivision level user – Positions in Drawing and disbursing offices.
State-level user – Administration of online salary requisition.
Circle level user – Sub Inspectors of schools.
School-level user – Head of Institute and DA getting school.
Webmaster – The rest of the employees who fall under teaching staff.
Selecting the correct category while logging into your employee portal is important.
Services Offered By IOSMS Payslip 2023 @ osms.wbsed.gov.in
This system, launched in 2014 is under the e-HRMS of the school education Department. The Integrated online salary management system page has helped in bringing many salary-related services at the tips of the employees' fingers. We bring you a compilation of the services you can enjoy with this system:
It helps in solving salary-related issues.
All primary teachers can download and view their salary payslips anytime.
It can be used to update personal details and information.
IOSMS V2 keeps a record of all the payslips from the beginning till the end of the employees' career.
It keeps a record of all HR related information of employees under the Department of Education.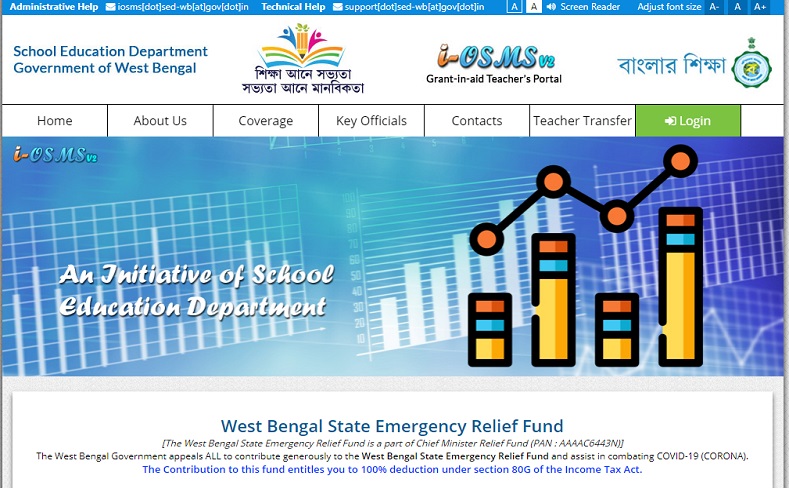 Documents Required For IOSMS Payslip Registration
To avail of the online facilities and services under the IOSMS, first, the employees need to register themselves to get their user ID and Password. The registration process as yet has not been converted to an online mode, so it consists of an in-person procedure. Documents required before going for the registration process are:
Personal Details and proofs
School and Educational Qualification Details
Address proof
Active registered mobile number
An active email address
IOSMS V2 Salary Payslip Registration
To get yourself registered offline, you can simply observe the following steps:
Visit your nearest School Education Department office or an available District headquarters. For more details check Timesalert.
There you can fill in the Registration form for availing of the IOSMS service.
Make sure to fill in all your personal and professional details such as name, date of Birth, Employee Mode and category, etc. correctly and double-check it.
For verification purposes, provide them with your active working number – which you do not plan to change shortly.
Submit the Registration form along with all the other documents required for verifications to the Department Office.
After the form submission, you will be provided with a username and a password to access your IOSMS profile.
How to login IOSMS Portal
To log into the website and access your Primary Teacher IOSMS Payslip portal with your username and password, the employee can follow the steps given below:
Visit the official IOSMS website, osms.wbsed.gov.in.
On the panel above the website, the far right corner has the Login option.
Choose your appropriate subcategory.
Click on Login and enter your allotted Username and password.
After logging in click on the payroll tab.
From the dropdown menu, select the view payslip option.
You can enter the month or string of months, whose payslip you want to view.
You can also download the slip for later use.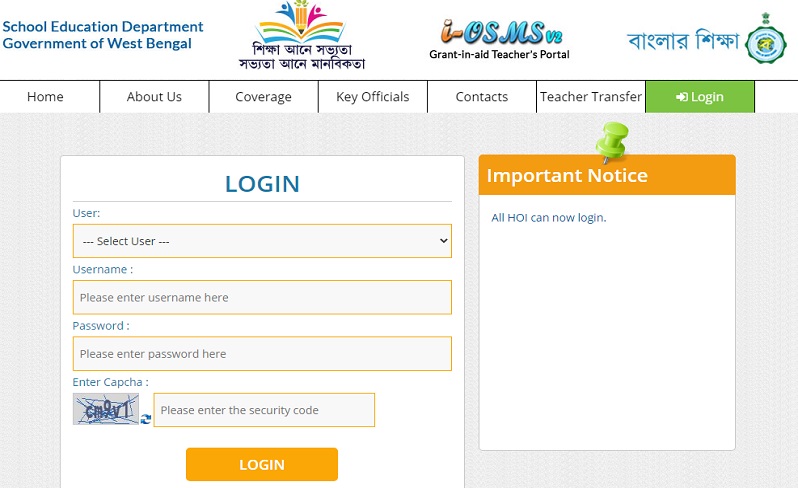 FAQs On IOSMS V2 POay Portal
Q-How to reset a forgotten password of the IOSMS website?
The password changing procedure does not happen online, hence it is recommended to visit the nearest Department for Education Office for a password reset request.
Q- Is there a helpline number for any issues related to the website?
The Government has not provided any helpline numbers as such, however, the employees can mail their grievances to an administrative mail ID – [email protected]