The Indian economy's backbone is its Agricultural center. Agriculture is mainly based on farmers and the land they use for cultivation. Farmers are really important as they are the ones who provide everyone with food. So farmers provided with more financial support from the government.
To support farmers, the Government of Telangana has launched a new scheme known as IFMIS Telangana 'Rythu Bandhu'. It is nothing but an agricultural Investment Support Scheme, which is put forward in the Kharif season of 2018-2019. An amount of Rs 12,000 crore donated by the government of Telangana from that year onwards.
IFMIS Telangana Rythu Bandhu
The Government of Telangana's Chief Minister has launched a scheme in the name of Rythu Bandhu to provide farmers with Agricultural Investment Support. The main objective behind this scheme is to decrease the burden of loans and debt on the farmers, which they take to buy raw materials and other inputs like seeds, pesticides, insecticides, fertilizers, etc.
For this scheme, the government of Telangana has sanctioned an amount of Rs. 12,000 Crore for the year 2018-19. Every single farmer will get an amount of Rs. 4000/- per acre every single season. Only the farmers having cultivated lands presently are capable of receiving this amount. Before now, this amount was given to farmers having any type of land.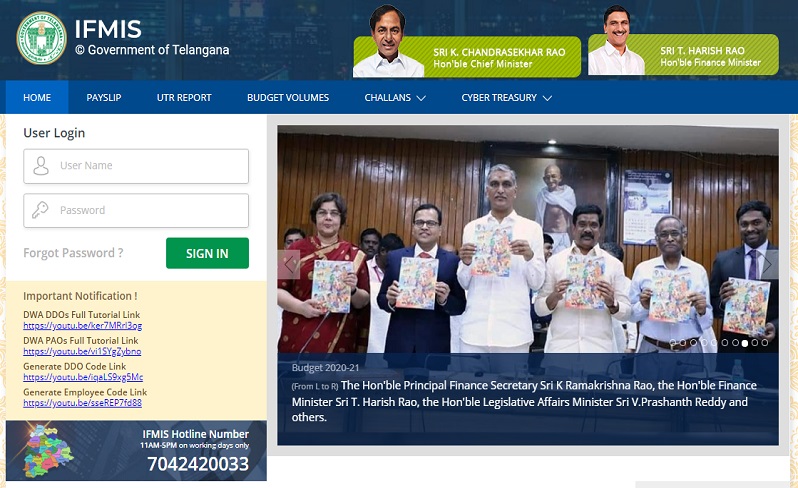 Advantages of ekuber TS Rythu Bandhu
The farmers will get financial incentives from the government, as per the Ruthy Bandhu Scheme.
An incentive amount of Rs. 4000 per acre of land will be provided to the farmers of Telangana State.
Along with this financial incentive, many other incentives will be given out to farmers like free pesticides and insecticides that will be more beneficial for the farmers.
To make use of the benefits coming under this scheme, the farmers are needed to fill up an application form which can be submitted either offline or online as well.
In this scheme, more than 60 lakh farmers have been benefited under the current financial year in the state of Telangana.
The government had released Rs 7000 Crore for this scheme before June 10, of the year 2023.
The government has a crop pattern, which the farmers have to follow to avail of the benefits of this scheme. The farmers who do not follow this governed crop pattern will not be eligible for this scheme and hence will not be given financial incentives.
There have been many farmers who have taken the benefits of this scheme even when they are not cultivating any lands. Such farmers will not get benefits from this scheme in the future.
Farmers availing of this scheme will have improved financial conditions and hence can become more self-dependent.
Eligibility Criteria for IFMIS Telangana Rythu Bandhu Scheme
The farmers expected to follow the below-given eligibility criteria to make use of the benefits coming under the Rythu Bandhu Scheme-
The farmer should be residing in Telangana state and hence should be an active resident.
Farmer applying for this scheme must be the owner of the land.
The farmer should be a borderline and a small farmer.
Commercial farmers not allowed to avail of this scheme.
Documents needed to get benefits From IFMIS ekuber TS Rythu Bandhu
The documents given below required to apply for the Rythu Bandhu Scheme-
Aadhar card
Voter ID card
Pan card
BPL certificate
Land ownership papers
Caste certificate
Address proof
Bank account details
List Of Banks Involved In IFMIS Rythu Bandhu
AP Grameena Vikas Bank
Telangana Grameena Bank
IDBI Bank
TSCAB
State Bank of India
Andhra Bank
Syndicate Bank
Corporation Bank
Indian Overseas Bank
Canara Bank
Steps to check Telangana State Rythu Bandhu status in 2023
You can simply check the status of your Rythu Bandhu Scheme. The following are the steps to check Telangana state Rythu Bandhu Pathakam status-
Go to this link of Rythu Bandhu
Search for the option saying 'E-Kuber' and select it at the menu section of the home page of Rythu Bandhu.
After that, search for the option saying 'Scheme-wise Report' and click on it
Then you will have to select the current year, type ( Milk, Rythu Bandhu Kharif, Scholarship, Budget Bill, Pension, Salary).
Type in your PPB number and then click n the select button.
Then after following the above-mentioned steps correctly, you will be able to see the status of your Rythu Bandhu Scheme.
E-Kuber Rythu Bandhu 2023
The government of Telangana is giving out Financial Support to farmers who have active cultivating lands i.e., who have cultivated lands rather than commercial lands or lands that they don't use. The government of Telangana State distributes this amount by making use of the E-Kuber system owned by the Reserve Bank of India (RBI). The E-Kuber system made by RBI as a Core Banking Solution (CBS).
Steps to download Rythu Bandhu Application
You can simply download the Rythu Bandhu App from the official Online Portal of Rythu Bandhu. Follow the steps to do it-
Go to the official website of Telangana State's Rythu Bandhu
Then you will see options like Rythu Bandhu, Rythu Bhima, Rythu Runa Mafi, you have to choose the option saying Rythu Bandhu.
Then you will be able to see the option saying 'Download the Mobile App' select that option on the menu.
Now you will get the downloaded option on your smartphone, which will make it easier for you to use it. For more updates and information check Timesalert.
TS Rythu Bandhu Payment status 2023 Link
You can log on to this link where the Payment status for E-Kuber Schemes (Rythu Bandhu Kharif, Budget Bills, Kalyanalakshmi(old), Milk, Scholarships) in a state-wise manner is given. Using this link, farmers can check the status of their payment or money by putting in their PPB numbers.
Rythu Bandhu Scheme Contact details
Ground Floor, D-block, Fateh Maidan, Basheer Bagh, Near Nizam College Basheer Bagh, Hyderabad, Telangana 500001
Contact number: 040 2338 3520
Email id:

[email protected]
Conclusion
In this article, you will get details regarding the Rythu Bandhu Scheme, E-Kuber Scheme and all the procedures to check the statuses of schemes in a step-wise manner are also included. You can also see how to download the Mobile App of the Rythu Bandhu Scheme.