KSP (Karnataka State Police) because of the sudden surge of covid-19 cases, has issued a clear pass for inter-state and inter-district transportation in the Karnataka district.
KSP Clear Pass
The pass will have the time duration in which the individual is permitted to stay outside the house. The pass has a unique QR code that will allow the police to verify whether the pass is genuine or not.
The official website of Seva Sindhu portal, Government of Karnataka through which you apply for KSP clear pass. You should be a citizen of Karnataka to apply for a Karnataka epass Application and availing of various services provided by Karnataka State Police and the Government of Karnataka
How to Apply for KSP Clear Pass Seva Sindhu Online
For the details regarding applying for KSP clear pass, follow the given steps;
To apply for getting an e-pass provided by Karnataka state police, one must first visit the official website of KSP clear pass
From the homepage that have appeared, click on the Karnataka epass Application
After that you redirected to the page where you will have to fill the application form of KSP clear pass
Now you can enter your mobile number. Now you receive an OTP to the number you have provided
After successfully entering the OTP you have received, fill the entire form and click on submit option
After successful completion of your registration, you will be issued with the pass after verification
Aadhar card required along with the Karnataka epass Application for identification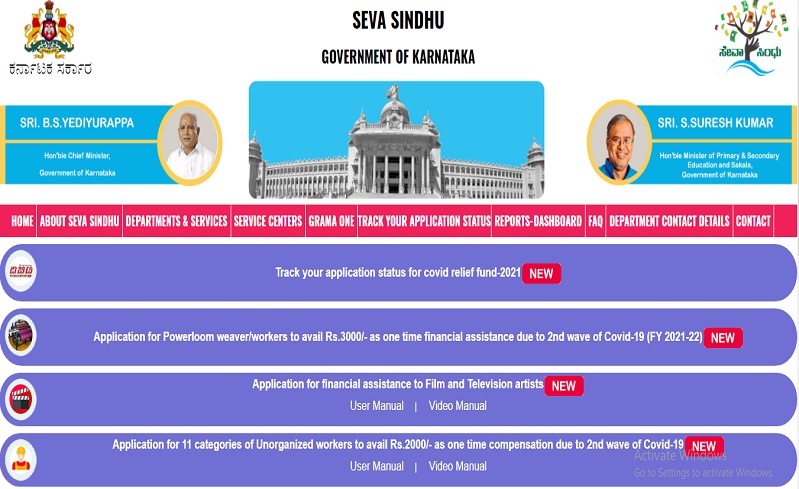 Karnataka epass Application Online
Apart from the website, KSP clear pass can also be taken from the play store. You can search for the Karnataka state police(official) mobile application and then install it. After installation of the KSP mobile application, enter your mobile number, choose city name and then click on submit option.
Now you receive an OTP which you have to enter and then click verify. Now you will be taken to the homepage of the KSP mobile application through which you will be able to avail various services rendered by the KSP mobile application.
How to Check the Status of KSP clear pass application?
After registration you can track your KSP clear pass application status by following the given steps;
First, go to the official website of Karnataka epass Application
Then, you able to see an option, Track Your KSP CLEAR Pass Seva Sindhu Application, click on that option.
After clicking on the option, you will be redirected to another page where you have to enter your registration number and your mobile number. After that you can click on the search button.
Now, you able to see the status of your Karnataka epass Application
Essential government employees, such as police, postal service, healthcare providers, and others, will not need a pass but will need to carry their recognized identity card.
Medical practitioners in the public and private sectors will not need a pass if they have a proper identity card with them that states their profession.
Aside from the police and the armed services, private security professionals and staff not required to obtain a pass if they have a valid identity card to show their vocation.
Media persons covering news and similar events exempt from the requirement to get a pass. The sole requirement is that these experts keep their legitimate identification cards on them at all times.
Vehicles with the registration number 'G' belong to the government.
Bank employees are also able to move without getting an e-pass as long as they have a valid bank identity card to produce when questioned.
The above given are some certain categories in which the people in it don't want Karnataka epass Application. Instead, they will be asked to show their identity proof.
KSP Contact information
In case of any queries regarding the KSP clear pass application, you may contact these numbers – 1090 (toll-free Number)
Mobile numbers: 08022943226, 08022943226, 9243737220, 9243737230
Here in this article, we have included all the details about Karnataka epass Seva Sindhu Application. For more updates check Timesalert.