Microsoft came up with the last windows update in July 2015 which was Windows 10. If you are a PC user, you must be aware that updating from Windows 7 to Windows 10 has become a compulsion because Windows 7 will no longer have support since January 2020. So, all PC users must update from Windows 7 to Windows 10 before that to avoid any security-related risks.
Upgrade Windows 7 to Windows 10
Windows 10 should also be downloaded due to other reasons because Windows 7 has certain outdated features, which makes Windows 10 better and more suitable with the latest devices. Windows 10 is more up-to-date and is working well for many years. While launching Windows 10, Microsoft declared that they will not be launching any newer versions.
In this article, we are going to discuss why you should upgrade to Windows 10 and if you want to do it how you can do it and is there a free way to do it, if yes then how?
Why you should upgrade from Windows 7 to Windows 10?
You must be wondering, why not let run the older version a little longer, instead of spending your money unnecessarily on a newer version, but here comes the reason of why you should update to Windows 10 from Windows 7:-
Microsoft declared that after January 14, 2020, they will no longer be providing support for Windows 7 and all the users must update to Windows 10 to avoid vulnerability to security risks.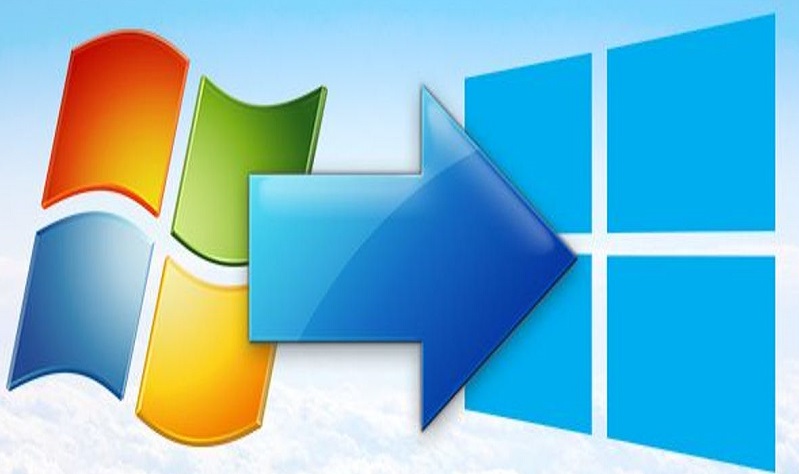 If you are a business, you are required to receive updates on which is a must to avoid safety risks, which will no longer be provided on Windows 7, so you should update to Windows 10 if you want to receive regular updates and do not want to be prone to risks.
Windows 7 is not compatible with certain new programs such as Office 2019, which is almost a requirement for businesses these days. Windows 10 is compatible with all such new programs make it a better option.
The overall performance of Windows 10 is faster than that of Windows 10, it boots, sleeps, and wakes faster than any of the previous versions of Windows which makes it a faster and more efficient version of Windows.
Windows 10 is comparatively a lot safer than Windows 7, because of the previously stated reason that Windows 7 shall no longer receive updates making it more prone to security-related threats, so it is quite mandatory especially for commercial users to update to Windows 10, although it will be advisable to all the users.
Windows 10 is more user-friendly compared to the previous versions of Windows especially when used by a company. It helps the employees of a company use a single PIN and login to their respective workstations and Microsoft cloud is used to work together and share files which helps in the integration of the company's various departments by assisting them to work together.
These are just a few reasons amongst many why you should update to Windows 10 from Windows 7.
Now, if you want to update to Windows 10, you can simply purchase from the official Microsoft website. You need to follow the steps below:-
How to download Windows 10?
Go to the official Microsoft Website
First of all, you are required to go to the official Microsoft website to proceed with the upgrade, which you can either search on Google or any other preferred browser, or you can also click on the link.
Go to Windows 10 dropdown
Now, after going to the official Microsoft website, you can click on the Windows 10 dropdown and select the preferable Windows 10 version that you want as per your convenience.
Now, after selection, click on "Buy" and then you redirected to another page. Later you need to click on 'Add to cart", and then you see few more additional options which you can choose if you require them, and you can make the payment for them together.
After this, you get the option of "Review and checkout" where you need to click after you can click on "checkout" and you asked to sign in, in case you are not signed in, and then you are required to make the payment and finally, you can download Windows 10 on your PC.
Is there a free way to do upgrade Windows?
Now some of you must be wondering, is there a way we can download Windows 10? There is some good news that you can update to Windows 20 for free, however, there are certain requirements that must be met to do so. This is actually more of a loophole by which you can download Windows 10 for free. You need a Windows 7 key. This method seems to work for now, however it may be revoked at any time, however, if you upgrade, you will get a valid Windows 10 key and it will keep working.
This may however be a little difficult for businesses, not individual PCs. Businesses should once contact their respective Microsoft licensing partner in such a case.
Requirement for Windows 10 Free Update
Make sure you find your Windows 7 key to update it because this key might be useful in the process. In case you are unable to find the key, there are also certain tools available to find the key.
How to update Windows 7 to Windows 10 free of cost?
You must be wondering, what exact steps we need to follow to update from Windows 7 to Windows 10. Here is a quick little guide on how to do it:-
The first thing that you must do is backup your data. Although, the upgrade will not remove your data you should be careful and back up just to be safe.
Go to the Windows 10 download website
Visit the official Windows 10 official website. You can either search for it on Google or you can go to any preferred browser.
Now you required to scroll down and click the "Download Tool now" button and the .exe file gets downloaded. You need to run it and click on "Upgrade this PC now".
Create Installation Media
The next step is optional if you want to use a different media for installation which can be a USB drive. You will require a valid Windows 7 key when you are installing Windows 10 key. And Windows 10 downloaded to your PC.
It is really necessary to have the updated version of Windows on your PC to use the latest features and also to keep your company safer. For more updates check Timesalert.