Kurti Designs – You would not find an Indian woman who does not have Kurtis in their wardrobes. This piece of clothing enjoys immense popularity as they are not only easy to wear but also comfortable. 
Latest Simple Kurti Designs for Women
But how can you make a piece of clothing so versatile as to wear them on any occasion/ here is the answer? There are several types of Kurtis you can wear to match your purpose. Have a wedding party to attend? Wear an ethnic Kurti. Going to the office? Wear a Kurti. Going to college? Or just for a casual date or meet-up?
Again, you have Kurtis! There are so many types of Kurtis of different styles, that you can practically never go out of fashion! No matter how you want to portray yourself, there is a Kurti that would perfectly match your needs! So, check out the different designs of Kurti you can wear to always look your best!
Features of Women's Kurtis:
Before we get into the various types and latest Kurti design patterns for stitching, let us have a look at what makes Indian Kurtis for women unique in style!
Kurti is the garment for upper body, which can get sold individually, or along with long pants and Dupatta.
Kurtis can be of different cuts and patterns, including the c-cut, A line, asymmetrical etc.
Materials like linen, cotton, georgette, khadi, lace and rayon are widely used in the making of the garment.
The price for Kurtis can vary depending on their design, material and brand. You can stretch your budget to opt for aKurti depending on their quality.
Women should select their Kurti design and types depending on their body types. The neck and the sleeves of the Kurti are major factors in deciding which type would best suit your body type.
Kurtis and their prices can vary depending on the patchwork, embroidery, prints and layers used on the Kurti. You can get really creative with your Kurti choices and increase your style quotient.
Kurti Design Patterns 2023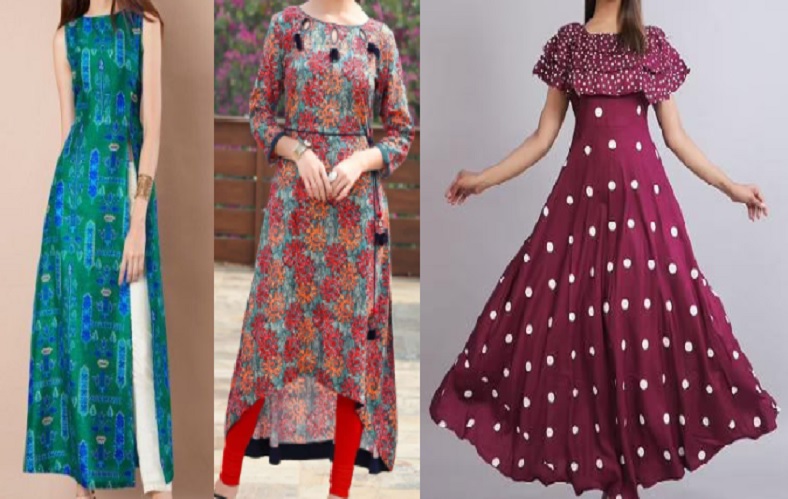 Tail Cut Kurti
If you are planning to attend a party function, then you can go for the tail cut Kurtis as they will be a great choice for occasions. These latest Kurti design patterns have a short side on the front or back, while the other side has a narrow shape. Altogether, the shape of the hemline is similar to a tail. You can wear a tail Kurti with layers and no bottoms to create a stylish look for the party.
This type of Kurti can be easily worn on occasions like kitty parties, club parties, festivals as well as in college or as casual wear. You can pair them up with jeggings, leggings, stockings and ethnic jackets to create different looks. Accessorize your outfit with Jhumki, stud or dangle earrings, bracelets and handbags along with peep toes, wedges, pumps or Juttis. If you have a body of pear shape, rectangle shape, tall stature, then this type of Kurti is a must for your wardrobe.
Anarkali Kurti
Anarkali Kurtis is just what you need if you want to create a graceful and elegant look with your outfit. This kind of sleeveless kurta design latest very well with almost anybody shape, be it pear, rectangular, apple or hourglass. But there are a few tips you must follow to bring out the best in your look. You must pair this Kurti up with Patiala, palazzo.
Leggings churidar, ankle jeans and ethnic jackets along with large Jhumki, bangles, necklace dangle earrings, scarves, handbags and watches. Kolhapuri chappals, bellies, Juttis and stilettoes would go best with this Kurti. You must make sure that you do not pair this up with stockings. The fabric of the Kurti can be silk, net, georgette, Brasso or Chanderi, as you like.
Simple Kurti Designs for Girls
Cold Shoulder Kurti with Front Slit:
You can be wearing ethnic and still look sassy in a Kurti with cold shoulder and slit in the front. If you are fond of wearing chic dresses for every occasion, then this type of Kurtis must be what you are looking for. To add extra something, you can try a cold shoulder Kurti that has a round neck and front button closure with short sleeves! The final elevation in your look is the high slit on the front of your stylish Kurti.
You can slay this dress on a casual outing with your friends or a kitty party, pairing it up with oversized hoop earrings, leggings and high heels.
Ang RakhaKurti
There is a long history of the trendy Ang Rakha Kurtis you have seen the Bollywood divas wearing. It was a court outfit for the royal ministers in the royal durbars. However, they have made a comeback, and this time, women are rocking this outfit with such feminine grace that it has to be one of your favourites. These Kurtis have two separate folds lying on one another to create a bulky look.
You can pair this Kurtis up with wedges, straight jeans and oxidized jewellery. If you want to add more sass to your outfit, you can try pairing it up with tote bags, sling bags, Potli bags and diamond or gold jewellery. But if you want to stick to the funky side, just stylize the Kurti with the oxidized accessories. You can pick a fabric like a chiffon, Chanderi, silk or georgette to make it worth wearing irrespective of the season.
Latest Kurti Designs 2023
Dhoti Style Kurti
There are so many designs of Kurtis topping the demand list of women in the market, but the one that needs a special mention is the dhoti style Kurti. It is one of the contemporary styles that has captured the attention of many wearers for its super stylish looks. Even though they have a traditional and ethnic look to them, they do not lack the modern touch that is needed to give it an "Outfit of The Day" tag.
With an unusual draping style, these Kurtis are very airy and therefore, is very comfortable for the wearer, they have a tight fit till the waist and then it gets flowy. You can wear this Kurti without any bottoms or you can simply wear legging or complementing prints to complete the look. Wear the dhoti Kurti while rocking a clutch and dangle earrings.
Shirt Style Kurti
We heard you were talking about comfort, so have you tried the shirt style Kurti yet? If not, then you are missing out on an extremely comfortable outfit for your daily wear! Shirt style Kurtis is the perfect mixture of ethnic and western outfits. It is both a Kurti and a shirt. Do not get confused, because that is what makes this dress super comfortable.  Also, being a fusion dress, they can be worn with any type of bottoms.
You can team it up with a pair of jeans, jeggings, leggings or churidar pants to complete your look. If you are a college-going or office going girl, or even if you need a semi-formal dress for acing a job interview, you can blindly go for a shirt Kurti to sort the outfit of your day. You can try wearing this Kurti with stud earrings, small hoops and watches with a handbag. The length of the outfit can be of your choice!
Kurti Design Patterns
Asymmetrical Kurti
Just like Having no specific style is the special style of an asymmetric Kurti. You can wear a Kurti which has a mixed type of cuts and shapes all over it. They are asymmetric in the hemline and the borders as well. So, if you are willing to experience it with your loo, you can try wearing an asymmetrical Kurti. You can opt for a lightweight georgette, chiffon, silk or crepe material Kurti to flaunt your fashion sense while enjoying the lightness of the cloth.
 Asymmetrical Kurtis can be worn on evening parties, festivals, outings and dates if you want to look different. It can be beautifully teamed up with a pair of skinny jeans or leggings on any day. Also, these Kurtis do help you look a few inches taller for their flowy, irregular shape. Wear lightweight jewellery like pendants, hoops, studs and watches along with proper footwear to stylize the piece of garment.
Kaftan Kurti
Kaftan Kurtis has become the hot favourite of Indian women within a very short time. And why would not they be, when you know that wearing this Kurti will give you the liberty of moving your limbs freely given the shape of these Kurtis are very flowy. These Kurtis have risen to fame and the Bollywood divas are to be thanked for this. You can also create a summery beach look like Kareena Kapoor if you have a kaftan style, Kurti, in your wardrobe.
This beautiful summer wears is equally gorgeously worn at evening parties, house parties and casual outings. You can wear this Kurti without any bottoms if you want to keep the floaty look of this cloth intact; nevertheless, this Kurti can be paired up with a pair of leggings or tight jeans and jeggings to balance out the baggy fit of the upper wear. A wooden bangle or hoop earring along with a hat and a pair of flats can be your safest bet if you are planning to stylize this piece of garment for your upcoming outing.
Pintuck Style Kurti
If you have ever worn a Kurti with ornamental pleats on their neckline or waistline, then it is high time you know what those pretty Kurtis are called. These Kurtis are widely known as Pintuck Kurtis. The pleated folds on their neckline are what make the Kurtis an amazing addition to your wardrobe. A pintuck Kurti can be easily worn in your formal office meeting or a job interview.
You can wear these Kurtis with coloured jeggings and leggings, narrow jeans or simple trousers. Make sure to go for a pair of bellies or pumps as they will give your whole outfit a very semi-formal, office-y look. Palazzos can also be worn if you want to play with your style. Avoid wearing any kind of heavy earring as those may ruin the semi-formal, casual look these pintuck Kurtis bring to your getup.
Peplum Kurti
Peplum Kurtis is a must if you love wearing Indo-Western outfits. These Kurtis were first made popular by the dazzling beauties of Bollywood. Ever since that, the popularity of peplum Kurtis has never seen a decline. If you also want to look your best while donning a simple Kurti, peplum Kurtis should be your go-to outfit. They were various patterns and designs, making them a perfect fit for bottoms like dhoti pants, tight pants and leggings.  A peplum Kurti can be your lifesaver especially if you have a club party to attend. It also worn as casual wear or college outfit. Try to wear accessories like smartwatches, Jhumki, oxidized jewellery and Juttis to add a dimension to your look.
Latest Kurti Designs for Stiching
Indian ethnic wear is far and wide appreciated all over the globe. The most easy-to-wear and comfortable one among them is Kurti, which is mainly why you must have seen the foreign women often prefer to wear a Kurti whenever they have to wear Indian wear during their India trip. You also must have felt comfortable wearing Kurti while going to a temple or religious place.
There are many reasons why Kurtiis considered to be the best outfit for Indian women as they can even help the mid-aged Indian woman look younger and toned. But Kurti does not always have to cater to the need for ethnic wear, it can be styled differently as well. So, we hope this article helped you get an idea of how you can style Kurtis to bring different looks to your daily outfits! For all the latest updates and upcoming designs check Timesalert.