NTR Gardens Hyderabad is a public urban park situated near the Hussain Sagar lake in Hyderabad. This park constructed in 1999 in the center of the city. Ex-Chief Minister Chandrababu Naidu inaugurated it. This park built in the memory of former and the most popular chief minister of Andhra Pradesh, late Sri N T Rama Rao.
NTR Gardens has spread across 36 acres of areas. For constructing this park, govt. Of Telangana spent 40 crores. NTR park opened for public in 2002. Check below for more information about NTR Gardens.
NTR Gardens Hyderabad
NTR Gardens has many options to entertain the public. These are boat rides, roaring cascade, a fountain, a Japanese garden, etc. Also, there is an area for children, where they can play safely. At the entrance place, there is a Nandi Bulls, which is quite unusual for visitors. For more fun, there is a mini-train on a single track.
Through this visitor can see all around the garden without wasting energy, which made the visit more enjoyable for the visitors. Mr. Nitish Roy designed the project of this NTR Gardens. There are more than 150 plant varieties, such as cacti, succulents, etc. present in this park.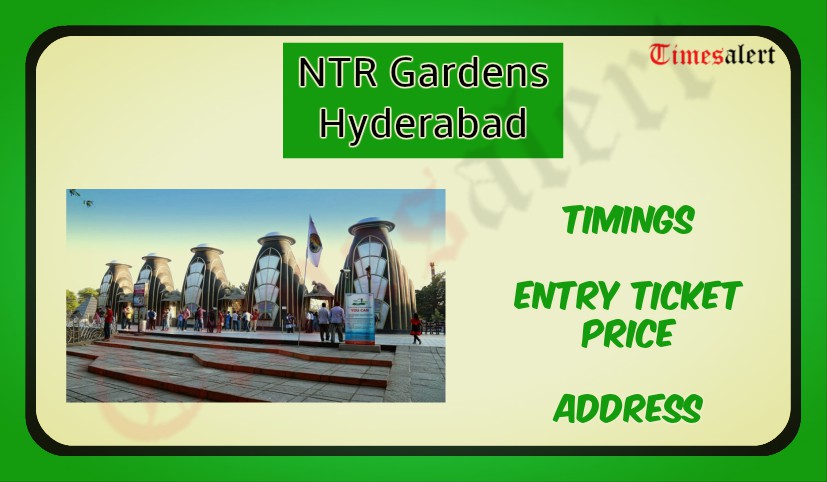 There are many herbal plants, which has brought to Hyderabad from various places like Shiridi, Kolkata, etc. NTR Gardens offers a breathtaking natural environment with lots of entertaining activities. It is the right place for all kinds of people for relaxation. The colorful flowers, plants, shrubs, and trees in the park have increased the beauty of the NTR Gardens.
Apart from the peaceful atmosphere, the garden also provides many options like Machan tree, car cafe, etc. for recreational activities to entertain the visitors. This park also offers foods. There are many food shops, café, and restaurants available in it. The greenery environment of this NTR Gardens make mind fresh and relax the visitors from stress.
NTR Gardens Hyderabad Timings (Opening, Closing Time)
NTR Gardens opens and closes on a particular time. Before visiting the park, check the timings.
| | | |
| --- | --- | --- |
| Days | Opening Time | Closing Time |
| Monday | 2:30 PM | 8:30 PM |
| Tuesday | 2:30 PM | 8:30 PM |
| Wednesday | 2:30 PM | 8:30 PM |
| Thursday | 2:30 PM | 8:30 PM |
| Friday | 2:30 PM | 8:30 PM |
| Saturday | 2:30 PM | 8:30 PM |
| Sunday/ Holidays | 12:30 PM | 8:30 PM |
NTR Gardens Hyderabad Entry Fee
The entry fee varies for visitors according to their age. And also NTR Gardens takes extra charges on photography.
| | |
| --- | --- |
| Visitors | Entry Fee |
| Adult |  Rs. 20/- |
| Child |  Rs. 10/- |
If a visitor wants to take the camera inside the park, then they have to pay an extra Rs. 30/- for camera and Rs. 65/- for the camcorder. People can book the NTR Gardens's party zone for parties. The charges are Rs. 21000/-. People have to pay extra Rs. 5000/- for security purpose.  This amount is refundable.
Best Places To See In NTR Gardens
There are many exciting places available inside the NTR Gardens. Where a visitor can spend their time. Some areas are:
Machan Tree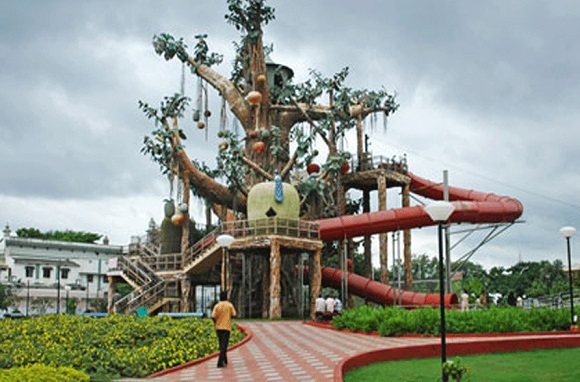 It is another center of attraction of NTR Gardens. This tree is a multi stored ride which has made like a tree shape. The trunk has made by massive concrete. And the branches and other parts of the tree are created with fiberglass. All the part of the tree painted with green and brown color, that looks like a real tree.
The Car Cafe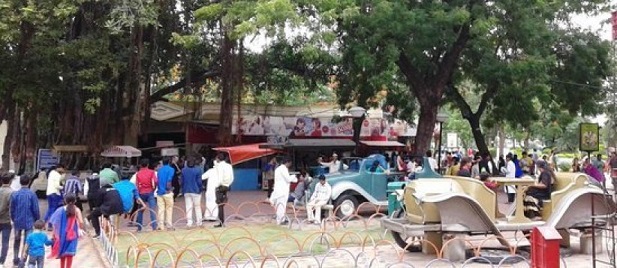 This cafe has circumvented by three petal-shaped ponds. Also, there are many fruit restaurants and food shops. This restaurant offers delicious foods for visitors. The interior design is also beautiful. The cafe offers a unique cafe experience to the visitors.
MonoRail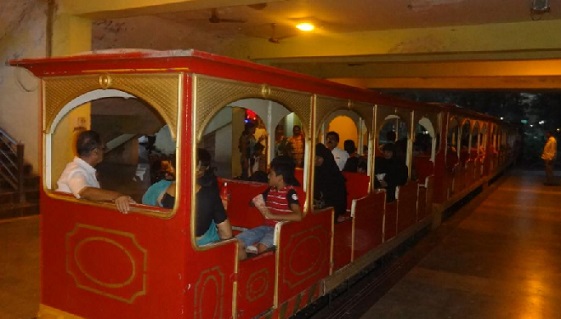 Visitor can enjoy the surrounded beauty of the NTR Gardens by this monorail. This train has a single rail track. Visitors can set in it and enjoy the view of the garden. Also, visitors can enjoy boating in Hussain Sagar lake.
NTR Gardens Contact Phone Number, Address
NTR Gardens Contact Number – 04023450305,  04023450359.
Address – NTR Marg, Central Secretariat, Khairatabad, Hussain Sagar lake, Hyderabad, Telangana.
Pincode – 500004.

These are some of the details regarding the NTR Gardens in Hyderabad. People who wish to spend some time peacefully can spend their time visiting this beautiful place where a large number of trees surrounded. For other locations and its information check Timesalert.