American public semiconductor company – Qualcomm that creates an intellectual property, software, and services related to wireless technology, has done it again. It has recently announced an addition to its Snapdragon 7 series, called Snapdragon 750G 5G mobile processor, it enables 5G global connectivity with HDR gaming and on-device AI.
Qualcomm Snapdragon 750G
Snapdragon 750G will be offering select Qualcomm Elite gaming features that will allow smooth, low latency gameplay leading to a richer entertainment quality. Armed with 5G support, for sub 6 and mmwave, standalone and non- standalone, and a global 5G banding.
The new snapdragon is an Octa-core processor that uses the Qualcomm Kryo 570 CPU that is based on 8nm architecture. As suggested by the name itself, it brings a lot of new features and improvements from Snapdragon 730G SoC, because it is placed between Snapdragon 730G and Snapdragon 765G SoC,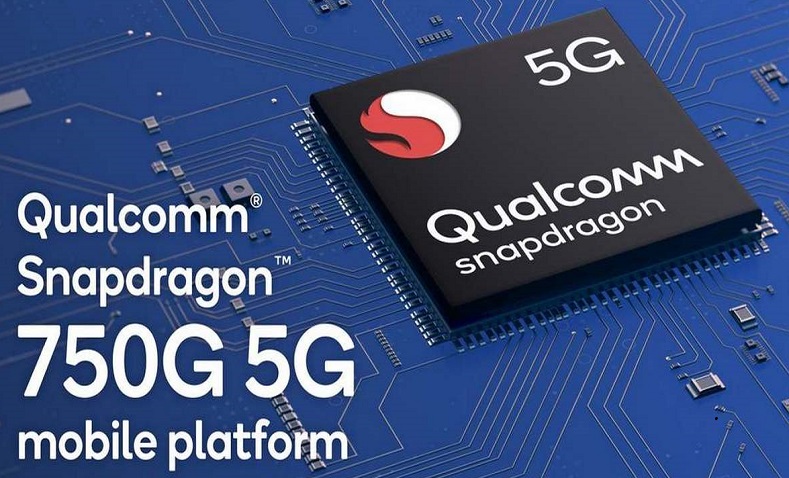 Specifications and Features of Qualcomm Snapdragon 750G
In comparison to the earlier Snapdragon 730G SoC, the new Snapdragon 750G SoC provides a 20 percent improvement in the AI engine, with up to 4.0 Trillion operations per second (TOPS). Also equipped with the Qualcomm Adreno 619 GPU, this new Octa-core processor shall enable up to 10 percent better graphics, thus displaying stunning life-like imagery. Moreover, the CPU offers more than a 20 percent improvement over the predecessor Snapdragon 730G SoC.
It supports Qualcomm fast connect 6200 subsystems. Combined with a Wi-Fi 6 and a Bluetooth 5.1. It also offers 5G with the Qualcomm Snapdragon X52 Modem RF system. It makes the Snapdragon 750G capable of delivering up to 3.7 Gbps download speeds on 5G and up to 1.2 Gbps on LTE.
In terms of other features such as camera support, the Snapdragon 750G provides a 32 megapixel, dual-camera setup, and up to 48 megapixels in a single-camera setup. It can capture 720p videos at 240 frames per second and support three formats – HDR10, HLG, and HGVC formats equipping us with an extremely smart camera and video operations processor. Also, it has impressive display support; it can do 120 frames per second at full HD+ resolution
Qualcomm SOC Features, HDR Gaming, 5G Support
Snapdragon 750G also has an always-on Qualcomm Sensing Hub; it works by combining various data streams for contextual use – case. A low power Qualcomm AI engine also warrants AI-based echo cancellation. Also, background noise suppression to provide improved gaming experiences especially for the voice chats feature, uninterrupted voice communication. Also, support for always-on voice assistants. Users will also be able to get Qualcomm Quick charge 4+ support.
For a better gaming experience, the new Snapdragon 750G processor also supports Snapdragon Elite Gaming features. Such as Qualcomm Adreno HDR Fast Blend, Qualcomm Adreno updatable GPU drivers, and Qualcomm Game Colour Plus.
Kedar Kondap, the Vice President of product management, Qualcomm Technologies, in his statement said – As we continue to build out this relatively new tier of our mobile roadmap. They always looking for ways to support the growing needs of our OEM customers. Snapdragon 750G delivers a selection of premium mobile features to an even wider audience."
Conclusion
It has not yet been revealed with which phone the Snapdragon 750 G launches. However chances, even though a name has not revealed. It might be the Mi 10T Lite 5G, which going to float on September 30 as part of the Mi 10T series. At the launch, Xiaomi issued a statement saying, " We are proud to work with Qualcomm Technologies. Also, To launch the first commercial smartphone based on the latest Snapdragon 750G to our Customers."