The new year is just knocking at our door! But as you open the door, there will be other guests like Pongal, Lori and Makar Sankranti standing as well. It is understandable if you are excited for the new year, we are, too! And we know what might make you happy.
Rangoli Designs
We know that you could use a friend who can give you an amazing Rangoli idea that will bring you a round of applause along with hundreds of Instagram likes! So here we are, with brand new ideas for your upcoming rangoli season!
Generally, Rangoli is made using paints, coloured sand, flowers and coloured powder. But if you want your Rangoli to stand tall in the crowd, you must be creative and daring with your attempts at making the latest rangoli designs for the new year. Let us help you make the traditional rangolis unique with a tinge of creative imagination and willpower to come out successful. You can mark the arrival of the new year 2023 with renewed zeal and love for colours and life!
Significance of Rangoli
According to the religious concept, energies like taste, smell, contact and all the forces of life coexist in the universe. While you make rangolis, you also mix a lot of colours to create a wholesome picture of nature. A rangoli, therefore, is a mini model for the universe. So, you must put your best efforts into creating a pattern that will resonate with the life force of our existence. Rangolis can be of different types and different designs.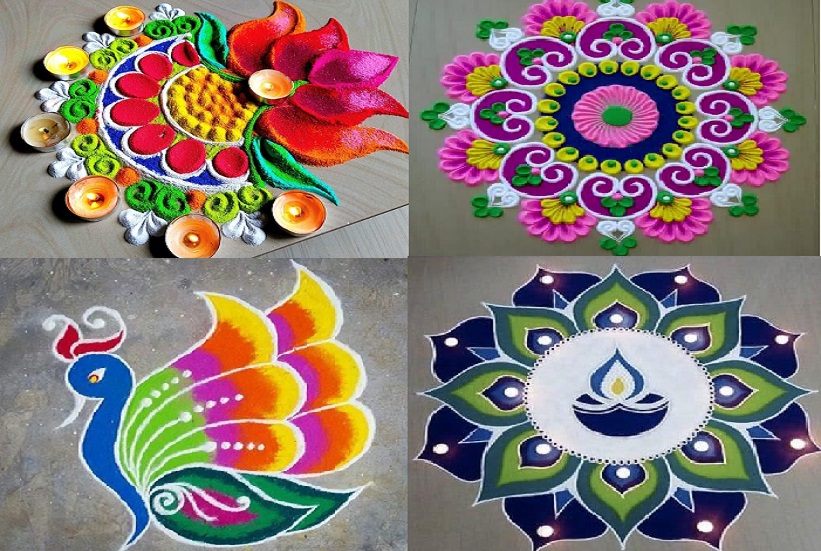 There is no specific guidebook to limit the ways you can make rangoli. It all depends on how you perceive nature and life. The type of Rangoli you create can say a lot about your personality as well. However, the rangoli to welcome the new year should, nevertheless, exude the essence of positive energy and emotions. So, we will be discussing in this article how creative you can get with your best rangoli designs for the new year!
Rangoli Designs with Rangoli Colors
The most common designs of rangoli can be made using rangoli colours. You can use chalks and rice for white colour, turmeric for yellow colour, vermillion for red colour, leaves and herbs for green colour, marigold flowers for golden colour, cinnamon for chocolate colour and colours made from dried flower petals to make harmless colours for the rangoli design. But if you are looking forward to making rangolis that will have a heavy texture, then you should be using artificial rangoli colours.
Rangoli Designs with Candles and Diya
Want to create a festive mood within a short time? Here is your pro tip! You can add candles and Diya to your colour rangolis. It will bring an instant upliftment in the festive mood of the house. It also involves a smaller number of colours, therefore, less hassle to make. Just add a row of Diya on the ground and in between the empty spaces, draw shapes with colours, and let Diya do the talking!
Latest Rangoli Designs with Flower Petals
The idea of making flower rangolis may seem to be relatively modern compared to the colour rangoli ones. But you will be shocked to know that this flower rangolis are, in fact, one of the oldest rangoli patterns made in India. This floral rangoli that is made by combining colourful flower petals has made a strong comeback and we could not complain about it. These rangolis are not only pleasing to the eyes but also delightful to your olfactory senses!
Floating Rangoli
Making a rangoli should be a fun event. If it is giving birth to dread on your mind, then there must be something wrong with what you are doing! We are about to tell you about a special kind of rangoli that does not involve making complex structures. This new year, you can experiment with the rangoli by making floating rangoli on the surface of the water. You can put water on a plate and then let the candles and flower petals float freely to make unique designs.
Rangoli with Peacock Design
Your new year can be made as beautiful as peacock feathers! In that case, you can start with making peacock feather motifs with rangoli colours. You can use the cool tones colours from the blue family to make attractive peacock feathers on the floor. But as we said, there should be no limits to your imagination. So, you can also try making the rangoli using colours like burnt orange and vibrant shades of yellow.
Deity Figure Rangoli Design
If your family has an "Isht Devta", then this new year you can impress them with your rangoli skills by making a deity rangoli. Keeping in mind the favourite god of the house, you can draw simplified figures of the god with colours and petals. For instance, you can try creating a Krishna image, or a Lakshmi image with rangoli colours.
Rangoli Latest Collection
Glass or Acrylic Rangoli
Glass or acrylic rangoli is another design you can try this new year. All you have to do is purchase ready-made glass sheets and then make a pattern using them to get your desired rangoli design. On the glass, you can sprinkle colours accordingly to make shapes of your choice. However, you have to be very careful around the rangolis, as stepping on it will not only ruin the design but also inflict wounds on your skin. Try to avoid this kind of rangoli if you have small kids in your house.
Border Rangoli
You can also try your hands on the beautiful border rangoli. This kind of rangoli is made in the shape of borders, or a strip of saree. Within the border, various shapes and patterns are drawn. If you want to create a minimal rangoli design, then this border rangoli is just what you should be going for.
Dot or Kolam Rangoli
Kolam or Dot Rangoli is of special significance in the southern parts of the country. This type of new year rangoli design with dots is widely known as Mugulu. Mugulu is drawn during the Makar Sankranti festival, which is also known as Pongal. The dots are usually a symbol of connectivity and harmony. During the 7 days of Pongal, a new Kolam pattern is to be drawn on the floor.
Free-Hand Design of Rangoli
Free-hand rangoli is the type of rangoli you can start making once you get a good grip over the art form. They are the innovative and spontaneous ones. You can try making shapes and patterns without conforming to any specific rules.
We hope that now you have got some brilliant ideas on how you can make simple rangoli designs for the new year. You can try your skills by starting with the easiest rangoli designs such as dot rangoli, and eventually, shifting to the harder ones. If you are still not sure about which design to start with, you can begin with the simple floral ones using flower petals instead of rangoli colours, as they are easy enough to try your hands on. So, our advice to you would be that you should play with the patterns and colours of the rangoli with your family; even if your rangoli is not the best one out there, it would still be an experience worth cherishing! For new designs and updates check Timesalert.