Steel Authority of India Limited (SAIL) is India's largest steel-making company. It is considered as one of the seven Maharatna's of the country. SAIL is a central public sector undertaking, owned and operated by the Indian government. It was incorporated on 24 January 1974 and headquartered at New Delhi, India
SAIL Employee Payslip
SAIL stands in the 20th position of largest steel producer in the world. The government of India owns about 75% off Sail's equity and maintains its voting power.
SAIL runs and owns a total of 8 steel plants which include 5 integrated steel plants at Bhilai, Rourkela, Durgapur, Bokaro, and Burnpur (Asansol), and 3 special steel plants at Salem, Durgapur, and Bhadravathi. Sail also operates the Ferroalloy plant at Chandrapur.
Hindustan Steel Limited (HSL) was founded on 19 January 1954 and SAIL has marked its origin to HSL. At first, HSL was developed to manage only one plant that was at Rourkela. And the preliminary work was done by the Iron and Steel Ministry for Bhilai and Durgapur steel plants.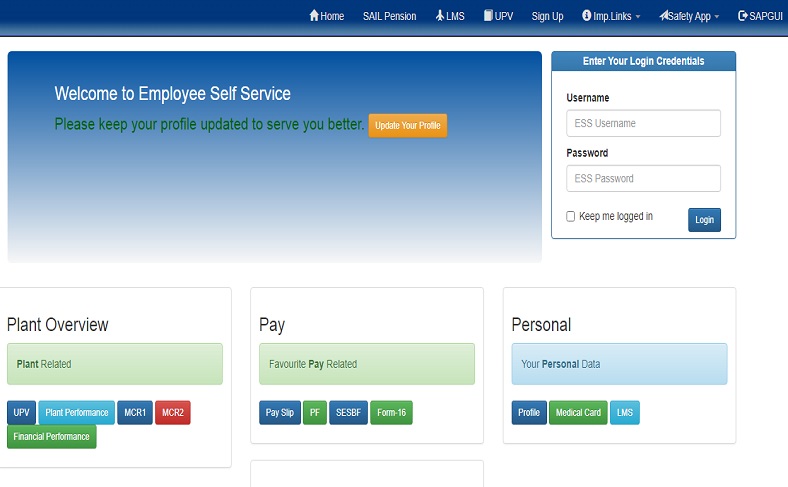 Durgapur steel Plant (DSP) portal
Durgapur Steel Plant is a leading producer of long products and the only producer of Forged Railway Wheels & Axles in the country. It started with a crude steel capacity of 1 MPTA (million tons per annum) in the year 1959. And it has increased its capacity to 2.2 MTPA during the recently completed Modernization & Expansion Plan (MEP).
The unique feature of this plant is its Wheel & Axle Plant for making forged wheels and axles catering to Indian Railways. DSP is one of the 5 integrated steel plants of steel authority of India limited (a sail). It has a great number of employees working in the plant.
The Durgapur steel plant (DSP) has introduced a website portal ess.saildsp.co.in which comes with many services. Payslip is significant for every employee. This website portal enables employees to check and download their payslip and employment details.
What is ESS DSP?
Employee self-service (ESS) is a human resource technology that helps employees to perform any job-related function. It ensures the easy management of human resources and data.
ESS DSP is a self-service portal that allows employees to have access to their monthly payslip, personal details, and benefits information, and more.
Download SAIL Employee payslip from DSP web portal
To download your payslip, you need to login to the portal first. To log in, you must have your username and password. Without these credentials, you cannot access the payslip. Below are the steps to download the payslip
Visit official web portalsaildsp.co.in
A new page will appear, enter your username
Now enter the password in the required field
Next click on the "log in" button
A new page will appear now select payslip
Your current month's payslip will appear on your screen.
To check any other month's payslip, select the relevant month to view.
Click on the "download" button to download the payslip.
How to register DSP official web portal?
If you are an employee of DSP and haven't registered at ess.saildsp.co.in, you can register it now. Employees can only register when their first payslip is generated. So if you have your first payslip follow the below details to register
Visit the ESS DSP official web portal saildsp.co.in
Select menu option
Click on "sign up"
A new page will display on your screen, you need to fill all the required details
Enter your 6 digit ticket number
Now, enter your mobile number
Enter the first name and last name in the required field
Next, email is optional that is, if you want to enter your email or not it is your choice.
Enter your pan card number
Enter your username and password in the required field
Next, you have to re-enter your password to confirm
Now you have to choose security questions, choose it wisely as you need to remember the answer to the question for security purposes.
After selecting the question, answer in the below box.
Click on the "register" button. For other updates check Timesalert.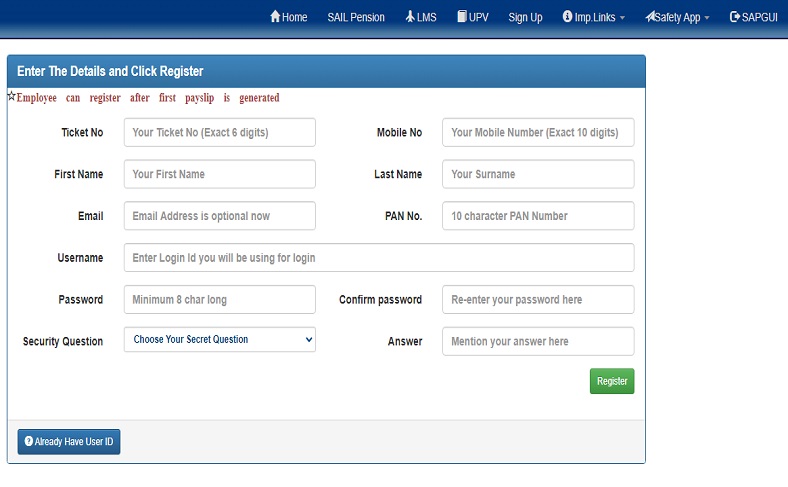 Ess.saildsp.co.in services
The official web portal of ESS DSP has come with many services that will help employees in a different field. The services are as follows
The official web portal enables the employee to get their monthly payslip
An employee can overview plant or plant performance
It also comes with the Leave Management System (LMS)
An employee can check sail pension details
An employee can access and edit personal data anytime.
Benefits of sail DSP online web portal
It is easy to use for all employees
Can accessible anywhere anytime
It designed to cater to every employee of DSP
The site detailed with many services
The site is safe to use
An employee can access personal data
Through the DSP portal employees can also check pension service.
Conclusion
Durgapur steel plant (DSP) among the 5 integrated steel plants of SAIL. It has introduced an official web portal in which is an employee self-service portal. It enables employees to get their monthly salary details, personal details, and many other benefits.
To access the payslip employee have to login via the link ess.saildsp.co.in. An employee should have their username and password to log in. Employees can also register through the same site but they should have their first payslip generated without that employee cannot register. The web portal comes with various services for employees.