In past days all are opening their SBI new bank accounts in Bank only. But everyone knows that it is a very time taking process. We have to spend more time in the SBI branch to open a Bank Account. Nowadays you can create a Bank account without visiting the SBI Branch. Just within 10 minutes, you can open your SBI Saving accounts using Android smartphone with the help of internet. Here we are providing some information to open a new SBI Account by using Yono in 10 minutes.
SBI Account Opening By Yono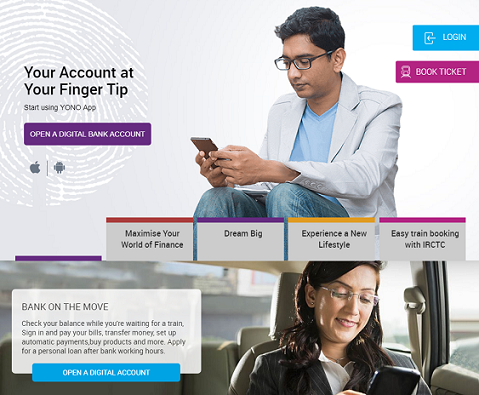 To open SBI Digital Saving Account or Insta Saving Account user should be above 18 years old.
The user should have a valid identity proof i.e. Aadhaar and pan card.
Your Aadhaar Number should be registered with your Mobile Number for OTP purpose.
Both Email ID and Mobile Number are registered with your Aadhaar.
The user should have the capability to use the internet on a Smartphone or PC.
The users have all these above-mentioned things then you can able to open SBI Digital Saving Account or SBI Insta Savings Account. There is a slight difference between SBI Digital Saving Account and SBI Insta Savings Account. People can also look her for How To Create SBI Virtual Card by following the steps mentioned in this article.
 SBI Digital Saving And SBI Insta Savings Account Differences
SBI Digital Savings Account                       
Once, the user has to go to the selected branch for e-KYC Process.
No maximum balance and transaction limit.
The account is opened, then you get a platinum International Debit card and you need to pay maintenance charges 200 and GST yearly.
Daily withdrawal limit for Platinum International Debit Card is 1 Lac and daily shopping limit is 2 Lac.
You won't get any passbook while you open your account via online. Buy you can check your account statements on Yono App or web portal.
Minimum charges are not included till 31st March 2019.
The interest rate is 3.5% per annum if your account balance is above 1 crore then 4%.
It provides a nomination facility also.
The user won't get any checkbook after opening the account, you can apply later.
It is a paperless account opening.
SBI Insta Savings Account
The user doesn't visit the selected branch because it is OTP based e-KYC.
In a year balance limit is 1 Lac and Transaction limit is 2 Lac.
If you completed your KYC within 1 year then your account will be upgraded. After that no balance limit and no transaction limit.
The users get Rupay Debit card. Daily withdrawal limit and Online shopping limit for Rupay Debit card are 40,000 and 50, 000.
No passbook user can check their account statements in Yono app or web portal.
3.5 % is the annual interest rate.
Nomination facility is available.
No minimum charges till 31 March 2019.
Branch provide checkbook but you need to apply.
It is also a paperless account opening.
Open Online SBI Account By Yono in 10 Minutes
To open an online SBI Account you have to download Yono by SBI application on Android smartphone from play store. Not only with a mobile phone you can use laptop and computers for opening the SBI online Account. But Yono app is the better option.
After that, you have to select 'Open A Digital Bank Account' and you will get two options.
They are SBI Digital Savings Account and SBI Insta Savings Account.
According to your interest, you can choose one of the options.
Now you have to click on the 'Apply' button.
Then you will two options they are Apply Now and Resume option.
If you are opening new SBI Account then you can use the Apply button.
Resume option is for users who didn't complete the full process.
Accept the terms and conditions and click on the next button.
On the next page, you have to enter your Email ID and mobile number which is registered with identity proof and click on Submit button.
After that, you will get OTP code to your mobile number in the next step.
Now you can create your password, make sure that your password should be very hard.
Here you have to click on yes button after reading all CRS declaration.
Tap on I Agree on the option and then next.
In the next step, you have entered your Aadhaar number and you need to scan the QR code option.
After that, you will get an OTP code to your mobile number which is registered with your Aadhaar.
Now you have to enter your personal details like name, place of birth, nationality, and citizenship.
Check your address, here if you want you can change your desired address.
Incoming step, you have to enter your pan card details and educational qualification.
Now the user has to enter various details such as married status, father's name, annual income, religion, occupation and etc.
Here you have to enter Nominee details and relationship with the account holder.
Now select any nearest SBI branch and accept all terms and conditions.
Enter the OTP code.
Then check all the details for your debit card and click on the done button.
After completing all the steps you will get a temporary username and password. By using that you can log in your SBI Savings account. After that, you can change your temporary username and password. Then within 15 days, you will get a Debit card and you can generate a new pin.
Conclusion
Here we mentioned how to open new SBI Savings account online. For that, you need to have a smartphone and internet connection. After that, you can open the account using Yono application within 10 minutes. Complete Account opening process is mentioned in the above information. SBI Digital Account is used for business people and SBI Insta Account is for students. Also, people can know more about other SBI related issues on Timesalert.