Sri Rama Navami is celebrated as a Hindu festival on the occasion of birth of Lord Rama. Rama was born in Ayodhya to the couple king Dasharatha and the Queen Kausalya. Rama is known as seventh avatar of lord Vishnu. According to B.S Hindu calendar this day falls on Shukla Paksha, which is the ninth day of the month of Chaitra. So Sri Rama Navami is also well known as Chaitra Masa Shukla Paksha Navami. This festival is celebrated after the completion of Ugadi, which is the Telugu Happy New Year.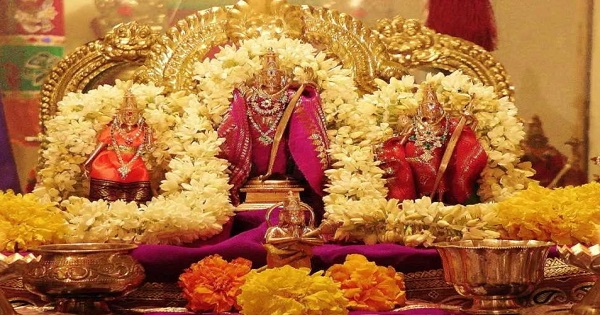 In some places Sri Rama Navami is celebrated for nine days which is known as Sri Rama Navaratri.All these nine days they do Bhajana, Kirtana and give prasadam after the completion of Pooja and aarti. Sri Rama Navami is celebrated by people of different states they are Telangana (Bhadrachalam), Uttar Pradesh (Ayodhya), Bihar (Sita Samahitsthal), Andhra Pradesh (Kodanda Rama Temple and Vontimitta) and Tamil Nadu (Rameswaram). All these temples are decorated with flowers and lights for the celebrations of Sri Rama Navami.
In south India people celebrate this day by performing Kalyanotsavam to Lord Rama and Sita. After completion of celebrations they take procession on streets. On Sri Rama Navami people do Panakam and Vadapappu as holy dishes.
The summit of this festival involves three things
i, Kalyontsavam of Lord Rama and Sita
ii, Panakam made of jaggery and pepper.
iii, Procession of statues in the evenings.
Here are some of the Greeting cards, wishes and SMS of Sri Rama Navami 2016. Wishes for Sri Rama Navami are collected and shown here.