International Yoga Day: Yoga is an act of physical, mental and spiritual tradition implemented in India. There are two types of yoga's which are famous they are Raja Yoga and Hatha Yoga. Gurus trained yoga in Hinduism, Jainism, and Buddhism. On doing yoga, one can relieve pain in from Cancer, Asthma, Schizophrenia and Heart Disease. In Indian tradition, it took place for meditation and spiritual core apart from physical exercise. Yoga represents the unity of mind and body.
International Yoga Day 2023
International Yoga day is celebrated every year on June 21st, which was officially recognised by the United Nations General Assembly (UNGA) on December 11th, 2014. The particular reason for celebration the Yoga Day on 21st June is because it is the longest day on Northern Hemisphere and has special significance in the World.
The Indian Prime Minister Narendra Modi suggested the concept of celebrating yoga day in his speech at UNGA on September 27th. The declaration of World Yoga Day took less than three months, and it is a beautiful moment to celebrate Yoga Day in Indian History. The Global Health and Foreign Policy decided to celebrate Yoga Day to provide awareness about health and well-being.
International Yoga Sayings
First International Yoga Day celebration took place in 2015. People all over the world joined in colossal number to celebrate this event with lots of energy, eagerness, and zeal and made it a success. In 2015 World Yoga Day, Indian Prime Minister Narendra Modi along with 35,000 School children took part in the celebration.  Also, know about the Best Yoga Apps 2023 On Android and IOS. 
Every year a large number of people from all over the world participates in Yoga Day. The primary purpose of this day is to spread awareness to the people. By doing Yoga daily, you can keep your body and mind healthy.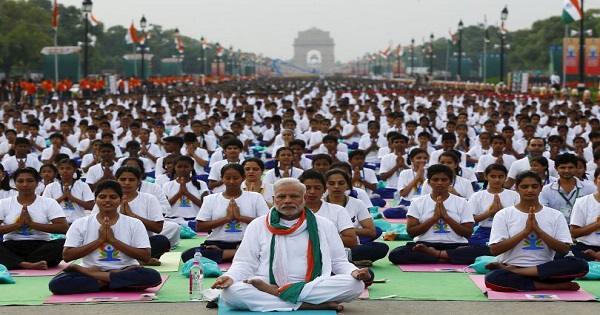 International Day Of Yoga 2023 Quotes
The word Yoga means integration of three components of Human Being and they are body, mind, and soul. People who are searching for International Day Of Yoga 2023 Inspiring Yoga Quotes check below. There are a few collections of Yoga Quotes. Yoga sayings and International Yoga Day quotes.
"A photographer gets people to pose for him. A yoga instructor gets people to pose for themselves."
 By – T. Guillemets
"Through the practices of yoga, we discover that concern for the happiness and well being of others, including animals, must be an essential part of our quest for happiness and well being. The fork can be a powerful weapon of mass destruction or a tool to create peace on Earth."
By – Sharon Gannon
"Your task is not to seek love, but merely seek and find all the barriers within yourself that you built."
By – Rumi
"The most important pieces of equipment you need for doing yoga are your body and your mind."
By –  Rodney Yee
"Yoga, an ancient but perfect science, deals with the evolution of humanity. This evolution includes all aspects of one's being, from bodily health to self-realisation. Yoga means union – the union of body with consciousness and consciousness with the soul. Yoga cultivates the ways of maintaining a balanced attitude in day to day life and endows skill in the performance of one's actions."
By – B.K.S. Iyengar
"To perform every action, artfully is yoga." By – Swami Kripalu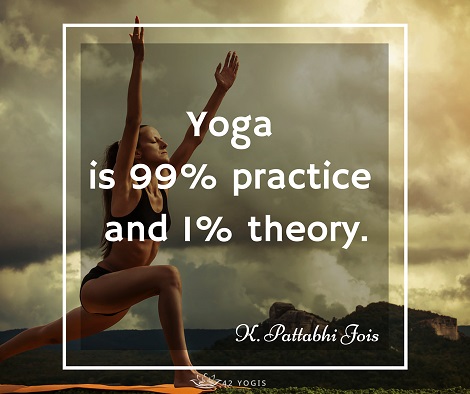 Happy International Yoga Day 2023 Messages
As 21st June is the World Yoga Day, wishing all a Happy Yoga Day. Quotes are the best motivational lines and here are some Inspirational yoga quotes on this International Yoga Day 2023.
To get rich never,
Don't risk your health.
For it is the truth that
health is the wealth of wealth.
So do yoga to earn your wealth..!
Happy Yoga day..!
"Yoga is not about touching your toes.
It's about unlocking your ideas about what you want,
Where you think you can go,
And how will you achieve
When you get there."
Happy Yoga Day 2023
Yoga is about awakening.
Yoga is about creating a life
That brings more beauty
And more love in the world.v So make your life Beautiful
On this International Yoga Day.
Yoga shows you the path to Freedom. By practising it regularly, we can free ourselves from Anguish, Fear, and Loneliness and move towards the path to happiness. Happy International Yoga Day 2023.
Yoga is like music
The rhythm of the body,
The melody of the mind and
Harmony of the soul that creates the symphony of life.
Have a tasty and healthy World Yoga Day.
Laughter Yoga Combines Laughter with Yoga Breathing Exercises
It is Perfect Way to Laugh and get Exercise at the Same Time.
It Approaches Laughter as Body Exercise so
It's Easy to Laugh even you are Depressed Or in a Bad Mood.
Have a Laughing International Yoga Day.
Yoga implies, Addition of Energy and subtraction of wasting energy, Strengthen the Beauty of Body, Mind, and Soul with Yoga. Happy Yoga Day, 2023.
International Yoga Day 2023 Whatsapp Dp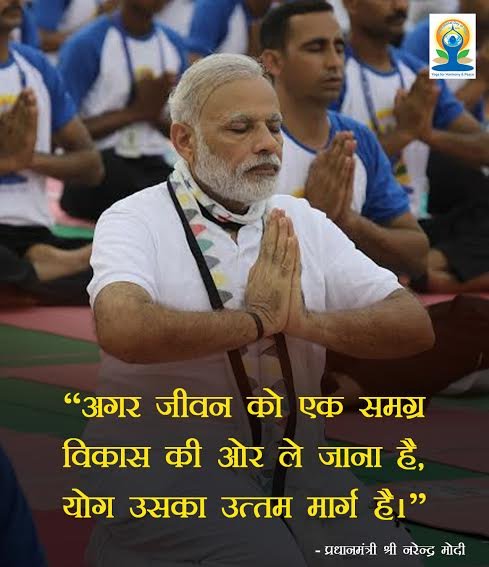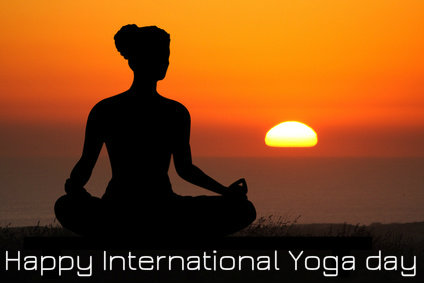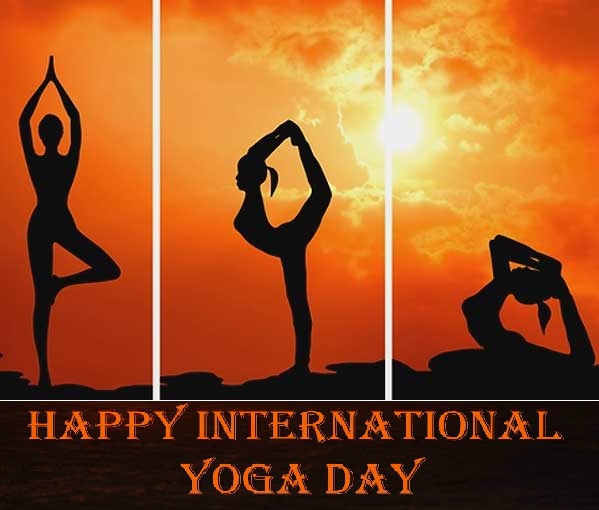 International Yoga Day 2023 Whatsapp Status
"To perform every action, artfully is yoga."
Yoga Allows You to Rediscover a Sense of Wholeness on Your Life,
Where You do not Feel Like You are Constantly Trying to Fit Broken Pieces Together.
"Yoga teaches us to cure what need not be endured and endure what cannot cure."
Yoga is about Clearing Away Whatever is in Us that Prevents Our Living in the most full and Whole Day.
"The ultimate goal of yoga is always to observe things accurately, and therefore never act in a way that will make us regret our actions later."
"Yoga is the fountain of youth. You're only as young as your spine is flexible."
'Yoga means addition, the addition of energy,
Strength and beauty to body, mind, and soul.
I am losing balance is a pose, I stretch higher, and God reaches down to steady me. It works every time and not just in yoga. Use this Yoga Day opportunity to reach to God.
Happy International Yoga Day 2023 Greetings
Nothing can be as best as Yoga which works as a toner of the body.
It calms your body, thereby keeping you away from a chaotic body.
You can quickly get de-stressed with Yoga Day.
Happy International Yoga Day 2023.
Yoga teaches us to cure
Yoga teaches us to power equip,
Yoga teaches us to fit mentally,
Yoga teaches us to active physically,
What we need not endure and
Endure what cannot cure.
Happy International Yoga Day
Yoga is not less than listening to soothing music.
It helps to open up the Rhythm of the Body, The Melody of the Mind and Harmony of the Soul and Creates a Symphony in Life.
Have a Healthy World Yoga Day 2023.
When the Breath Wanders the Mind also is Unsteady
But when the Breath is Calmed the Mind Too will be still,
And the Yogi Achieves Long Life,
Therefore, one should Learn to Control the Breath.
Happy International Yoga Day
You cannot always Control
What goes on Outside,
But you can Always Control
What Goes on Inside
Best Wishes for International Yoga Day
Here we have listed all the Happy International Yoga Day 2023 Images Wishes Quotes Greetings and many more. So check them and use them to wish all your dear ones. For more events, check Timesalert and get the details.